July 31, 2010 -
National Football Post
2010 NFP Scouting Series: Wisconsin
For the rest of the summer, the National Football Post will be breaking down every team in the Football Bowl Subdivision (formerly known as Division I-A) to identify players who could warrant the most interest from NFL teams in the 2011 draft.
Therefore, today we take a look at the Wisconsin Badgers.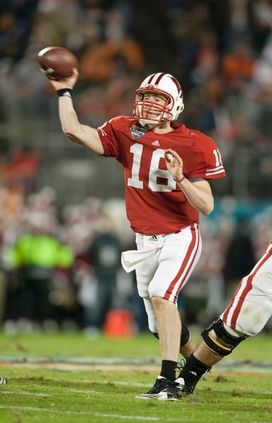 ICONTolzien lacks an NFL caliber skill set.
QB Scott Tolzien: No. 16 (6-2, 214)
An undersized quarterback prospect who looks thin and lacks ideal girth through his upper body. Isn't a real strong-armed guy and doesn't generate a ton of torque from his lower half. Knows how to take snaps from under center, but struggles to get away from the line of scrimmage quickly, gets fidgety in the pocket and doesn't do a great job transferring his weight from his back foot to his front foot and striding into throws. Has a tendency to force the ball into coverage in the face of pressure and lacks the arm strength to be late with a read. However, showcases above-average accuracy when his initial read is on and exhibits good timing when asked to anticipate a throw.
Is a tough kid who has battled through adversity and has some real grit to his game, picking up first downs with his legs and putting his body in harms way for the better of the team. Looks natural on the move and deciphers information well when asked to break containment and improvise. However, doesn't seem to have a good feel of reading defenses, even in his pre-snap reads, failing to consistently recognize the blitz and holding onto the football far too long waiting for receivers to uncover.
Impression: A tough college quarterback who has the grit and toughness to help move the chains from time to time, but isn't a legit NFL quarterback prospect.
TE Lance Kendricks: No. 84 (6-3, 240)
Lacks ideal size for the position, but is an impressive motion man who can be moved around the offense and routinely create mismatches in the pass game. Exhibits a good initial burst off the line with his hand in the ground. Takes a positive first step into his routes, cleanly is able to slip defenders and accelerates quickly down the field. Runs well vertically, has the ability to consistently threaten the seam and looks natural adjusting to throws and plucking the football away from his frame. Is an above-average route runner at this stage who exhibits the balance and body control to quickly get out of his breaks and accelerate away from man coverage. Has a tendency to start to drift into his routes and will show his breaks a bit early, but uses his frame well to shield defenders from the throw. Also, possesses a good feel for zone coverage, knows how to find soft spots and quickly get his head around in search of the throw. Demonstrates the coordination and body control to consistently adjust to the throw and displays soft hands when asked to reel in the tough grab.
Exhibits a willingness to block as a motion man, takes good angles into contact and can consistently kick out defenders on contact on the move. Now, isn't going to drive anyone off the football in the run game and is rarely run behind, but is athletic and long enough to quickly get around reach blocks and seal off the edge.
Impression: Looks like the next talented Wisconsin tight end to come out of the program. Lacks ideal size, but can be a tough cover in the pass game and knows how to get around blocks and seal in the run game. I don't think if he will ever be a legit starting "on the line Y" in the NFL, but he certainly has the ability to make his way onto the field and create plays in the pass game at a variety of positions.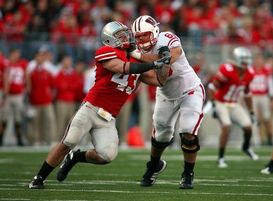 ICONCarimi lacks ideal range for the left tackle position and looks better suited to play on the right side.
OT Gabe Carimi: No. 68 (6-7, 320)
A long, well put together offensive tackle prospect who has some real nasty to his game and possesses good overall strength for the postion. However, isn't the most flexible of linemen when asked to sit into his stance and doesn't consistently take the most positive of first steps off the line. Struggles to consistently keep his base down and footwork compact on his kick-slide and can be bullied at the point at times because of overextended footwork. Now, is a very patient puncher and does a nice job delivering a compact, strong jolt into contact. But too often explosive defensive ends are able to reach the corner on his kick-slide, forcing him to quickly open up his hips and lunge into his target, hoping to push them past the play. Displays the ability to anchor with consistency against the bull rush and exhibits good power in his upper body once he get his hands on you.
Exhibits a good first step off the snap in the run game and is able to keep his pad level down much more consistently, creating initial movement as an in-line guy and looked comfortable when asked to seal defenders away from the play. Also, was pretty impressive in the open field for a guy his size, getting out to the second level with ease, reaching a target and sealing them from the play.
Impression: Isn't a guy who I would trust on the left side at this stage in the NFL, but he can win for you in the run game and looks more like a solid right tackle prospect to me.
OG John Moffitt: No. 74 (6-4, 321)
Is an above-average bender for his size and does a decent job getting set out of his stance quickly in pass protection. Looks comfortable shuffling his feet and staying patient as a puncher. However, isn't a real rangy guard and will struggle to mirror in space. Possesses only average lateral range inside and lacks the type of power and hand placement to lock out through on contact once an opposing lineman gains a step. Will get his arms outside the pads of the defenders and can be out leveraged and bullied into the backfield. Now, does look natural sliding his feet and keeping his base down through contact once he get his hands on you, but lacks the type of lateral agility to simply hold up one-on-one on an island inside.
Doesn't exhibit a great first step off the snap in the run game either. Has a tendency to allow defenders to get into his frame initially and lacks the type of pad level to get under opposing linemen and consistently drive them off the football. Consistently is just forced to turn defenders from the play on contact and ends up on the ground routinely because of it. Looks athletic enough to get out to the second level in the run game and has average range when asked to pull, but really struggles to break down and consistently hit/seal a moving target.
Impression: Wasn't the type of in-line run blocker I expected and needs to play in tighter quarters in order to be effective. Doesn't look like much more than a reserve type in the NFL.
Defense
ILB Culmer St. Jean: No. 15 (5-11, 239)
Lacks ideal size and isn't real rangy when asked to make plays in pursuit. Struggles to get up to speed quickly and doesn't exhibit the initial burst to consistently close on the football. Works hard inside and has some violence in his hands trying to shed blocks, but lacks the size to anchor on contact and can be pushed around/sealed when run at.
Displays above-average instincts in coverage and does a nice job getting early jumps on the football. However, is slow to redirect and lacks the ability to cleanly/quickly change directions and close on the throw away from his frame. Is a solid wrap-up tackler in a phone booth, but doesn't make many tackles in pursuit and doesn't generate a real jolt through his hips on contact; is more of a drag down guy.
Impression: His lack of ideal size and range really limits his chances at the next level.
S Jay Valai: No. 2 (5-8, 205)
An undersized safety prospect who isn't afraid to throw his body around and can generate a real thump on contact. Displays good force as a striker and can consistently bring his legs through contact. Loves to attack downhill and separate ball from man in the pass game. However, isn't overly instinctive when asked to read his run/pass keys. Takes him a bit to decipher what he's seeing and has a tendency to get too high in his drop, which causes him to struggle to generate a burst out of his breaks and quickly close on the ball. Possesses only decent speed and will see his angles outpaced in space when asked to chase the play sideline-to-sideline.
Impression: He's a football player who loves to hit, there is no doubt about that. However, he's really undersized, doesn't run well and takes too long to read and react to make up for his physical shortcomings in the NFL.
NFL draft/college football questions? Get them answered at Wes.Bunting@nationalfootballpost.com
Follow me on Twitter: @WesBunting
Ready for fantasy football? Click here to purchase the 2010 Total Access Pass/Draft Guide from the NFP.