December 09, 2010 -
National Football Post
2010 Scout's awards and prospects of the year
In the spirit of the College Football Awards show this evening, the National Football Post has decided to create its own little spin off of the award season. Therefore, we are proud to introduce the 2010 Scout's awards, based on the 2010 season. Enjoy.
The "Riser" of the year…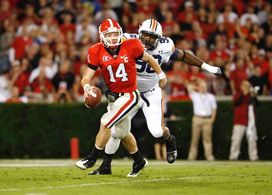 ICONFairley has been getting after opposing QB's all season.
DT Nick Fairley: Auburn (6-4, 300)
After starting only two games last year as a sophomore, Fairley has simply become the most dominant defensive lineman in the country this season. His combination of power, explosion and athletic ability allows him to fit into any scheme at the next level and he looks like one of the few blue-chip prospects entering the 2011 draft. Not bad for a kid who wasn't on anyone's radar coming into 2010.
Other nominees…
QB Cam Newton: Auburn
OT Danny Watkins: Baylor
DE Cameron Jordan: California
The "Faller" of the year…
QB Jerrod Johnson: Texas A&M (6-4, 245)
Everything seemed so promising for Johnson after a brilliant performance against Texas at the end of the 2009 season. However, since then, the guy has really struggled with turnovers, lost his starting job and seems like a QB who is going to have a real tough time making an NFL roster. He does have some natural athletic ability, but his throwing mechanics need a lot of work and I wouldn't consider him much more than a developmental free agent at this stage.
Other nominees…
DT Marvin Austin: North Carolina
DE Greg Romeus: Pittsburgh
RB Evan Royster: Penn State
The small-school prospect of the year…
OG Benjamin Ijalana: Villanova (6-4, 320) When you watch a small-school kid who has the makings of a potential NFL player, the first thing you want to see from him on tape is the ability to absolutely dominate the competition physically. And that's exactly what Ijalana does. Plus, as a senior, he seems to be playing with a bit lower of a base and trying to stay more compact and balanced through contact in both the run and pass game. He still has a ways to go, but he's trying to do the right things and possesses the skill set to start at the next level with some time to mature.
Other nominees…
CB Ryan Jones: Northwest Missouri State
DT Cedric Thornton: Southern Arkansas
OT David Mims: Virginia Union
Most improved player award…
OT Danny Watkins: Baylor (6-4, 310)
As a pure college offensive tackle, Watkins very well might have been the best player I saw on tape at the position this season. The 26-year-old former Canadian firefighter has come a long way on the gridiron for a guy with only three years of playing experience. However, he has shown significant improvement from last season and although he lacks the length and overall height to play as the left tackle in the NFL, he displays impressive balance, fluidity and range through contact and can mirror in space. I think the guy projects as one of if not the best guard prospect in the NFL draft, and I fully believe if he were 3 years younger and about two inches taller, the guy would be a first-round pick without a doubt. Nevertheless, I still think whichever team takes him can still get some good play from him early in his NFL career, even if it might be a shorter one.
Other nominees…
LB Mason Foster: Washington
CB Johnny Patrick: Louisville
QB Ricky Stanzi: Iowa
Step in the wrong direction award…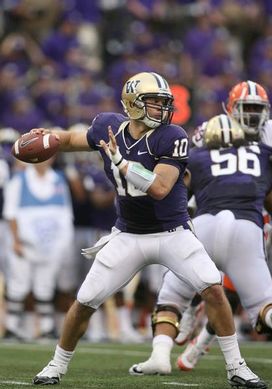 ICONLocker has not had the season many thought he would.
QB Jake Locker: Washington (6-3, 230)
It's not even that Locker took a step backward this season, because we knew he had some rough spots to his game coming into the year. But you would expect a kid who is as hard working as many claim about Locker with his physical skill set and coaching around him to really take that next step as a senior. However, he has still been as inconsistent as any quarterback in the country at times this year. He still forces the ball into coverage, doesn't do a great job anticipating routes when asked to find a secondary read and his accuracy — even when he remains balanced with his footwork — still runs hot and cold. He seemed to have found some of his mojo toward the end of the year, but Locker has not had the type of senior year I thought he could.
Other nominees…
DE Cliff Matthews: South Carolina
QB Christian Ponder: Florida State
DT Jerrell Powe: Mississippi
One-year starter of the year (senior only)
OT Derek Hall: Stanford (6-5, 300)
Hall came to Stanford as a highly sought after defensive line prospect, but has since added some weight, moved over to the offensive line and has really matured into a very impressive senior blocker in 2010. He was playing behind two potential NFL prospects last season, which allowed him to grow at his own pace, develop at the position and now looks like a solid draftabale player in his own right. He still needs to tighten up his footwork in pass protection, but he displays good enough range off the edge and can consistently win for you in the run game because of his ability to gain leverage, play as the low man and maintain balance through contact. He's another reason why Stanford has continued to grow so quickly as a program.
Other nominees…
CB Curtis Marsh: Utah State
ILB Jeff Tarpinian: Iowa
DE Steven Friday: Virginia Tech
Boom or bust prospect of the year…
DT Marvin Austin: North Carolina (6-3, 310)
Physically, the guy is as gifted as they come. He possesses a good first step off the snap, possesses a strong base and can consistently overwhelm opposing blockers on contact. Plus, for a guy his size, he displays good range when asked to work in pursuit and is simply an imposing physical talent. However, the biggest concern I have is, "how bad does he want it?" He's already been suspended for the entire year for his dealings with NFL agents. Plus, he's an immature kid who seems more obsessed with what football gives him than the actual game itself. And there are a lot of talent evaluators out there — myself included — who don't think this guy will ever live up to a fraction of his physical skill set. Austin is a talented player who could be a real player at the next level if he wants it, but there are just too many questions attached to his name at this stage for me to feel real confident in taking him high.
Other nominees…
DT Phil Taylor: Baylor
QB Cam Newton: Auburn
WR DeAndre Brown: Southern Miss
Follow me on twitter: @WesBunting