July 15, 2010 -
National Football Post
2010 supplemental draft breakdown
Bears land Unga
The Chicago Bears used a seventh-round pick in the 2010 supplemental draft to land BYU running back Harvey Unga. The Bears will now be forced to forfeit their seventh-round pick in the 2011 draft, but all in all, it looks like a pretty good deal on paper for Chicago. However, it still remains to be seen just how much of an impact Unga will be able to make in 2010.
The concern
If you had a chance to read Greg Gabriel's piece this morning, he did a great job breaking down one of the most overlooked facets of the supplemental draft. He noted that the majority of the players on NFL rosters right now have been together working hard and trying to improve nearly all summer. In addition, the majority of each team's coaching staff is really starting to get a pretty good feel for each player and their overall abilities as well. Therefore, the idea of adding a new talent into the fray only a couple weeks before the start of training camp and expecting him to fit in with the team, learn the playbook, beat out a guy who has been with the team since May, make the roster and then be able to contribute seems like a lot to ask.
With that being said, I still think adding a guy like Unga for a seventh-round pick is certainly a risk worth taking because of the type of overall talent he possesses. The hard part now is making sure he's in shape and ready to go full tilt for training camp come day one.
The talent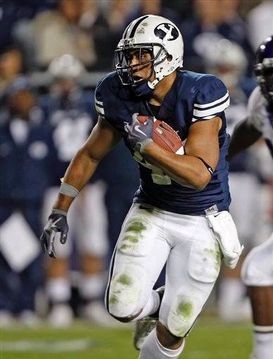 ICONUnga will look to add some real pop to the Bears offense.
Now, there is no doubt in my mind that Unga has the ability to be a very capable player at the next level. As I broke down yesterday, the guy is physical, has a good feel when running between the tackles and loves to finish runs. He isn't ever going to be a guy who can run away from anyone in the NFL and isn't dynamic enough to be an every-down guy. However, he looks comfortable catching the football out of the backfield and should be able to create for himself in an NFL pass game.
But what makes Unga such a tough guy to figure out is that he's a real fullback/running back tweener who lacks the physicality as a blocker to be a real consistent lead guy at this stage and lacks the type of burst/speed to be overly dangerous in the open field as a runner.
However, when looking over the Chicago depth chart I see a guy who can:
1. Add a physical presence to the Bears short-yardage/goal-line sets.
The Bears really struggled at times last year in third and short situations, and simply didn't have much in the form of a power guy behind starter Matt Forte. So getting a guy like Unga could ultimately really help improve their overall ability to pick up third downs.
2. Catch the football out of the backfield.
We know how important it is in Mike Martz's offense for running backs to be able to catch the ball out of the backfield. Unga is a pretty coordinated receiver who should be able to mature into a very solid check down option either at RB or FB in the offense.
3. Act as the team's emergency fullback.
NFL teams don't like to keep two full backs on the roster for game day. So by keeping a guy like Unga as the third running back, he not only can help you on third downs but could also be your emergency fullback in case of an injury, giving Chicago some roster flexibility.
Therefore, as much as I worry about supplemental draft prospects being able to pay instant dividends, Unga really is in a good system where he can add to an offense in multiple ways. Plus, he does play a position — running back — that transitions a lot quicker and easier from the college to the NFL level. Overall, I think Unga in the seventh round is a really good value and will give the Bears a solid future NFL player at a point in the draft where solid NFL guys are tough to come by.
Cowboys add some depth inside
The Dallas Cowboys also used a seventh-round pick to take a flyer on Illinois standout defensive tackle Joshua Price-Brent. Price-Brent is a 6-2, 321-pound lineman who displays an above-average first step off the football and overall is a pretty good athlete for his size.
The Cowboys have had a tough time finding a guy who can fill in for Jay Ratliff as a penetrating type nose inside and although Price-Brent has questions about his work ethic and overall conditioning at this stage, the skill set is there for him to have a real shot of making and contributing to an NFL roster — if he ever decides to commit himself to the game.
Follow me on twitter: @WesBunting
Ready for fantasy football? Click here to purchase the 2010 Total Access Pass/Draft Guide from the NFP.