May 06, 2011 -
National Football Post
2011 NFP All-Rookie team projections
A look at which rookie draft picks could end up being among the top players at their position come the 2011 season.
Offense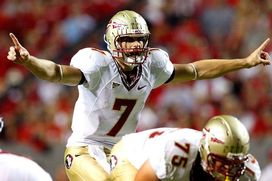 ICONI can certainly see Ponder being serviceable in year one.
QB Christian Ponder: Minnesota Vikings
He's as NFL-ready as any quarterback in the class, has a nice run game in place in Minnesota and his lack of elite arm strength should be masked a little playing in the dome.
RB Mark Ingram: New Orleans Saints
Depending on how many touches head coach Sean Payton elects to give Ingram in the run game, the guy has the ability to be a 1,300-plus yard back in that offense.
FB Owen Marecic: Cleveland Browns
The Browns want to run "Power O" inside and Marecic was the best in-line blocker in the draft. He possesses the type of mentality to consistently win as a lead guy at the next level.
WR Julio Jones: Atlanta Falcons
Jones is in an ideal situation playing with a seasoned NFL quarterback and a talented wideout across from him in Roddy White. He has the ability to create consistently in the three-step game and will create after the catch.
WR Titus Young: Detroit Lions
Young should see plenty of opportunities to run those deep crossers vertically down the field in the Detroit offense and in my mind will be a big play waiting to happen even as a rookie.
TE Kyle Rudolph: Minnesota Vikings
I fully expect Rudolph to mature into one of the league's better tight ends by year three. But, in year one, look for him to be Ponder's safety blanket underneath.
OL Danny Watkins: Philadelphia Eagles
The kind of prospect you can start inside at guard from day one and get good play out of; looks like a future Pro Bowler to me.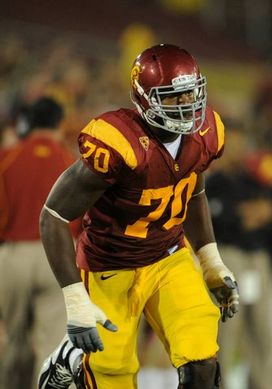 ICONSmith is as gifted physically as they come.
OL Tyron Smith: Dallas Cowboys
There might be some growing pains early. However, he's simply too good and too coordinated of an athlete to not be successful on the blindside at the next level.
OL Benjamin Ijalana: Indianapolis Colts
No matter where the Colts end up playing this kid, I expect him to adjust to the game quickly and mature into a very good starter either inside or out.
OL Stefen Wisniewski: Oakland Raiders
He wasn't the sexiest of picks. However, Wisniewski understands angles, possesses quick hands and plays with leverage in both the run and pass game. Looks like a good starting center from day one.
OL Mike Pouncey: Miami Dolphins
Much like Wisniewski, Pouncey has the ability to anchor the interior of the Dolphins offensive line from day one.
Defense
DL Nick Fairley: Detroit Lions
Fairley is a gifted athlete with an explosive first step and impressive lateral quickness inside. He could end up being one of the real steals of the draft.
DL Robert Quinn: St. Louis Rams
The Rams needed a little more dynamic pass rushing ability off the edge and Quinn possesses the athleticism to be that guy.
DL Cameron Jordan: New Orleans Saints
Jordan gives the Saints a lot of versatility up front and can rush from a number of spots in nickel situations. Should make an impact vs. both the run and pass this year.
DL Drake Nevis: Indianapolis Colts
Nevis is undersized, but he's exactly what the Colts want inside. He's explosive off the snap, can penetrate through gaps and plays with a great motor. Should have plenty of opportunities to hunt the QB in year one.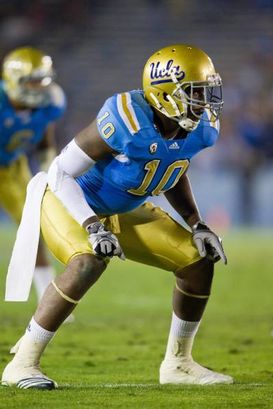 ICONAyers was a steal in round two.
LB Akeem Ayers: Tennessee Titans
Ayers is a gifted athlete who should be able to win a starting job out of camp and has the skill set to win in both the run and pass game — rushing the passer and in coverage — at the next level.
LB Mason Foster: Tampa Bay Buccaneers
With a need for some toughness inside, the Bucs got a no-nonsense type linebacker in Foster who finds the football and tackles well in all areas of the game.
LB Von Miller: Denver Broncos
Despite not being an ideal fit in the Denver 43 defense, he's still a tremendously gifted athlete who will find ways to reach the passer in year one.
DB Patrick Peterson: Arizona Cardinals
He's physical off the line, can turn and run, and when he gets his hands on the football good things can happen.
DB Brandon Harris: Houston Texas
He offers the ability to play both outside and in the slot, is balanced out of his breaks with good fluidity down the field and has the ability to mature into the Texans best corner early in his career.
DB Jimmy Smith: Baltimore Ravens
Smith has the ability from day one to come in and press off the line. Character was his only question, but putting the Baltimore locker room behind him should help.
DB Marcus Gilchrist: San Diego Chargers
He's a versatile defensive back who can run, flip his hips and will tackle the football. I expect him to start at free safety this coming year, but he also has the ability to come down and play over the slot in nickel situations.
Follow me on twitter: @WesButing