April 24, 2013 -
Erik Oehler
5 players who could slip into the first round
Over the last month, we have been inundated with many mock drafts and one constant is the approximate 25 players who are almost always listed as likely first round picks. With the 2013 NFL Draft tomorrow, we take a look at five prospects that could be surprise first round draft picks.
1. Sanders Commings, CB, Georgia, Senior (6001, 216 and 4.42): While Dee Milliner and Xavier Rhodes have long been expected to be first round picks, in the last month Desmond Trufant and DJ Hayden have gained traction to likely join them. However, one player that has not received much publicity, but could sneak into the bottom of the first round is Georgia cornerback Sanders Commings. Although his play at Georgia was inconsistent at times, there are few cornerbacks, if any in this year's draft, with the combination of size and athleticism that Commings possesses. With very good height and a muscular build, he has the look of a safety, but he has the exceptional football quickness, hips and rare speed that are usually reserved for 5'9 cornerbacks. When he is focused, he is excellent in all types of coverage and has the ball skills to make plays on the ball with shocking ease. Overall, Commings' on field play warrants more of a second / third round selection, but his rare physical gifts could lead to him being picked in the final 10 picks of the first round because of his upside and potential.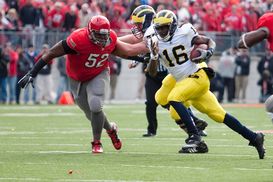 US PRESSWIREOhio State defensive tackle Johnathan Hankins works along the LOS to try and catch Denard Robinson.
2. Johnathan Hankins, DT, Ohio State, Junior (6027, 320 and 5.30): In a year with so many elite defensive tackle prospects, Hankins has generally slid under the radar, but there is no doubt that he has the physical talent to warrant being a first round pick. A big defensive tackle, Hankins almost looks thin for his height, but still has the strength to dominate blocks at the point of attack. Even when he does not make the play, Hankins has consistently shown the ability to tie up offensive lineman and anchor at the point of attack. Even more impressive than his strength, is his ability to defeat blocks when he plays with leverage and aggressiveness along with his speed chasing down and finishing plays. The issue I have with Hankins is that he does not play with the intensity or aggressiveness on every snap necessary to be the dominant player he has the talent to be. While I believe his on field play warrant second round draft consideration, defensive tackles with his talent and versatility to excel at any defensive line position in a 34 defense and as a power defensive tackle in a 43 scheme give him excellent value and make him a potential late first round pick.
3. Landry Jones, QB, Oklahoma, Senior (6042, 225 and 5.12): Definitely the quarterback I had the hardest time assigning an appropriate grade, there has been some "buzz" surrounding Jones the last few weeks. Based just on the notes I took when evaluating Jones I would assign him a third round grade due to his streaky play. However, while evaluating his play I charted out every pass he threw in the 2012 games I evaluated and when I plugged the results into the computer he ended up as the number two ranked quarterback with a first round grade. Jones has a big time arm to easily make every NFL with zip and when he is on he can be an extremely accurate passer. Standing strong in the pocket, Jones was able to make strong, accurate throws as the pressure closed in on him. Having played in Oklahoma's offense which does not require the complex adjustments of an NFL offense, Jones will need time to adjust to making all the protection calls/adjustments that an NFL offense requires. With questions surrounding many of the quarterbacks this year, more than one NFL source has told me that Jones is one of the top three quarterbacks in their team's draft boards. While I still would bet on Jones being a second round pick, there is little question he could end up being one of the final ten picks in the first round as quarterbacks with high end physical talent usually go higher than their on field production.
4. Jesse Williams, DT, Alabama, Senior (6033, 323 and 5.20 E): For whatever reason, Williams has not received the publicity of an elite player, but it was clear from early in the first game evaluating him that he is a legit high end player with excellent NFL potential. Possessing rare playing strength, Williams makes it look simple anchoring vs run blocks, double team run blocks and can jolt and drive pass blocker backwards as if he is on skates. Still learning the nuances of playing American Football, Williams often does not make as many plays as he is physically capable of and is more of a disrupter than play-maker. I believe this is due to his lack of experience playing American football and raw technique. As the premier defensive tackles come off the board fast in this draft, I expect some team will reach out and pluck him in the first round; especially a team that plays a 34 defense because I am confident he can be a dominant nose tackle or defensive end in that scheme.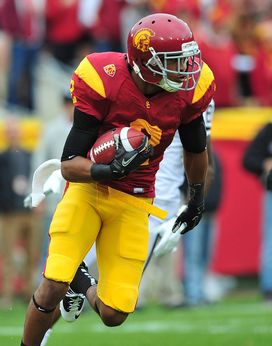 US PRESSWIREUSC receiver Robert Woods turns up the field running with the ball.
5. Robert Woods, WR, USC, Junior (6003, 201 and 4.51): With all the receiver talk centering around the rare physical talents of Cordarrelle Patterson and Tavon Austin and the disappointing Pro Day workout of Keenan Allen, Woods has continued to be dramatically under-rated. At 6'0, with a solid build and running excellent routes, Woods has the deceptive quickness and burst to easily get separation from the best cornerbacks. Not only a sharp route runner, but also a smart receiver who is easily able to identify holes in zone/off coverage, sits down in them and works back to the QB when needed, Woods consistently makes tough catches in key situations. Although 40 times seem to carry an inordinate amount of influence when receivers are broken down, Woods is a much more polished receiver than Patterson and Austin. It is clear that Woods will at worst be selected in the second round; I believe he should be selected by one of the bottom five or eight teams looking for a "plug and play" receiver.
Email Russ at Russelllande@yahoo.com and Follow Russ on Twitter @RUSSLANDE