December 30, 2013 -
Jason Cole
5 up, 5 down for Sunday
The most dangerous quarterback in the NFL returned just in time to make the playoffs while simultaneously sending his team's bitter rival into an offseason of controversy.
Green Bay's Aaron Rodgers returned after eight weeks on the sideline to guide the Packers to a 33-28 victory at Chicago in a showdown for the NFC North title. Rodgers, who showed some obvious rust, got help from another returning player as wide receiver Randall Cobb caught both of Rodgers' touchdown passes to lead the Packers.
Green Bay's return to the playoffs is a borderline miracle considering that Rodgers missed almost eight full games. However, when both Detroit and Chicago failed to take advantage of the opportunity, the Packers were able to hang around.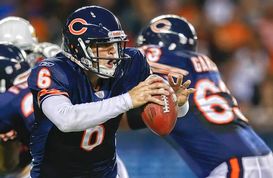 ICONThe big question in Chicago: Will Jay Cutler be back under center next season?
That sets up an intriguing first-round matchup as San Francisco visits Green Bay. Last season in the playoffs, the 49ers dominated the Packers with an offense that kept Rodgers from being a factor. It's fair to say Rodgers, who loves to get revenge, will have plenty of incentive.
But the big question coming out of the Green Bay-Chicago game revolves around Bears quarterback Jay Cutler, who fell to 1-9 against Green Bay over his career with the Bears. Cutler had a relatively good game, completing 15 of 24 for 226 yards, two touchdowns and an interception on a Hail Mary at the end.
So is "relatively good" good enough? Chicago General Manager Phil Emery and coach Marc Trestman have a difficult decision to make on whether to sign Cutler to a long-term deal which could approach $20 million per year, put the franchise tag on him or let him go as a free agent.
Don't be surprised if the final decision is to let Cutler reach free agency and hope that the price doesn't get too high. In all likelihood, it will and Cutler will leave. Between the talent the Bears have around the quarterback position and the system Trestman has installed, Cutler is more replaceable than your typical good quarterback.
Particularly a quarterback who is not quite great.
FIVE WINNERS
1. New England coach Bill Belichick – Plenty of people will pitch Belichick as the NFL Coach of the Year and he's worthy. Personally, I pick Ron Rivera. That said, Belichick's consistent excellence in trading for veteran players can't be ignored, particularly this season and especially after beating Buffalo on Sunday. LeGarrette Blount became the latest vet off the scrap heap that Belichick has turned into a star, if even for just a day. Blount had 24 carries for 189 yards and two touchdowns. He also had an 83-yard kickoff return to set up the game's clinching touchdown. While he has a ways to go to rank with the likes of Aqib Talib, Wes Welker, Corey Dillon and Randy Moss as the best vets Belichick has ever acquired, Blount has done nice work all season. He has gained 772 yards working primarily off the bench. While not every Belichick trade for a vet has worked (Chad Ochocinco and Albert Haynesworth didn't mean much), they certainly haven't backfired much.
2. Carolina coach Ron Rivera – After nearly being fired a season ago, Rivera has worked his way to being a top candidate for NFL Coach of the Year and he put that on display again Sunday. After falling behind 10-0 at Atlanta, Rivera's team didn't panic, got back in control with offensive balance (29 runs, 27 passes) as quarterback Cam Newton threw two touchdown passes and the defense again dominated. The Panthers finished with nine sacks of Falcons quarterback Matt Ryan, tying the NFL season-high. That included four from former sixth-round pick Greg Hardy, who picked a great year to have a career-season.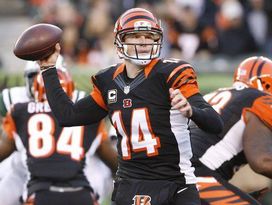 Despite a shaky performance, Dalton and the Bengals capped a perfect 8-0 season at home on Sunday.
3. Cincinnati – Although quarterback Andy Dalton made this uglier than it should have been with his four interceptions against Baltimore, the Bengals continued their domination at home by finishing undefeated at Paul Brown Stadium. In going 8-0, the Bengals scored 27 points or more in seven of those games. They also scored 34 or more in the final five at home. The Bengals now get to host a playoff game, giving them a strong chance to win in the postseason for the first time since 1990.
4. New York Jets coach Rex Ryan – Some people think Ryan is a blowhard, but he's really one of the better motivators in the game. How he managed to coax an 8-8 record and second-place finish out of this Jets team is a miracle. As a result, owner Woody Johnson said Ryan will return as coach next season. Probably, but Johnson will likely have to give Ryan a contract extension and Ryan already has a few teams that would love to have him if he's available.
5. Denver quarterback Peyton Manning – After that minor "controversy" this week about his record-tying TD pass against Houston, Manning took a hammer to anyone who dared question the veracity of his season with four touchdowns against Oakland … in the first half. Manning finished with 55 TD passes for the season, which might be the greatest accomplishment in human performance. Denver also became the first team to surpass 600 points in a season.
FIVE LOSERS
1. Miami quarterback Ryan Tannehill – After his fourth-quarter comeback victory over New England on Dec. 15, so many people had proclaimed that Tannehill had "arrived" as a passer. Two weeks later, after the Dolphins managed seven points combined in losses to Buffalo and the New York Jets, Tannehill is back to being that same young guy nobody is quite sure of. Over the final two games, Tannehill's stat line reads like this: 30 of 67 for 286 yards, one touchdown, three interceptions and seven sacks. He also failed to dive head-first on a third-and-21 scramble that could have led to a first down. The Dolphins missed on fourth down and allowed New York to get momentum in the first half.
2. Cleveland – As rumors swirled that coach Rob Chudzinski might be in trouble of losing his job, the Browns put out a statement that said any evaluations would wait until the offseason. Shortly after the game, ESPN's Chris Mortensen reported Chudzinski would be fired. Seriously? Cleveland President Joe Banner is a smart man. Really smart. But if he thinks the idea of either firing the first head coach he hired after just one year is a good idea or thinks it's OK to let the issue twist in the wind, you have to wonder about his common sense. Sure, the Browns struggled in the second half of the season, but firing Chudzinski smacks of dysfunction.
3. Washington quarterback Kirk Cousins – Cousins had a chance to play his way into a trade this offseason if he had played well over the final three games. Instead, after a decent first game, Cousins got progressively worse. He finished 19 of 49 for 169 yards, two interceptions and three sacks in the season finale. So much for that trade idea Washington was floating a couple of weeks ago.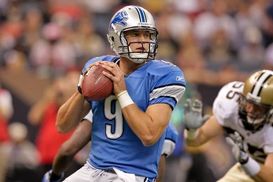 ICONHow will Stafford respond in 2014 after a disappointing run this year?
4. Detroit quarterback Matt Stafford – Stafford is a superior physical talent, but he needs some serious work on his accuracy and on the consistency of his arm angle. He has what lots of scouts call a "loose" arm. That's not always bad because it allows a quarterback to change his arm angle. However, Stafford does that to his detriment because he's not very exact with his mechanics. Stafford dismissed the idea of needing a quarterback tutor to help him when it was suggested early this week. Stafford needs to do better self-evaluation.
5. Penn State – With rumors rampant that Bill O'Brien will be hired by Houston (or some other NFL team if the Texans don't step up), the school that once boasted the greatest coaching stability in NCAA Division I history is now faced with having to chase a coach for the second time in three years. Tampa Bay coach Greg Schiano would jump to the head of a list of people interested in the job. If you're a Nittany Lions fan, O'Brien for Schiano is not a great trade.
Follow Jason on Twitter: @JasonPhilCole