January 13, 2014 -
Jason Cole
5 up, 5 down for Sunday
San Francisco quarterback Colin Kaepernick didn't need to steal counterpart Cam Newton's celebration to make the point that he really might be Superman.
But it was a pretty sweet move.
The real question is whether Kaepernick can pull off this effort on Sunday in Seattle in the NFC Championship Game, where he and the 49ers have played more like a Ziggy than Clark Kent's alter-ego. In San Francisco's past two games in Seattle, the 49ers have lost by a combined score of 71-16. Worse, Kaepernick has looked far more confused than confident.
He has completed a combined 32 of 64 passes for 371 yards with one touchdown and four interceptions. He has struggled to get through progressions in the deafening noise and against Seattle's swarming defense.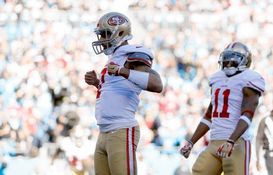 Kaepernick stuck it to Newton and the Panthers in Sunday's Divisional Round victory.
But if there is a glimmer of hope for the 49ers and Kaepernick, it has been his ability to transform himself on the road in the playoffs. After coming up with the critical plays against Carolina and Newton, Kaepernick is now 3-0 on the road in the playoffs. That's better than guys like Joe Montana and Steve Young. It's also halfway to Joe Flacco's NFL record six road wins among quarterbacks.
On Sunday, as Kaepernick's defensive teammates were pilfering Newton's mojo in a 23-10 victory, he was quietly brilliant against Carolina's stellar defense, twice converting short-yardage touchdowns. The first was a 1-yard touchdown at the end of the first half to Vernon Davis. Moving to his right, Kaepernick threw a perfect dart to the right side of the end zone as Davis tapped his toes to get in for the score.
In the second half, Kaepernick converted a quarterback option play for a 4-yard touchdown that put the game out of reach. On the celebration, Kaepernick mocked Newton's Superman celebration, essentially marking Carolina's home field as his territory.
If Kaepernick can do that in Seattle, he might really deserve an S on his chest.
<strong>FIVE WINNERS
1. New England running back LeGarrette Blount – Blount is a reminder to Tampa Bay fans of why Greg Schiano is no longer their team's coach. Given away for Jeff Demps and a seventh-round pick, Blount has 48 carries for 355 yards and six touchdowns in his past two games dating to the season finale against Buffalo. Not bad for a guy who was a backup the first 15 games of the season and is headed into free agency. Blount is a powerhouse runner who is reminding people of his strong rookie season in 2010. However, what's helping him most is he had only 153 carries in the regular season, making him look fresh (and unusually fast) now that he's getting regular work.
2. San Francisco linebacker Patrick Willis – Willis' first-half interception against Newton was significant in a number of ways. First, his physical play in coverage against Panthers tight end Greg Olsen was an example of how the game is called differently in the postseason compared to the regular season. Second, it set the tone for a game where the 49ers consistently took advantage of every mistake made by Newton. On this play, Newton threw high and behind wide receiver Brandon LaFell, who tipped the ball toward Willis.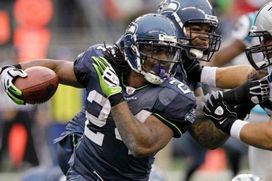 Lynch has been unstoppable for a struggling Seattle offense.
3. Seattle running back Marshawn Lynch – Earlier this year, Hall of Fame running back Earl Campbell said that Lynch was the closest runner in the league to him terms of style. That's quite a statement since Campbell is probably the fiercest runner in the history of the game. Lynch once again proved why he's worthy of such high praise with his 28 carries for 140 yards and two touchdowns on Saturday.
4. Seattle safety Earl Thomas – One of the top contenders for the NFL Defensive Player of the Year award had another great game with 11 tackles, including a team-high-tying seven solo stops, and two passes defensed. The great thing about watching Thomas is what a great pure tackler he is. At a time when so many defensive backs go for the hit rather than the wrap, Thomas is a throwback to the way the game should be played.
5. Denver quarterback Peyton Manning – Manning didn't have one of his typical games this season, completing 25 of 36 attempts for only 230 yards and two touchdowns. But his play-calling and manipulation of the San Diego defense was a thing of beauty. He baited San Diego into four offside penalties and continually got the Broncos into the right running play as they had 34 carries for 133 yards. He also converted two critical passes on the final drive as he has able to run out the clock, holding the ball for 35:27. His lone blemish was an interception off a deflected pass that should have been caught for a touchdown by wide receiver Eric Decker.
FIVE LOSERS
1. Indianapolis safety LaRon Landry – Landry was supposed to be one of the key acquisitions of the offseason for the Colts after they gave him a four-year, $24 million contract last winter. The deal included $11 million in the first year overall ($7 million signing bonus and $4 million base salary). On Saturday night, Landry played like a guy you might consider cutting this offseason. He was a non-factor in his best role as a run defender as New England simply overpowered Indy with the running game (46 carries, 234 yards). But one of the back-breaking plays was a 53-yard completion from Tom Brady to Danny Amendola on the play right after the Colts had closed to within 21-15 early in the third quarter. The play went over Landry, who was biting up against the run. The Patriots went on a 22-7 run the rest of the way to put the game away.
2. Indianapolis quarterback Andrew Luck – As dramatic as Luck's performance was in the first-round of the playoffs, he continued his run of ugly interceptions in the postseason with four more on Saturday. He had seven in two postseason games and the first one on Saturday night was a throw that simply didn't make a lot of sense.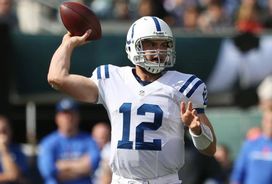 Luck will need to cut down on the turnovers prior to his next playoff berth.
3. Carolina quarterback Cam Newton – Some of Newton's numbers from this game suggest that he had a good game, particularly his average of 10.7 yards per pass and 54 yards rushing. He also threw a beautiful touchdown pass to Steve Smith in the first half. However, Newton got sacked five times and had two interceptions, including a game-killer that finished any chance of a comeback. Newton's first playoff game ended up being so empty that San Francisco counterpart Colin Kaepernick even stole his trademark Superman celebration in the second half.
4. San Diego's offensive line – In a game where the Chargers should have been able to impose their will, the team's front five came up decidedly shor t. The Chargers couldn't handle Denver defensive tackle Terrance Knighton at all and allowed three sacks in the first half. Any semblance of the ball-control offense that allowed San Diego to hold the ball for 39 minutes in the last game at Denver was gone early in this game.
5. New Orleans wide receiver Lance Moore – After the Saints finally started to find some rhythm on offense in the second half, one of their toughest receivers picked the wrong time to play some pretty shoddy football. It started with Moore short-arming a pass over the middle and even throwing up only one arm in the process. Moore followed that up with an offensive pass interference call. Ultimately, New Orleans scored on the drive, but the performance was emblematic of a tepid effort by the Saints in a game where they needed to lay it on the line.
Follow Jason on Twitter: @JasonPhilCole