September 23, 2013 -
Jason Cole
5 up, 5 down for Sunday
While Detroit won in Washington for the first time ever (as in 78 years of ever), there is one question to consider coming out of that game: How will the combustible trio of Washington coach Mike Shanahan, owner Dan Snyder and quarterback Robert Griffin III deal with the early, shocking disappointment of this season?
At 0-3, Washington isn't just playing poorly, it's in full regression. Griffin is obviously part of that, showing none of the explosion of a year ago and not appearing to get it back as the weeks go by. He was repeatedly chased down from behind by Detroit defensive linemen and linebackers.
Griffin played well from the pocket and threw a beautiful 57-yard pass to wide receiver Aldrick Robinson for an apparent touchdown, only to have it overruled when replay showed Robinson didn't control the ball to the ground. The Washington defense also continues to get lit up, giving up 441 yards of total offense even though Detroit didn't have running back Reggie Bush in the lineup.
But the whispers coming out of Washington this week were of discord in the building. Specifically, Griffin was growing anxious with his performance, requiring that Shanahan play counselor to his young quarterback.
"Robert is a great kid, but he doesn't have a lot of patience. He's not used to his body not responding and he doesn't have anybody around him to really talk to," a Washington source said Friday. "Mike and (offensive coordinator) Kyle (Shanahan) have been really good with him, but it's obviously a struggle right now."
Again, that was before the loss to Detroit. Now, the question is whether the hyper-critical Snyder will inject himself into the situation. If he does, this could become explosive. Shanahan doesn't tolerate much interference.
FIVE WINNERS
1. Bengals defensive end Michael Johnson – After having a very active game Monday night against Pittsburgh, Johnson had a dominant game against Green Bay. Johnson finished with seven tackles, including 1.5 sacks, a forced fumble and a pass defensed. He also had four quarterback hurries against Aaron Rodgers, who finished with two interceptions. More important than the stats, Johnson's timing was perfect. His forced fumble came on a critical fourth down in the fourth quarter and resulted in a touchdown by the Bengals defense. His pass defensed came on Green Bay's final play of the game as he batted Rodgers' pass at the line. Excellent work for a guy who will be a free agent this offseason.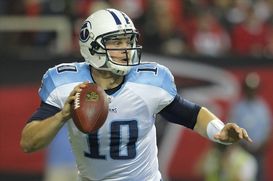 ICONLocker came up huge when the Titans needed him the most.
2. Tennessee quarterback Jake Locker – With 2:05 remaining and no timeouts, the Titans needed 94 yards and a touchdown against San Diego. Anybody betting on Locker to make this happen needs to call Gamblers Anonymous. But give Locker, who still has accuracy issues, credit for coming up with the biggest drive of his three-year career.
3. Miami quarterback Ryan Tannehill – Like Locker, Tannehill came up with the biggest drive of his young career as he led the Dolphins to a comeback win over Atlanta and a 3-0 start. Moreover, Tannehill showed fantastic accuracy. He is improving rapidly.
4. Indianapolis General Manager Ryan Grigson – This was a big week for the second-year executive as he made the trade for running back Trent Richardson, then watched Richardson score the first touchdown in an unexpected rout of San Francisco. If Richardson becomes the back so many expect, Grigson has sped up the rebuilding process in Indy by roughly two years.
5. Cleveland quarterback Brian Hoyer – Reprising the idea that sometimes when you win you actually lose, Hoyer led the Browns to their first win of the season and a vital victory after the controversial trade of the aforementioned Richardson. However, based on what the Browns are doing (they are also dangling wide receivers Josh Gordon and Greg Little in trade), winning a lot of games won't help the team get the quarterback they covet in next year's draft.
FIVE LOSERS
1. San Francisco coach Jim Harbaugh and defensive end Aldon Smith – This has nothing to do with the 49ers losing. The fact Smith played Sunday is simply a disgrace after he was charged Friday morning on suspicion of driving under the influence. This is the second time Smith has been charged in a DUI-related offense, although the first one was reduced later. The point is Smith has a problem, and it's one that has compelled the 49ers to sit the young pass rusher for Thursday's game at St. Louis.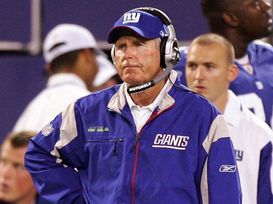 Has two-time Super Bowl winner Tom Coughlin lost the New York locker room?
2. New York Giants – There is a point at which you start to wonder if the message from a coach is still getting through to his players. After a sloppy, lethargic 38-0 loss at Carolina that featured three more turnovers, it truly appears that Tom Coughlin doesn't have the attention of his 0-3 team. This is stunning, but it's nonetheless true. Coughlin is probably a Hall of Fame coach, but even the best start to lose their edge.
3. Tampa Bay quarterback Josh Freeman – The final numbers (19 of 41 for 236 yards and an interception) are ugly. The odd part is that Freeman completed six of his first 10 for 84 yards and looked relatively sharp. He went 13 of 31 the rest of the way and the calls for rookie Mike Glennon will be deafening now that the Bucs are 0-3 despite having a strong defense. After the game, coach Greg Schiano said Freeman still gives the Bucs the best chance to win and that there was no thought of pulling him Sunday.
4. Houston safety Ed Reed – Reed's first game of the season was a homecoming as he returned to Baltimore. However, the Ravens made the return miserable, taking a 30-9 victory. Reed played poorly in his return, although the Ravens didn't go after him nearly as much as you'd think. Either way, this is not what Reed was hoping for.
5. St. Louis in the first half – Through the first three games, the Rams have been outscored 51-13 in the first half and you have to wonder what's going on. St. Louis made significant moves in the offseason (signing free agent tight end Jared Cook and trading up to get wide receiver Tavon Austin) to upgrade the offense. They also tried to throw on 17 of 22 plays in the first half, so it's not like coach Jeff Fisher was being too conservative. The problem Sunday was that the Rams pass protection was awful early, allowing four sacks in the first half.
Follow Jason on Twitter: @JasonPhilCole