November 11, 2013 -
Jason Cole
5 up, 5 down for Sunday
With a nod to Jacksonville coach Gus Bradley, who came up with the first win of his career, it was a huge day for one particular NFL head coach.
Carolina's Ron Rivera returned to his native California and came up with not just his fifth consecutive victory, but the most important win of his three-year career. The Panthers' 10-9 victory at San Francisco improved their record to 6-3, changing a trend that had haunted Rivera for the first two years of his tenure.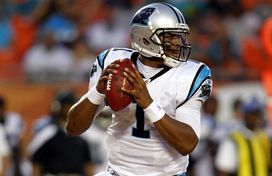 Cam Newton and the Panthers are the hottest team in football at the moment.
The Panthers got off the bad starts in each of Rivera's first two seasons, going 1-5 in 2011 and 1-6 in 2012. This season, Carolina was 1-3 before going on the aforementioned winning streak. The problem is that the winning streak was largely against also-rans.
Sunday was anything but an also-ran opponent. Although the 49ers haven't played as well as some expected so far this season, that's a quality team that was playing at home. Moreover, the 49ers have a potent offense.
A potent offense that was stifled by the defense Rivera has built. Players such as linebacker Luke Kuechly and defensive end Greg Hardy are the young cornerstones Rivera is building around on that side of the ball. Just as importantly, Rivera has slowly but surely gotten quarterback Cam Newton to buy into playing more under control.
Coupled with some patience from ownership, Carolina is seeing signs of a great turnaround. Sunday was one of those touchstone victories.
FIVE WINNERS
1. Philadelphia quarterback Nick Foles and wide receiver Riley Cooper: Foles has 10 touchdown passes in the past two games, including five to Cooper. The comfort between Foles and Cooper has a lot to do with them working together as backups much of last season. So give them credit, particularly Cooper in the aftermath of his ugly training camp controversy over being caught making a racial slur. Better yet, Foles has yet to throw an interception this season. Combined with the news that Michael Vick will miss at least two more weeks and it's easy to see that Foles will be the starter as long as he plays well or doesn't get hurt. All of that said, Green Bay helped Foles a lot Sunday by either tipping a TD pass to DeSean Jackson or playing awful coverage on the two scores to Cooper.
2. Denver wide receiver Demaryius Thomas: It's fair to bet that Thomas, a first-round pick in 2010, will one day buy quarterback Peyton Manning a really nice present. Probably sometime after Thomas gets a monster contract extension. Thomas had three TD catches against San Diego, giving him nine for the season and putting him one short of the career-high 10 he had last season. In less than two full seasons with Manning, Thomas has 19 touchdown receptions. In his first two years, Thomas had only six touchdown catches. Thomas is becoming one of the top five or six pass catchers in a league filled with great ones.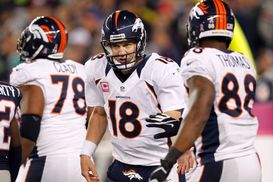 Manning and Thomas hooked up for three more touchdowns on Sunday.
3. St. Louis wide receiver Tavon Austin: A week after admitting that the NFL was a little tougher than he expected it to be, Austin showed why the Rams made him a first-round pick (and traded up for him in the process). He had three touchdowns, including two on receptions and one on a punt return. Austin showed off his amazing speed, particularly on an 81-yard catch and run in the first half as St. Louis stunned Indianapolis 38-8.
4. New York Giants schedule: After a brutal 0-6 start to the season, the Giants have climbed back into the NFC East race with three straight wins. Are the Giants playing that much better? To an extent, yes. The defensive line has started to show up and quarterback Eli Manning has gotten the turnover problems under control. At the same time, it helps when you face quarterbacks like Josh Freeman, the combination of a damaged Michael Vick and rookie Matt Barkley and then Terrelle Pryor.
5. Baltimore Ravens defense:
After an ugly couple of weeks that included cutting two offseason free agent acquisitions and then losing defensive tackle Haloti Ngata in the first half to an injury, Baltimore's defense had one of its best efforts of the season. The Ravens limited Cincinnati to 17 points, including a touchdown on a fluke Hail Mary at the end of regulation, and had three interceptions of Bengals quarterback Andy Dalton. Baltimore also limited Dalton to 24 completions on 51 attempts for only 274 yards.
FIVE LOSERS
1. Miami General Manager Jeff Ireland and coach Joe Philbin: The Dolphins don't play until Monday night against Tampa Bay, but this was one of the worst weeks in the history of the Miami franchise and Ireland and Philbin are likely to take the fall for it. Barring a major miracle over the final eight games of the season, Ireland and Philbin are expected to be fired in the aftermath of the controversy between offensive linemen Richie Incognito and Jonathan Martin. While Incognito did a decent job of explaining a lot of the circumstances surrounding his relationship with Martin during an interview on FOX on Sunday, there was one lingering question when it was all done: Who was running this circus?
2. Detroit head coach Jim Schwartz and offensive coordinator Scott Linehan: Over the final three possessions of the Lions victory at Chicago, Schwartz and Linehan did their level best to make sure the Bears had a chance to tie or win this game. Chicago almost tied it at the end, coming a two-point conversion short of forcing overtime. Schwartz and Linehan were hell-bent on throwing far too much at the end of the game, leading to an interception of quarterback Matthew Stafford and two possessions in which the Lions didn't take enough time off the clock. Yeah, Detroit won, but this kind of strategy has to stop. Consistently throwing on downs when you need to drain the clock is bad thinking. Throw in four personal foul penalties and you again are left to wonder about the discipline of the Lions.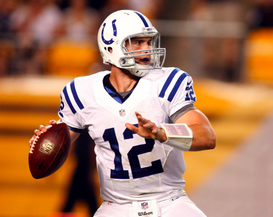 Luck and the Colts got blasted by St. Louis in Week 10.
3. Indianapolis quarterback Andrew Luck: Luck had one of the worst days of his young career as he threw three interceptions and was stripped for a fumble on the Colts' first drive. The fumble was returned for a touchdown that set off a lopsided loss against St. Louis. It also rekindled the questions about whether anyone can trust the Colts, who have matched great wins against Seattle, San Francisco and Denver with odd losses to Miami, St. Louis and San Diego.
4. Green Bay quarterbacks: In less than a full week, the Packers went from Aaron Rodgers to Seneca Wallace and now Scott Tolzien as the top quarterback on the depth chart. Rodgers has a broken bone in his left shoulder that he suffered last Monday night. Wallace then pulled a groin muscle in the first half against Philadelphia. Look for the Packers to have Matt Flynn signed by Monday afternoon.
5. Tennessee running back Chris Johnson: After breaking out for 150 yards last Sunday, Johnson was shut down to the tune of 30 by Jacksonville's defense. This came after Johnson had the temerity to say that a change at center was the key to the Titans success. Truth is, previous starting center Rob Turner had played relatively well early in the season before he suffered a torn labrum that required surgery. Turner did a good job of covering up for the fact that guards Chance Warmack and Andy Levitre weren't playing particularly well.
Follow Jason on Twitter: @JasonPhilCole