October 28, 2013 -
Jason Cole
5 up, 5 down for Sunday
As the Detroit Lions pulled off one of the most improbable victories in team history, quarterback Matt Stafford's 1-yard touchdown sneak set off an explosion.
On both the Detroit and Dallas sidelines.
As the Lions went through the jubilation of a great comeback – sprinting 80 yards in 50 seconds for a 31-30 win – Dallas wide receiver Dez Bryant was losing his mind.
On two different occasions, Bryant screamed at his teammates. The second of those was just after Stafford scored the game winner.
These weren't quick, impulsive shouts. They were lengthy rants, including one at quarterback Tony Romo. On the second rant, Bryant got into it with Dallas tight end Jason Witten and eventually had to be restrained by defensive end DeMarcus Ware. While Bryant caught two touchdown passes, including a 50-yarder after the first rant, it's not hard to assume Bryant got caught up in his personal matchup with Calvin Johnson.
A matchup that was almost no contest despite Bryant's two scores and bountiful talent.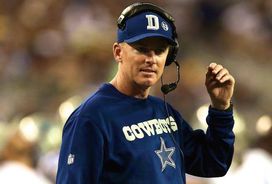 How will Jason Garrett deal with the Cowboys' latest setback?
After the game, Bryant defended his actions.
"My passion is always positive," said Bryant, who had three catches for 72 yards and two touchdowns on six targets in the loss. "It's always positive. It's going to remain the same way. I'm not saying anything wrong. I'm not saying anything bad. It's all positive. That's just what it is.
"I'm the nicest person off the field. When I'm on the field, even when I look angry, it's still all good passion. It's all good passion. I feel like that's what we need. I'm going to remain the same way. I feel like I love this game. I love it. In order to win, you've got to be passionate about this game. You have to be. You've got to let that dog come out and just put it all out there on the line."
Earlier this week, Bryant said on a radio appearance in Dallas that "I believe I can do whatever (Johnson) can do."
Perhaps in response, the Lions made a point to feed the ball to Johnson. In the process, it looked like Bryant got caught up in the menagerie of numbers.
Johnson had the second-best day for a wide receiver in NFL history, catching 14 passes for 329 yards and one touchdown. He came only 7 yards short of Flipper Anderson's record of 336 yards in 1989. He came up only a yard short of scoring the game-winning touchdown that Stafford eventually ran in as the final seconds of the game ticked down.
While Johnson, Stafford and the Lions were the story of the day, the actions of Bryant could have a longer-lasting effect.
At the end of the volatile game, the Cowboys found themselves at 4-4, which has been a state of being for Dallas for the better part of the past 10 years. For all the talent the Cowboys possess, Dallas is a model of mediocrity. Every time Dallas appears to get something going, such as the impressive back-to-back wins over Washington and Philadelphia the previous two games, something happens like Bryant's histrionics.
Bryant's actions set off warnings in the media and the locker room. Is Bryant a selfish guy? Does he need to be managed? Is he worthy of being signed to a long-term contract? Will he get worse if he gets paid?
These are questions that hang in the air like the smell of cigarette smoke. It leaves people to wonder if Dallas will be choked off by the scent.
FIVE WINNERS
1. New England coach Bill Belichick – Perhaps no coach in league history has gotten more out of less in NFL history. Despite the myriad of injuries this season, Belichick became only the third coach in history to go 100 wins over .500. Belichick, who is 221-121 over his career, joined Don Shula and George Halas in that category. On Sunday, Belichick coaxed a 27-17 win over Miami out of his injury-riddled team. The Patriots looked lost for the better part of three quarters. At one point in the second half, Tom Brady had only 25 yards passing and the Patriots were down 17-3 as the Dolphins had more than 100 yards rushing. What ensued was 24 unanswered points and a flurry of big plays, such as the great combo interception by Devin McCourty and Marquice Cole (McCourty tipped the ball as he was going out of bounds to Cole, who kept his feet in before going out as well).
2. Dallas linebacker Sean Lee – Lee has become the best coverage linebacker in the league and it may not be close. Lee has 11 interceptions in the past three years, including two on Sunday. On the second interception, Lee showed his athletic ability with a 74-yard return, the second longest in Dallas history.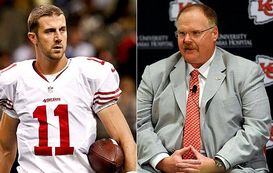 Alex Smith and Andy Reid are on fire through the first eight weeks of the season.
3. Kansas City Chiefs – Yes, the Chiefs do not have a win over a team with a winning record this season. But they also have yet to allow more than 17 points in any game this season. They get to face Buffalo next Sunday before getting a bye and then facing division-rival Denver.
4. Cincinnati wide receiver Marvin Jones – The Cincinnati coaching staff has been raving about Jones for two years since nabbing him in the fifth round in 2012. On Sunday, he showed why as he had six receptions for 116 yards and three touchdowns … in the first half. Jones finished with four touchdown catches.
5. Oakland quarterback Terrelle Pryor – There are still plenty of reasons to doubt that Pryor will make it as a quarterback, but he is one heck of an athlete. Pryor set an NFL record with a 93-yard touchdown run on Oakland's first possession of the game. It was the longest TD run ever by a quarterback and the longest run in Raiders history, surpassing the legendary Bo Jackson.
FIVE LOSERS
1. Dolphins quarterback Ryan Tannehill – Tannehill returns to this category for the second straight week after two more turnovers and getting sacked six times … all in the second half. Obviously, Tannehill isn't completely at fault. The Dolphins offensive line is horrendous and the play calling doesn't often help. But the buck stops with Tannehill.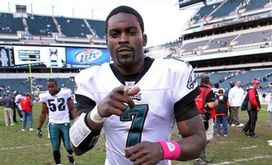 Did Vick return from his hamstring injury too soon?
2. Philadelphia quarterback Michael Vick – Vick's hamstring obviously wasn't good enough for him to play the whole game. He pushed it as far as he could, but was pulled after completing 6 of 9 passes for 31 yards, one interception, a fumble and an intentional grounding call.
3. The New York Jets defense – After getting all sorts of love from the national media, the Jets got torched by Cincinnati and quarterback Andy Dalton (five touchdown passes). In addition, Jets quarterback Geno Smith had two more turnovers, giving him 16 for the season. Both his interceptions were returned for touchdowns.
4. Atlanta tight end Tony Gonzalez – Gonzalez didn't do anything particularly bad, but what is supposed to be t he final season of his career continued to go down the drain as the Falcons fell to 2-5. The only saving grace is that this might put Gonzalez on the trading block and allow him to return to Kansas City for a last hurrah.
5. Washington coach Mike Shanahan – It was a rough return to Denver for Shanahan, who was the best coach in Broncos history. For a brief moment, it looked like Washington had a good shot, building a 21-7 lead. Then Denver and Peyton Manning reeled off 38 consecutive points. The worst part of this game is that Shanahan stubbornly got away from his run-based offense and tried to throw too much. He also called for a lot of difficult pass routes.
Follow Jason on Twitter: @JasonPhilCole