January 20, 2014 -
Jason Cole
5 up, 5 down for Sunday
FOX sideline reporter Erin Andrews was one of millions of people in America who were probably frightened by Seattle cornerback Richard Sherman's postgame outburst on Sunday night after the Seahawks beat San Francisco to advance to the Super Bowl.
But most people don't understand how hot Sherman burns, particularly when his former Stanford coach, Jim Harbaugh, is standing on the opposite sideline.
After Sherman tipped the final pass of the game to create an interception that ended the 23-17 victory, he was approached by Andrews. During a full-on rant that channeled the best of Bart Scott, Sherman said he was the best cornerback in the game and called intended wide receiver Michael Crabtree "sorry."
It was the kind of moment YouTube was created to store forever.
But all of that anger, which caused Andrews to end up speechless, is fueled by Harbaugh, the 49ers head coach. The story is simple. Prior to the 2011 draft, NFL personnel executives talked to Harbaugh and his Stanford staff. The reviews on Sherman weren't good. In fact, they were brutal, dropping Sherman all the way to the fifth round.
To a man like Sherman, that's like lighting a blow torch in a refinery. While most people will dismiss Sherman as a classless jerk who doesn't know how to contain his emotions, well, yeah, that's what he is.
But at least he's completely honest about it. Sherman has talked trash to anybody and everybody, from Crabtree to Hall of Fame quarterback Tom Brady. With two weeks to go before the Super Bowl, the only question is whether Sherman will get too tired talking to play well.
FIVE WINNERS
1. Denver quarterback Peyton Manning – While the debate over whether this game impacted his legacy is a little ridiculous, Manning did manage to put together a legacy game. His precision in completing 32 of 43 passes for 400 yards and two touchdowns was one of the greatest performances of his playoff career and vaulted him into his third Super Bowl. Now, Manning will have to endure two weeks of wondering whether he can be considered one of the greatest quarterbacks in the history of the game if he doesn't win a second Super Bowl. Manning is either the best quarterback of all time or somewhere in the top six, depending on your opinion. Ultimately, the difference between Manning, John Elway, Johnny Unitas, Joe Montana, Tom Brady and Dan Marino can only be measured with an atomic microscope.
2. Denver defensive tackle Terrance Knighton – In two playoff games, Knighton has been an absolute monster, mostly with his ability to stuff the run. Knighton did that in a big way in the first half against New England, helping stuff Patriots running back LeGarrette Blount. Blount had only six yards rushing on five carries in the first half. But in this game, Knighton got a rare big play in pass rush. Late in the fourth quarter with New England going for it on fourth-and-3, Knighton made Pro Bowl guard Logan Mankins look absolutely silly on a shoulder move to the outside followed by a hard rush to the middle. Mankins completely whiffed on the play.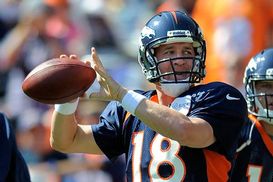 The last time we saw Peyton Manning in the Super Bowl, he was watching Drew Brees and the Saints hoist the Vince Lombardi Trophy.
3. Seattle quarterback Russell Wilson – It's clear that as the Seahawks offense has struggled over the past month, Wilson has come to believe that he has to do more than necessary. That has led to some bad scrambling decisions. One of those led to an intentional grounding call that appeared to take Seattle out of a scoring situation. Instead, Wilson came up with one of the great fourth-down throws you'll ever see for a go-ahead touchdown in the fourth quarter. It was one of two huge plays that Wilson came up with to make up for his sometimes frenetic play.
4. San Francisco offensive coordinator Greg Roman – After watching Colin Kaepernick struggle so much in his previous two starts in Seattle, Roman made an excellent adjustment to his plan of attack by instructing Kaepernick to run more often in this game off scrambling situations. The 49ers had been trying for most of the season to make Kaepernick more of a pocket passer. Knowing that Seattle likes to play man defense, that opened the door for Kaepernick to do things he is more comfortable doing. Along the way, Kaepernick played more decisively than ever in Seattle.
5. Seattle defensive ends Michael Bennett and Cliff Avril – Bennett and Avril combined for 16.5 sacks this season after being relatively cheap free agent pickups by Seattle General Manager John Schneider. They punctuated their season with a terrific effort on Sunday, including a combo play on which Avril sacked and stripped the ball from Kaepernick and Bennett recovered the ball. That was the first of three turnovers by Kaepernick in the fourth quarter.
FIVE LOSERS
1. NFL officiating and replay rules – After a relatively clean game in the AFC Championship, the work of the NFC officiating crew, led by Gene Steratore, wasn't particularly strong. That's being kind. There were some ticky tack calls that shouldn't have been made (a questionable holding call against Sherman), more definitive calls that should have been made quickly (the first grounding call against Wilson) and a missed call on a fumble by Seattle at the goal line. That call at the goal line, which couldn't be reviewed because of a technicality, will lead to a rules change this offseason.
2. San Francisco quarterback Colin Kaepernick – This is a tough one because for the first three quarters of the contest, Kaepernick played a brilliant game. The 17 points the 49ers scored is more than they had in the previous two games with Kaepernick starting in Seattle. However, Kaepernick's fourth-quarter performance was a nightmare of three turnovers, including two interceptions. The last interception was partly a great play by Sherman, but it's a throw Kaepernick probably shouldn't have made. All of that overwhelmed a tremendous early effort that included him rushing for more than 100 yards.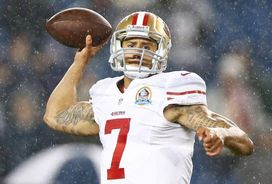 Kaepernick put together a terrific performance...right up until the fourth quarter.
3. New England quarterback Tom Brady – Brady didn't play poorly in this game, but he wasn't sharp at critical moments. He missed a wide-open throw in the first quarter that he normally hits in his sleep. He missed another one later in the game that was slightly tougher, but no less important as the Patriots offense limped through this game. Really, much of this was all of the Patriots' injuries coming home to roost at a critical time, but Brady was nonetheless off at a critical time.
4. New England cornerback Aqib Talib – Talib wasn't so much a loser as he was really unlucky after being the target of a vicious pick hit by Denver wide receiver Wes Welker. That play essentially took Talib out of the game after such an incredible season and allowed Denver wide receiver Demaryius Thomas to run free throughout the game. Thomas finished with seven catches for 134 yards and a touchdown after being contained effectively by Talib in the November matchup. This is the second year in a row Talib has been knocked out of the AFC Championship Game because of injury. He now heads to free agency desperately wanting to stay in New England.
5. New England offensive line – Aside from the aforementioned play by Knighton against Mankins, the entire Patriots offensive line had problems throughout the first three quarters, allowing New England to get behind early. The running game was nonexistent from the beginning of the game as the Patriots finished with only 64 yards rushing on 16 carries. As for the pass protection, left tackle Nate Solder also got toasted on another play as Brady was pressured early and often.
Follow Jason on Twitter: @JasonPhilCole