December 02, 2013 -
Jason Cole
5 up, 5 down for Sunday
Denver wide receiver Eric Decker isn't exactly a secret weapon, but he is likely the key to the Broncos' chances of winning a Super Bowl.
Yes, plenty of what happens to Denver revolves around quarterback Peyton Manning. Manning's ability to handle the cold weather of January and February and his response to the pressure of the postseason are going to be watched closely.
But much of what Manning does depends upon the ability of his receivers to get open quickly. Manning is always at his best when at least one of his receivers can run the pass route the way the play is designed. That's typical of most rhythm passers, but it's particularly true for Manning, who has never adjusted well to the rougher play his receivers usually face in the playoffs. That rougher play also usually leads to better pass pressure against him.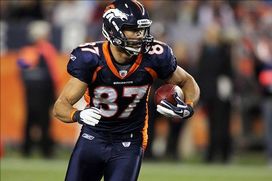 Decker has amassed 20 touchdown receptions in 28 regular season games with Peyton Manning under center.
You get the picture.
In Denver's two losses this season to New England and Indianapolis, Broncos receivers were bumped and rerouted on a constant basis. The Patriots did the best job of taking Demaryius Thomas away on early downs and limited Wes Welker on third-down situations.
That should have left Decker open for a big game. Instead, Decker had just one catch for 5 yards. He disappeared at a time when he was single covered on a constant basis.
It's not that Decker isn't capable. In the loss to Indianapolis (which the Broncos easily might have won if not for a late fumble), Decker had eight catches for 150 yards and a touchdown. On Sunday, in completing a sweep of Kansas City, Decker had eight catches and posted career highs with 174 yards and four touchdowns. Along the way, Decker set the record for most touchdowns by a Denver receiver in his first four years.
The point is that Decker is the kind of weapon who can change a game even if he has largely been either the third or fourth option this season after Thomas, Welker and sometimes even tight end Julius Thomas.
Decker will be the guy getting single coverage come playoff time. He needs to abuse it.
FIVE WINNERS
1. New England quarterback Tom Brady – Through the first eight games of the season, Brady had one 300-yard passing performance and a total of nine touchdown passes. Over his past four games, Brady has one 400-yard performance, two more 300-yard games and a low mark of 296 yards. He has thrown 10 touchdown passes and completed at least 68 percent of his passes in each of those games (something he did only once in the first eight). Yes, the return of tight end Rob Gronkowski has a lot to do with that, but Brady's ability to get in sync with his receivers over the course of the season is one of the most remarkable achievements of his career.
2. Indianapolis kicker Adam Vinatieri – As Vinatieri nears his 41st birthday (Dec. 28), he continues to make a case to be only the second pure kicker to get in the Pro Football Hall of Fame. Vinatieri, who began his career with a flurry of game-winning kicks in the playoffs, has overcome some nagging injuries in recent years. On Sunday, he made five field goals (37, 45, 47, 48 and 49 yards) to keep the Colts in the game while their offense was struggling.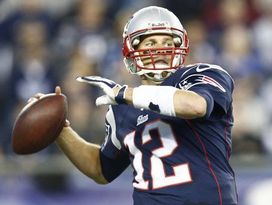 Brady has once again caught fire during the most crucial months of the NFL regular season.
3. Cleveland wide receiver Josh Gordon – To think that Cleveland was actually entertaining trade offers for Gordon before the deadline this season now seems really amusing. Sure, he's one failed test from a one-year ban. He's also ridiculously good. In a loss to Jacksonville, Gordon had 10 catches for 261 yards and two touchdowns, including a 95-yarder. He became the first receiver in NFL history with back-to-back 200-yard games and has 24 catches for 498 yards and three scores in the past two games. Gordon is averaging 18 yards a catch in his two seasons, making him one of the best young deep threats in the league.
4. Chicago wide receiver Alshon Jeffery – Jeffery did a nice job of keeping pace with Gordon as he finished with 12 catches for 249 yards and two touchdowns, including an 80-yarder. The difference – if there was much of any – was the 46-yard touchdown catch Jeffery had in the second half. The concentration alone to hold the ball and then the ability to dance along the sideline as he stayed inbounds was stunning. In a year with a lot of great catches, this one stands out.
5. Philadelphia tight ends Zach Ertz and Brent Celek – There was much discussion before this season about the two-tight end combination the Eagles had created when Ertz was drafted in the second round to go with Celek. After struggling earlier in the season, the pair have combined for five touchdown receptions in the past four games, including three on Sunday in a victory over Arizona. Ertz had two touchdown catches among his season-high five receptions and 68 yards. As the Eagles continue to chase Dallas for the NFC East title, having Ertz and Celek up to speed is critical.
FIVE LOSERS
1. Rapper and budding sports agent Jay-Z – Not sure which is more ridiculous: Jay-Z demanding $310 million for second baseman Robinson Cano or the poor play of New York Jets quarterback Geno Smith. Smith was pulled at halftime, ending a stretch in which he completed only 29 of 75 passes for zero touchdowns and six interceptions. He was also sacked 10 times during that span. It's fair to say that neither the Cano demand nor Smith's performance are doing much for Roc Nation Sports' business, although Jay-Z is a long way from failing at this business. Smith, by contrast, is getting to the point that he might be unsalvageable. He now has 23 turnovers on the season, giving Jets fans a serious case of Mark Sanchez flashbacks.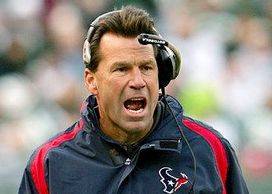 It's just a matter of time before the Texans part ways with Kubiak.
2. Houston coach Gary Kubiak – He may be one of the nicest and classiest men in the business, but Kubiak cemented his status as No. 1 on the coaching hot seat with some really questionable work in the final minutes of a 34-31 loss to New England. Sure, the Texans made a game out of this one despite the mismatch of Case Keenum against Brady. But when Kubiak decided to go for it on fourth-and-13 with 2:07 remaining in the game AND called Houston's second timeout in the process, you really have to wonder about his ability to play situational football. Not smart.
3. NFL referee Tony Corrente – Yes, there are plenty of terrible calls over the course of a season and Corrente's call against Arizona defensive end Matt Shaughnessy is far from the worst this season. But it's the type of ticky-tack call that drives fans, players and coaches crazy. Shaughnessy and Ertz got into some very minor hand play and Shaughnessy held Ertz ever so slightly. In a crucial moment, this is not the type of call you make. Heck, you don't make this call most of the time. To ha ve it give the Eagles a critical first down at the end of the game was really awful.
4. Minnesota tight end Rhett Ellison – After getting a touchdown in his first game last week, Ellison came really close to losing one for the Vikings on Sunday. He dropped a touchdown catch in regulation and had a facemask penalty that wiped out a game-winning field goal in overtime. Minnesota ended up coming back to win the game later in OT, but Ellison wasn't much of a help.
5. Cleveland cornerback Joe Haden – Haden is a great kid and has the potential to be a great corner. But he still has moments where he loses concentration. In this case, it was on a 20-yard touchdown catch by Jacksonville's Cecil Shorts for the game winner. Haden was way too aggressive in this situation and paid for it dearly.
Follow Jason on Twitter: @JasonPhilCole