October 07, 2013 -
Jason Cole
5 up, 5 down for Sunday
Technically, Tony Romo and the Dallas Cowboys lost and Peyton Manning and Denver won Sunday in one of the great shootouts in NFL history at Cowboys Stadium.
In this case, however, the real winner from Denver's 51-48 victory is the league at large. This is the kind of game the NFL dreams about for the regular season, a passing showdown that featured a combined 920 passing yards. Romo won that part of the battle with a career-high 506 yards. If not for an interception in the final three minutes, Romo might have made a run at Norm Van Brocklin's record of 554 yards set in 1951.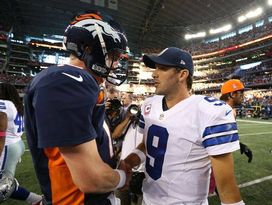 Manning and Romo put on one hell of a show Sunday afternoon.
Then again, that's the story of Romo, who made the critical error at the critical moment yet again. While Manning had his first interception of the season in the second half, he didn't make the error at the moment of greatest pressure.
But again, that's quibbling over a play or two in a game that featured 99 points scored. For the NFL, this is what they hope for. It's a Fantasy Football scorefest that came down to the final play of the game. This game was essentially basketball on turf, including the concept of one team holding the ball for the last shot.
Compare that with the bore-a-thon that played out in Arizona at the same time. Cam Newton and Carson Palmer, two passers who were once considered rising stars, combined for six interceptions in a 22-6 win for the Cardinals. Unless you're a fan of defense, that's not exactly scintillating.
Give thanks for Denver and Dallas. The NFL certainly did.
FIVE WINNERS
1. Seattle quarterback Russell Wilson – Sure, the Seahawks lost for the first time this season, but Wilson wasn't the problem. In a great duel with Andrew Luck, Wilson had one combination of plays that showed why he's so amazing. On a fourth-and-3 play from the Indianapolis 37-yard line, Wilson made an incredibly quick decision to scramble for a first down. Two plays later, he laid a perfect fade route to Jermaine Kearse down the left sideline for a 28-yard touchdown. Kearse wasn't at all open when Wilson threw it, putting the ball in an absolutely perfect spot and showing great anticipation.
2. Indianapolis quarterback Andrew Luck – Luck posted the ninth fourth-quarter comeback of his career (Wilson has six, which is impressive, too). Two things jumped out in this game. First, if there was one weakness in Luck's game coming out of Stanford and during his rookie year, it's that he didn't throw the most accurate deep ball. On Sunday, Luck threw two of the best deep passes you will see, hooking up for scores of 73 and 29 yards to wide receiver T.Y. Hilton. As an aside, Hilton came up with a great third-down catch in the fourth quarter.
3. Jacksonville wide receiver Justin Blackmon – In an otherwise miserable year for the Jaguars (the team lost No. 2 overall pick Luke Joeckel to a broken ankle Sunday), Blackmon returned from a four-game suspension for violating the substance abuse policy. He quickly gave Jacksonville at least a nice highlight. He scored on a 67-yard pass from Blaine Gabbert to give Jacksonville a brief 7-0 lead. More important, Blackmon finished with five receptions for 136 yards, picking up where he left off toward the end of last season as he continues to look like a franchise receiver.
4. Philadelphia quarterback Nick Foles – Foles predictably lost the training camp competition with Michael Vick, but obviously kept working at his craft and was ready when Vick tweaked his hamstring. Foles went 16 of 25 for 197 yards and two touchdowns as the Eagles moved into a tie for first place in the NFC Least. According to ace Comcast Sports Net reporter Reuben Frank, Foles' passer rating of 114.9 was the highest passer rating for an Eagles quarterback against the Giants in New York since Pete Liske had a 148.4 … in 1971.
5. Kansas City running back Jamaal Charles – The Chiefs improved to 5-0, but it wasn't easy. The Chiefs got only one offensive touchdown and consistently stalled in the red zone, settling for three short field goals. Charles was the consistent bright spot with 101 yards rushing, including a 1-yard touchdown, and 37 yards receiving on five receptions.
FIVE LOSERS
1. New York Giants defense – For the first time since the 1987 strike season, the Giants are 0-5 and it's a particularly bad 0-5. New York has allowed more than 30 points in all five games and more than 35 points in four of five. Jason Pierre-Paul and Justin Tuck look like they are 97 years old, each.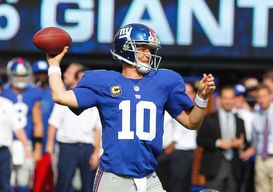 US PRESSWIREManning and the Giants looked miserable once again on Sunday.
2. New York Giants quarterback Eli Manning – As bad as the Giants defense has been, Manning has kept pace with his ugly play. Manning had three more interceptions against Philadelphia, giving him 12 for the season. That puts him on pace for 38 this season.
3. Miami Dolphins offensive line – The Dolphins allowed six sacks and have given up a league-high 24 in five games. Offensive tackles Jonathan Martin and Tyson Clabo were wretched. They were lit up for two sacks each. Three of those combined four came from Baltimore's Terrell Suggs. Yeah, Suggs is a great player, but Martin and Clabo made this way too easy for him.
4. New England Patriots passing offense – The constant turnover at wide receiver this season has made it nearly impossible for Tom Brady to do anything consistently. At one point in the third quarter, Brady was averaging only 4.3 yards per attempt.
5. Cincinnati quarterback Andy Dalton – Yeah, the Bengals won an important game against the Patriots, but Dalton continues to show signs of regression in his third season. The latest was an interception he threw in the red zone in the first half. Dalton was rolling right and threw back across his body to the middle of the field. That's a fundamental error.
Follow Jason on Twitter: @JasonPhilCole