December 16, 2013 -
Jason Cole
5 up, 5 down for Sunday
Sunday was a competition for which NFL team had the worst loss. The competition was a four-way battle between Dallas' dramatic loss to Green Bay, Philadelphia's surprisingly lopsided loss at Minnesota, New England's latest nail-biter and New Orleans' listless performance at St. Louis.
While the Dallas game certainly qualifies from a historic perspective – the Packers posted the biggest comeback in team history and wide receiver Dez Bryant provided the defining moment for the Cowboys by walking off the field early – it was not exactly shocking when you consider that this is the Cowboys. Dallas is the most mentally weak team in the league and the defense is just terrible right now.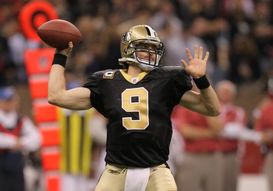 ICONBrees and the Saints tanked on the road Sunday, which could cost the team a first-round bye.
The Eagles loss was stunning, especially when considering that Minnesota was without injured Adrian Peterson. However, this was an odd game in which untimely penalties killed Philadelphia.
The Patriots come up well short of the worst loss because they were expected to struggle without tight end Rob Gronkowski. Frankly, it's not hard to see New England losing in its first playoff game at this point. The Patriots are, at best, limited.
So that leaves New Orleans, a team that now is in danger of losing the NFC South title to Carolina if it can't win on the road this Sunday in Carolina. Based on how the Saints have played on the road this season (3-4 with a defense that's more than a touchdown worse on the road), you can pretty much crown the Panthers right now.
And, in the process, pretty much list New Orleans as a playoff also-ran. At best, the Saints might – emphasize might – win a first playoff game on the road if they are a wild-card team in their current condition.
Once again, the Saints proved that they are nothing more than a creation of the Superdome, particularly on defense. In seven games on the road this season, New Orleans has only one solid performance, a 26-18 win at Chicago in October. The other two victories on the road were a 17-13 win at Atlanta and a desperate 16-14 comeback win at Tampa Bay.
On Sunday, the Saints were dominated from the start, falling behind 24-3 in the first half and only making the game somewhat competitive with two late touchdowns. In most every other way, New Orleans was dominated, allowing running back Zac Stacy to look like Barry Sanders at times and Kellen Clemens to look like a 10-year starter.
5 WINNERS
1. Miami quarterback Ryan Tannehill – Coming out of Texas A&M, the word on Tannehill was that he melted in the fourth quarter. On Sunday, he stood face-to-face with Tom Brady and led the Dolphins to a game-winning touchdown with just over a minute left. That was part of a brilliant second half for Tannehill, who led the Dolphins to 17 points with scores on three of four possessions that bridged the third and fourth quarters. During that four-possession span, Tannehill completed 13 of 18 passes for 141 yards, two touchdown passes and a field goal. Included in that run were two excellent touch passes over the top of the Patriots defense against heavy blitzes.
2. The next Houston head coach – The Texans continued their run to the No. 1 overall pick with a lifeless performance at Indianapolis that dropped Houston to 2-12. The most staggering part of this is that the Texans, despite having a solid core of players, have managed to lose 12 straight. Barring a miracle victory over Denver this week and an unlikely win at Tennessee in the season finale, the Texans will pick no worse than No. 2 overall. Pretty nice in a deep year for quarterbacks at a time when Houston desperately needs one.
3. Washington – After a brutal week of controversy, Washington once again lost to drop to 3-11. However, the game was far more competitive than last week and the team got an excellent performance from backup quarterback Kirk Cousins, who completed 29 of 45 for 381 yards, three touchdowns and two interceptions. That performance was pretty much in line with the best of anything that Robert Griffin III has done all season. The most important thing is that, at the very least, Cousins raised his trade value in the offseason as Washington hopes to recoup something in the draft after giving up what will likely be the No. 2 overall pick as part of the 2012 trade for Griffin.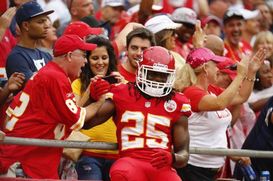 Charles went nuclear Sunday in Oakland.
4. Minnesota running back Matt Asiata – The final rushing stats aren't amazing (30 carries for 51 yards), but Asiata made his first start a game to remember with three rushing touchdowns as the Vikings routed Philadelphia 48-30. Coming into this game, Asiata had only three carries for his career, which started as an undrafted free agent in 2011. In this game, Asiata tied a team record for rushing scores when he was called into action because Peterson and Toby Gerhart were inactive with injuries.
5. Kansas City running back Jamaal Charles – Five touchdowns, including four on passes, which is an NFL record for a running back. A total of eight catches for 195 yards. That's not a good day, that's a good season for most running backs. Charles is truly special in so many ways, even if Oakland is not really much of a challenge. Along those lines, it's worth noting that the Raiders have managed to make Nick Foles (seven TD passes) and Alex Smith (five TD passes) look like Peyton Manning this season. Heck, even Geno Smith looked good against Oakland this season.
FIVE LOSERS
1. Dallas quarterback Tony Romo – Romo had yet another December game to forget with two interceptions in the fourth quarter (and nearly a third). To be frank, he should have never even thrown the first one to Sam Shields, checking out of a run play that simply should have been kept on the ground no matter what considering the clock and the state of the Dallas defense. With Philadelphia having lost already to a hapless Minnesota squad starting a backup quarterback, the Cowboys faced a hapless Green Bay squad starting a backup quarterback. Dallas even built a 26-3 lead at halftime. That's when Matt Flynn went on a rampage, leading the Packers to five straight touchdowns to open the second half. But Romo helped make so much of it possible by checking out the running play with just under four minutes remaining and the Cowboys protecting a five-point lead.
2. Philadelphia – For a team fighting for a division title, the Eagles played with the discipline of, well, the Detroit Lions. The Eagles, facing a Vikings team without Adrian Peterson, allowed 48 points. That included three touchdown drives in the fourth quarter. They were 54, 36 and 48 yards. The last two were helped by a roughing the passer penalty of 13 yards and a 30-yard pass interference call. Throw in a failed onside kick and you have a recipe for a lopsided loss in a game where the Eagles were otherwise statistically close.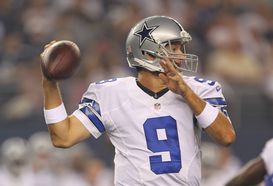 US PRESSWIREWhat more can be said about Tony Romo and the Cowboys?
3. New England – The Patriots are in serious trouble. Yes, they are 6-3 in games decided by four points or less and they still have Tom Brady. But within that record, they are only 2-2 against teams with winning records and the two wins were the improbable comebacks against New Orleans and Denver. As showed in the first half of the season, the Patriots are just not explosive in the passing game without tight end Rob Gronkowski. They have absolutely zero vertical threat on their offense.
4. New York Giants quarterback Eli Manning – Five interceptions, really? Look, Seattle is good and three of the five came from Richard Sherman (two) and Earl Thomas (one). But five? At home? If you didn't know better, you'd almost wonder if Manning did this intentionally to undermine coach Tom Coughlin. Manning doesn't have to do that because he ultimately has the power to get Coughlin fired with just a conversation, not a putrid performance. This has been part of a bad season overall for Manning, who opened the season with 15 picks in his first six games and now has 25 for the season. Manning has only 16 touchdown passes, almost assuring that he will have more interceptions than TD passes for the first time since his rookie season in 2004.
5. Oakland coach Dennis Allen – Earlier this week, Raiders owner Mark Davis indicated that he wasn't inclined to make changes to his football operations, indicating that Allen and GM Reggie McKenzie were safe. However, after another embarrassment at home giving up 56 to an otherwise mediocre Kansas City offense, one would think that Davis might change his mind. He might particularly do that considering that he almost fired Allen last year.
Follow Jason on Twitter: @JasonPhilCole