October 21, 2013 -
Jason Cole
5 up, 5 down for Sunday
Welcome to John Idzik's nightmare.
While New York Jets fans revel through an improbable 4-3 start, Idzik is probably a little miffed at what he's watching. That's because the way things are going, the New York Jets general manager is going to have to give coach Rex Ryan a contract extension after this year.
The most fraudulent marriage since Kim Kardashian posted up Kris Humphries looks like it might last longer than the one season most people expected. That's because Ryan and the Jets are not only winning, but they actually have a decent chance to win the mediocre AFC East after their win over New England on Sunday.
And if you think about it carefully, the Jets might have enough of a future to justify keeping Ryan, who is under contract through 2014.
First, take a look at the present. The Jets have been winning with mirrors so far this season. Of the 14 teams with a winning record through seven weeks, the Jets are the only one that has been outscored so far this season.
New York has three game-winning field goals from kicker Nick Folk and two of those have been set up by 15-yard penalties, including the rare-but-accurate flag on Sunday against the Patriots in overtime. The Jets have also overcome 14 turnovers by rookie quarterback Geno Smith, including the 80-yard touchdown return against him on Sunday.
But more on Smith in a moment.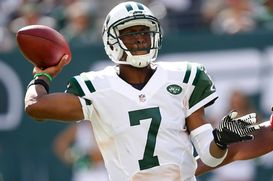 Despite Geno Smith's rookie struggles, the Jets have notched a 4-3 record.
The most important consideration about the present is that the Jets schedule is pretty favorable in the second half. After tough games at Cincinnati and then against New Orleans, New York's final seven games are against Buffalo, Baltimore, Cleveland, Oakland, Carolina and Miami twice.
None of those games are mismatches for the Jets and a 9-7 record is altogether possible. That may be enough to win the AFC East with New England so banged up and so limited on offense.
That leads to consideration of the future. The Jets have a lot of promising players. That starts, of course, with Smith, who has done a very nice job of staying resilient in the face of his many mistakes. Smith is showing much more mental toughness than many NFL personnel men expected in April.
On defense, the team is loaded with young potential stars, such as Muhammed Wilkerson, Quinton Coples and Sheldon Richardson. The defensive draft picks under Ryan have been excellent.
This Jets team is not a replica of 2006, when first-year coach Eric Mangini pulled off a mirage season and then couldn't follow up.
Thus, how exactly does Idzik, who was supposed to start fresh with a new coach in 2014, part with Ryan if the Jets make the playoffs or even make it interesting? This is a team most people expected to go in the tank. The only person in NFL history less enthused by his team's success was John Elway in 2011, when he saw Tim Tebow lead the Broncos to the playoffs before dumping the former Heisman Trophy winner in the offseason.
That still may happen. As the scoring margin indicates, the Jets are hardly a great team. Not yet. But that's the point. If Ryan can make something out of this season, he probably deserves to stay and see it through.
FIVE WINNERS
1. Baylor coach Art Briles – What is the coach of the No. 6 team in the college ranks doing here? Briles' stock in both the college and professional ranks couldn't be much better. Not only is his team scoring like crazy (four games of 70 points or more), but players he coaches or recruited continue to play well. Case Keenum, who Briles recruited at Houston, played well for the Texans in his first start. That comes on top of Robert Griffin III, Terrance Williams and Kendall Wright, among many. According to one source, at least two NFL teams have called Briles over the past couple of years to measure his interest in making the jump to the pros.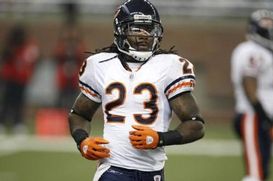 Devin Hester struck again on Sunday.
2. Chicago returner Devin Hester – The last two years have been moderately frustrating for Hester, who has seen the NFL cutback on kickoff returns by changing the rules. On Sunday, however, Hester had the 19th return touchdown of his career, tying Hall of Famer Deion Sanders for the most in league history. Hester probably won't ever join Sanders in the Hall, but he is probably the greatest kickoff and/or punt returner in league history.
3. Washington quarterback Robert Griffin III – If you have been watching closely the last two weeks, it's apparent Griffin is getting his speed back. He had 84 yards on 11 carries Sunday and his explosiveness is the trigger for the rest of the offense, which produced 45 points in a comeback win over Chicago. While rookie tight end Jordan Reed had nine catches for 134 yards and running back Roy Helu had three touchdowns, the key is Griffin.
4. Cincinnati quarterback Andy Dalton – Dalton posted back-to-back 300-yard games for the second time in his career and seems to be back on track after a rough first five games of the season. If Dalton continues to play this way, the Bengals should pull away from the rest of the AFC North.
5. Buffalo kicker Dan Carpenter – Carpenter spent five seasons and made a Pro Bowl while playing for Miami. But after fading the past two seasons, Carpenter was cut in training camp. He got his measure of revenge with a game-winning 31-yard field goal with 33 seconds remaining, one of three field goals he made Sunday on the way to helping the Bills to a victory. On top of that, Carpenter's replacement missed his only attempt. Revenge is sweet.
FIVE LOSERS
1. Tampa Bay Buccaneers – It's redundant to say the Bucs, who have lost 11 of their past 12, are going the wrong direction. Good luck to NFL Network, which has to televise the Bucs on Thursday night. The bigger issue is how do they change it? The problem for the Buccaneers is that firing coach Greg Schiano at this point could be a bad chess move. The best candidates for interim status on the Bucs staff are assistant coaches Butch Davis and Dave Wannstedt. The danger of doing that is that the Bucs could easily rebound in the second half, which might tempt Tampa Bay to give Davis or Wannstedt the full-time job. That would be a huge mistake.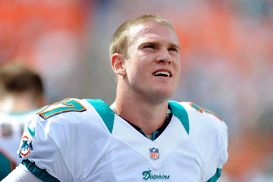 Tannehill and the Dolphins have dropped three straight after a 3-0 start.
2. Miami quarterback Ryan Tannehill – There are still moments when Tannehill looks like he's going to be a franchise quarterback, such as the three touchdown passes he threw from the start of the second quarter to the middle of the fourth quarter. Sandwiched around those highlights were three turnovers. Among the three were an interception that was returned for a score and a truly awful pick off a lob into the end zone that looked like a high school mistake. Tannehill's inconsistency is the reason why the Dolphins are 3-3.
3. Philadelphia quarterback Nick Foles – Foles had a chance to keep Michael Vick on the sideline if he had another good performance. He couldn't have been much further from good as he completed 11 of 29 for only 80 yards before being knocked out with an injury.
4. St. Louis defense – While the Rams offense can be blamed for putting the team in an early hole (quarterback Sam Bradford had an interception returned for a score in the first quarter), the defense did nothing to get back in the game. Carolina quarterback Cam Newton completed 15 of 17 passes and the Panthers were able to run 38 times to control the clock.
5. Detroit defense – Just when the Lions had a chance to get some momentum going, the defense once again failed to do enough in a critical home loss to Cincinnati. Detroit had only one sack of Andy Dalton and Lions cornerback Chris Houston got torched early in the game for an 82-yard touchdown by A.J. Green.
Follow Jason on Twitter: @JasonPhilCole