September 16, 2013 -
Jason Cole
5 up, 5 down for Sunday
Before I congratulate a team that once played in Dallas at a time long ago and far away, let's begin with a little riff on the team that currently resides there.
The Cowboys lost on Sunday to Kansas City (yeah, the Chiefs were the Dallas Texans at the beginning of the AFL). By this time, Dallas losing early in the season is as normal as a Miley Cyrus meltdown.
Over the past five seasons, the immensely talented Cowboys have lost one of their first two games every year. In three of those five, Dallas opened with a win only to lose in the second week.
Throw in that the Cowboys are lucky to have won the opener (that game was way too close when you consider the New York Giants had six turnovers) and you see the point.
Same Old Dallas. Same old mentally weak team that can't build early-season momentum despite having more impact players than all but a handful of teams. The Cowboys finished Sunday with 37 yards rushing and two lost fumbles. While Kansas City isn't as bad as its 2-14 record of a year ago, this is a game that a good team should win on the road.
Dallas should be a good team. Sunday was more proof that it's not.
FIVE WINNERS
1. Alex Smith, Andy Reid and John Dorsey – The new Kansas City quarterback, coach and general manager have helped the Chiefs match last season's win total and are making a lot of prognosticators look good. More than a few NFL observers picked the Chiefs as a dark horse for the playoffs despite last season's disaster. There's a long way to go, but in the weak AFC, there's a decent chance. That's because Smith has stabilized the quarterback position. Last year, Chiefs quarterbacks combined for 20 interceptions among a league-high 37 turnovers. Smith's steady play has allowed Reid and Dorsey to rebuild the confidence of the rest of the team.
2. Aaron Rodgers – The best quarterback in the NFL again showed why he deserves that title as he made Washington's defense look like a scout team. Rodgers completed 26 of 31 passes for three touchdowns and 335 yards in the first half. Rodgers finished 34 of 42 for four scores, 480 yards and no interceptions. While some adjustment should be made for getting to face the Washington defense (more on that momentarily), Rodgers is in the midst of an amazing run. Over his past 41 games (including seven playoff games), Rodgers has 105 touchdown passes and only 19 interceptions. That's a TD-interception ratio of better than 5-to-1.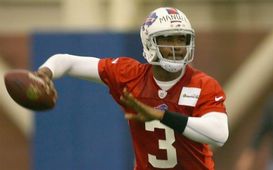 Rookie signal-caller E.J. Manuel notched his first win Sunday over Carolina.
3. E.J. Manuel – As Manuel completed a 2-yard touchdown pass with two seconds remaining to finish an 80-yard drive and a 24-23 victory, he dropped to his knees in exultation. For at least one game, Manuel showed why the Bills took him over any other quarterback in the 2013 draft. Couple that with a near-miss in the opener against New England and you have one very impressive start for a guy some people thought wouldn't play much this year.
4. Miami – The Dolphins held off Andrew Luck in the fourth quarter, which is no simple feat. Luck had eight fourth-quarter comebacks coming into this game. Even so, the Dolphins showed guts by blitzing him much of the game, including on the final play of the game for the Colts, sacking Luck. In the process, the Dolphins avenged a three-point loss to the Colts last year. Luck vs. Ryan Tannehill is showing signs of a nice rivalry. The Dolphins have also opened the season with two road wins.
5. Houston – After cruising through the early part of the season a year ago, the Texans have gone with a high-wire act in the first seven days. On Monday, the Texans came back from down 21 points to win in San Diego. On Sunday, they needed a touchdown and a two-point conversion to send the game to overtime. The Texans have scored 33 of their 61 points this season in either the fourth quarter or overtime.
FIVE LOSERS
1. NFC East – A division that has a staggering number of star players, including a fine cast of quarterbacks, went 0-4 on Sunday. That included two teams (New York and Philadelphia) giving up more than 30 points at home, a torching of Washington at the hands of Rodgers and Dallas' loss to a team that went 2-14 last season. I'll elaborate a little more, but it's fair to say that Eli Manning and the Giants are smarting the most. Manning is now 0-3 against his brother Peyton and the Giants have given up more than 30 points in each of the first two games.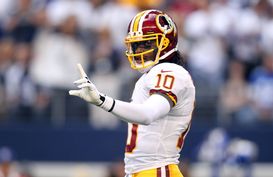 At the moment, RG3 looks nothing like the quarterback we remember from last season.
2. Robert Griffin III – If you didn't know already that RG3 has yet to regain his speed, the loss to Green Bay was proof. Griffin was held to a career-low one yard rushing on four attempts. Through two games, Griffin has only 25 yards rushing on nine attempts. That's his lowest two-game total and there were only four games last season (playoffs included) in which Griffin was held to less than 25 yards rushing. While Griffin is a fine pocket passer, he is nowhere near the type of dynamic threat he showed last year if he can't run. In reflection, this is one of the big reasons why so many personnel men preferred Luck to Griffin before the 2012 draft.
3. Washington defensive coordinator Jim Haslett – Sorry about the piling on, Washington fans, but it is what it is. After pronouncing that his defense was ready for the season opener against Philadelphia "all day, against everything," it's worth wondering if Haslett's squad will be ready any day, against anything. In two games, the Redskins defense, which features a pretty good front seven, has allowed 71 points and an astounding 1,023 yards of total offense.
4. 2011 first-round quarterbacks – Cam Newton, Jake Locker and Christian Ponder were a combined 0-3 on Sunday. Along with Blaine Gabbert of Jacksonville (who didn't play because of injury), the quartet continues to be the definition of mediocrity. All of them made crucial errors along the way and make second-round picks Andy Dalton and Colin Kaepernick look better by the day. Newton is the most frustrating of the lot. He continues to flash immense talent. However, there are times when he still looks at receivers too long, even on good plays (such as his 40-yard TD pass to Ted Ginn Jr.). Newton looks like he's thinking instead of reacting when he plays, which is a big reason why the Panthers are 2-14 with him in games decided by a touchdown or less.
5. Tom Brady – Sure, the Patriots are 2-0 and didn't play Sunday, but I get this feeling all the TVs in Brady's house are broken right now. He has been off both days that Denver and former teammate Wes Welker have played. That means there's a really good chance Brady has seen Welker catch three TD passes so far. That's how many Brady has so far this season to all his, ahem, receivers.
Follow Jason on Twitter: @JasonPhilCole