November 18, 2013 -
Jason Cole
5 up, 5 down for Sunday
Lots of reporters continue to butcher the reporting of the Ben Roethlisberger story, but the message seemed to get through to Roethlisberger quite effectively on Sunday.
The long-term relationship of Pittsburgh and Roethlisberger will be very much in flux this offseason when the team is expected to discuss an extension (and perhaps final serious contract) with Roethlisberger.
While seems inconceivable to many that Roethlisberger could be traded, the Steelers have some important considerations to make. First, do they believe Roethlisberger, who has endured a tremendous beating during his career, will hold up for the long-term? Second, do they believe Roethlisberger can alter his style of play to avoid further damage?
Or as NFL Network's Mike Silver reported on Thursday night, the Steelers would like Roethlisberger to be a more "cerebral" quarterback along the lines of Peyton Manning. Get rid of the ball faster, take fewer hits, last longer.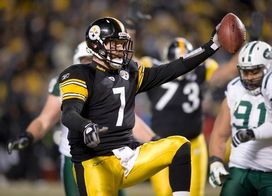 ICONBig Ben topped 350 passing yards for the second time in three games on Sunday.
That's not an outlandish expectation, especially if the Steelers are willing to entertain a possible $20 million-a-year demand from Roethlisberger.
On Sunday, Roethlisberger delivered the type of impressive-yet-sublime performance the Steelers want. He completed 29 of 45 passes for 367 yards and four touchdowns. Most importantly, he was sacked a season-low one time despite playing behind a rag-tag line.
Roethlisberger is still on pace to be sacked a career-high 58 times, but the one-game trend is a small step in the right direction. That's the kind of efficient game the Steelers want to see if they are going to invest.
Otherwise, the situation gets dicey and that's what has been reported all along. No one has reported that Roethlisberger has asked out or that the Steelers are seriously considering it. It's just that it might happen based on what is expected to unfold. The offseason could easily play out like this: Negotiations open, Roethlisberger asks for a big payday, then the Steelers flinch, consider the long-term options and a possible trade.
It hasn't happened yet, but it easily could. Or Roethlisberger could continue to get the message and make the situation much simpler for all involved.
FIVE WINNERS
1. Tampa Bay running back Bobby Rainey – Some Bucs fans may get concerned that this is one of those classic "when you win, you actually lose" moments straight out of a Rosie Perez soliloquy. The good news is that, fueled by Rainey's 163 yards rushing and three touchdowns, the Buccaneers won their second game after a 0-8 start. Rainey spent the 2012 season bouncing around the Baltimore roster, was with Cleveland for the first half of this season and has now scored four TDs in two games with Tampa Bay. He has gotten a chance to play after injuries to Doug Martin and Mike James. It's a great story. However, the downside is that winning could encourage the Bucs to keep coach Greg Schiano. That would be a disaster.
2. Buffalo linebacker Kiko Alonso – Alonso has been a monster so far this season and went past the 100-tackle mark during the lopsided win over the New York Jets. Alonso led the Bills' improving defense with 13 tackles and the Bills had four sacks and four turnovers. Alonso's instincts are truly stunning. He reads plays so quickly that he rarely takes a bad step in pursuit. Throw in four interceptions and a forced fumble this season and you have an extraordinary player. Between Alonso and Luke Kuechly of Carolina, this could be the next version of Zach Thomas and Ray Lewis.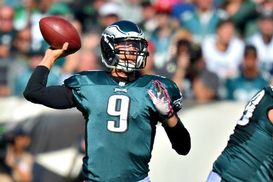 Foles has yet to throw an interception in 162 pass attempts this season.
3. Arizona wide receiver Michael Floyd – Sure, it was only Jacksonville, but Floyd had the biggest game of his career with six catches for 193 yards, including a 91-yard touchdown that helped the Cardinals take control of the game. It was only the second 100-yard game for Floyd, a 2012 first-round pick who came into the league with huge expectations. Give him credit and give the Cardinals some deserved respect after they improved to 6-4 this season, tying San Francisco for second place in the NFC West.
4. Philadelphia quarterback Nick Foles – His performance against Washington may not measure up to the previous two games, when Foles had a combined 10 TD passes and zero interceptions. However, for the third consecutive game, Foles averaged more than 11 yards per pass attempt. In a league where averaging 7.5 yards per pass is excellent, Foles is on a ridiculous run that shows just what Chip Kelly's offense can do for a guy with average talent.
5. Chicago defensive end Julius Peppers – Many people believe that this will be the final season for the 33-year-old Peppers in Chicago. His base salary for next season is $13.9 million and his overall cap number is $18.1 million. He came into the Baltimore game with only two sacks, but had a season-best 11 overall tackles and two sacks to help put the Bears back into a share of first place in the NFC North.
FIVE LOSERS
1. New York Jets quarterback Geno Smith and safety Ed Reed – The promising rookie and the future Hall of Famer each continued their bad trends. Smith completed only eight of 23 passes for 103 yards and was intercepted three times, including his fourth pick that was returned for a score this season. Overall, Smith has five turnovers that have been returned for scores this season and was pulled at the end of this game. He has 16 interceptions and only eight touchdown passes for the season, which is horrendous. Sure, Smith has had some moments that make you think he'll figure it out and he has owned his mistakes. But ownership of mistakes isn't enough. The mistakes have to be eliminated. As for Reed, he signed Wednesday and started Sunday. However, his lack of speed and his unwillingness to hit anymore are glaringly obvious. He got torched in this game as Buffalo quarterback E.J. Manuel looked far better in the battle of rookie quarterbacks.
2. Washington punt returner Nick Williams – With 3:26 remaining and down eight points, Williams failed to catch a long punt by Philadelphia's Donnie Jones. If Williams had simply made a fair catch, he would have saved 15 yards on the punt. Instead, he let it bounce and Washington had to start its final drive from its own 4-yard line. Williams has had problems handling punts, but you have to be more aggressive than that in a crucial situation. It is no small irony that Washington's drive died at the Philadelphia 18.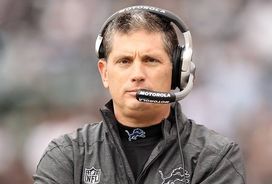 Schwartz and the Lions dropped another road game on Sunday.
3. Detroit – The Lions continue to be the most erratic contender in the NFL and showed just how extreme they can be. Detroit had one of the greatest single quarters in the history of the league when it scored 27 points in the second quarter in Pittsburgh. Quarterback Matthew Stafford threw for 267 yards and wide receiver Calvin Johnson had 163 yards and two touchdowns in that quarter alone. That should have been enough to rock the reeling Steelers. Instead, the Lions didn't score a single point in any other quarter and the aforementioned Roethlisberger took over.
4. Houston defense – It's one thing when injuries and poor play by the quarterback conspire to undermine your season. It's another when your defense allows the Oakland Raiders, led by backup quarterback Matt McGloin and backup running back Rashad Jennings, to come to your place and light you up like a Christmas tree. McGloin, making his first start, had three touchdown passes and compiled a 105.9 rating. Jennings had 150 yards on 22 carries, including an 80-yard touchdown run to cap the victory.
5. New Orleans cornerback Corey White – By all accounts, White has a promising career ahead of him and showed his ability by jumping a quick pass by San Francisco quarterback Colin Kaepernick for an interception in the second quarter. Unfortunately, White got too aggressive on the return, tried to stretch out at the end, fumbled and turned the ball back over to the 49ers. San Francisco then drove for a go-ahead field goal before halftime. You like the hustle by White, but it was somewhat senseless. Between the powerful Saints offense and playing at home, White should have played it safe when it was obvious he was headed out of bounds.
Follow Jason on Twitter: @JasonPhilCole