December 23, 2013 -
Jason Cole
5 up, 5 down for Sunday
One drive saved a head coach. Another one assured that a coach who was on the hot seat only a year ago is now probably the NFL's Coach of the Year.
The Dallas Cowboys continued to be the best high-wire act in sports as quarterback Tony Romo came through this week, overcoming the running game that he should have leaned on a week ago. Romo's 10-yard touchdown pass on fourth-and-goal to running back DeMarco Murray at Washington kept the Cowboys in the playoff race and kept coach Jason Garrett employed … for now.
Meanwhile, Carolina quarterback Cam Newton awoke from a game-long slumber to produce his second big comeback drive of the season and make coach Ron Rivera look like a genius. Down three points, Rivera dared to put the ball in the hands of the New Orleans offense with less than two minutes to go and came away with a victory that put the Panthers in control of the No. 2 seed in the NFC.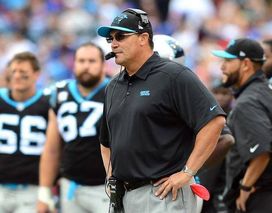 Riverboat Ron and the Panthers came away with one of the biggest wins in franchise history on Sunday.
And put Rivera in control of the annual award for the season's best coaching job. This is the same Rivera who only a year ago was derided for his team's inability to win close games.
While the Cowboys will draw most of the attention because of their soap opera aura, the reality is that Carolina had the bigger victory. The Panthers are one of only two teams with a reasonable chance of going into Seattle and winning. San Francisco is the other, but even that may be a stretch based on its past two trips there.
The Panthers did that despite the fact that Newton spent the first 59 minutes of the game in a fog. Newton completed only 10 of his first 17 passes for 116 yards. He had been harassed consistently, getting sacked four times by a New Orleans defense that played well on the road for only the second time this season. It didn't help Newton that he lost wide receiver Steve Smith in the first half to a knee injury.
Despite that, Rivera showed the utmost confidence in Newton. Facing a fourth-and-7 with two timeouts in his pocket and the clock ticking down to the two-minute warning, Rivera didn't hesitate to punt. Rivera hoped to stop the Saints on a three-and-out and get the ball back with roughly a minute remaining, figuring that was adequate time for Newton.
Newton repaid his coach's faith by going three of five for 65 yards, including a 14-yard touchdown to Domenik Hixon for the game-winner. That's the same Hixon who had only one catch each month this season coming into this game.
This performance, coupled with Newton's dramatic drive against New England earlier this season, are the type of confidence-building performances that Newton needs going into the playoffs for the first time. Newton needs to understand that he doesn't have to make every play for the Panthers to be successful.
Meanwhile, the story in Dallas is that after a morning of reports about tension between Garrett and Romo and the possibility that Garrett and his staff will be fired, the Cowboys managed to survive themselves this time. After Romo did a brilliant job to get the team to a first-and-goal situation, Dallas ran Murray three straight times.
That's what the Cowboys should have done a week ago against Green Bay, when Romo threw two dramatic picks in the final minutes to blow a seemingly sure victory. But after getting to the 1 on second down, Murray went nowhere and then lost nine yards on a play that was just as ugly as Romo's performance a week ago.
That's when Romo made his move to avoid the rush on fourth down and add yet another chapter to the over-wrought drama that Dallas calls a season.
FIVE WINNERS
1. Denver quarterback Peyton Manning – It is often said that we are watching history in the making in sports. While that's often overstated, it's an understatement in the case of Manning. He threw four touchdown passes to give him 51 for the season and allowed him to retake the NFL record he owned once before. He also closed to within 265 yards of Drew Brees' record for yards in a season (5,476 yards in 2011). There are not enough superlatives to describe what Manning has done this season.
2. Carolina linebacker Thomas Davis – Davis, who missed the better part of three seasons after tearing the ACL in his left knee three times, continued what might be the best season of his nine-year career. Davis nabbed his second interception of the season (and fifth of his career) on a leaping snag in the second quarter. That play set up Carolina's only score of the first thirty minutes in a defense-oriented first half.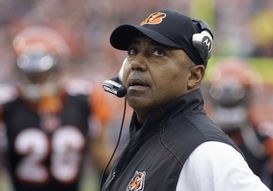 Marvin Lewis and the Bengals have been unstoppable at home this season.
3. Cincinnati season ticket holders – Not only did the Bengals maintain control of their playoff chances with a 42-14 win over Minnesota a week after a putrid performance against Pittsburgh, but Cincy also continued its awesome run of offense at home. The Bengals have scored more than 40 points in each of their past four home games, lighting up the Vikings, Indianapolis, Cleveland and the New York Jets. The Bengals have scored less than 27 points at home only once this season.
4. Indianapolis quarterback Andrew Luck – Luck helped the Colts overcome an early deficit to stay tied with the Bengals at 10-5 and keep Indianapolis in the running for the No. 3 seed in the AFC, which would be crucial. The Colts still need Cincinnati to lose to Baltimore and must beat Jacksonville, but that's within reach.
5. New England – A week after dropping a fourth-quarter decision at Miami and even after clinching the division title earlier in the day when the Dolphins lost in Buffalo, the Patriots managed to keep their focus at Baltimore against a team that gives them consistent problems. The Patriots jumped to a 17-0 lead and never looked back.
FIVE LOSERS
1. Miami – After a dramatic, fourth-quarter comeback win over New England last Sunday, the Dolphins not only failed to capitalize, but actually regressed badly in this game. With so much to play for, the Dolphins played a completely flat game. Miami was manhandled in this matchup, rushing for only 14 yards, throwing for only 89 and allowing quarterback Ryan Tannehill to be sacked six times. The Dolphins also allowed 202 yards rushing, losing to Miami native and Bills backup quarterback Thad Lewis for the second time this season. Yes, the second time against a backup.
2. Detroit coach Jim Schwartz – Schwartz pretty much walked up to the chopping block and laid down after the Lions' latest gaffe, an overtime loss at home to the New York Giants. Schwartz is a very smart, engaging man, but his team is so completely lacking in discipline and attention to detail that enough is enough.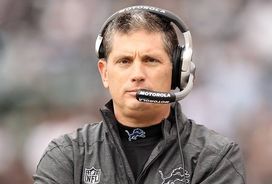 The Lions tanked again on Sunday, which will most likely cost Schwartz his job.
3. Kansas City quarterback Alex Smith – Kansas City wasn't going to show much against a team (Indianapolis) that it mi ght face in the first week of the playoffs. But two interceptions and being sacked four times is not a way to build confidence heading into those playoffs.
4. New Orleans offensive line – The Saints allowed a season-high six sacks as the juggled offensive line continued to struggle. The line also committed two false starts and one hold. Starting quarterback Drew Brees has been sacked a career-high 36 times this season.
5. Baltimore – The Ravens weren't nearly as flat as Miami, but a couple of early penalties, including a pass interference call on Jimmy Smith in the end zone on the first drive, put them in an early hole. Quarterback Joe Flacco wasn't up to the task this week.
Follow Jason on Twitter: @JasonPhilCole