November 25, 2013 -
Jason Cole
5 up, 5 down for Sunday
While it would be easy to take shots at a bevy of teams for losing at a critical time – Miami, Chicago, Detroit, the New York Jets and Kansas City lead the way – this week marked an injury in the NFL on a meaningless play.
Promising San Diego offensive lineman D.J. Fluker had to be helped off the field with 24 seconds remaining after injuring his right foot blocking for a point-after conversion kick. The Chargers had just scored to complete a dramatic 41-38 victory over the Chiefs. Although San Diego spokesman Bill Johnston said Fluker was "OK" after the game, the sight of Fluker needing aid was a reminder of how much of a waste of time and effort the PAT has become.
Through the early games of Sunday afternoon, there have been exactly three PAT kicks missed this season. That's 848 conversions out of 851 attempts. Go all the way back to the beginning of the 2011 season and teams have converted 3,277 of 3,293 PATs. That's a conversion rate of 99.5 percent.
Of the 16 missed PATs, exactly ZERO of them have had an impact on the final outcome of a game.
Yet, Fluker is banged up even as the Chargers have climbed back into a tie for the final playoff spot in the AFC. Last year, New England star tight end Rob Gronkowski suffered a broken arm on a PAT that not only knocked him out for most of the rest of the season, but resulted in a surgery and subsequent infection that lingered through the beginning of this season.
Thus, I repeat a point I have made before: Get rid of the PAT. You can keep the two-point conversion at the option of a team, but get rid of the PAT. It's a useless play that involves far more risk than reward. Fluker and Gronkowski are merely the standout players who have been hurt. No one keeps track of other players who get hurt.
Yes, football involves inherent risk. No one questions that. But there is acceptable risk versus idiotic risk. PATs are idiotic risk. The odds of a missed PAT impacting a game against the chance of a player getting hurt is not worth continuing to use it. You can look at the data any number of ways, but that's the case.
At a time when the NFL is incredibly conscious of injury, this is a no-brainer option. No pun intended.
FIVE WINNERS
1. Carolina linebacker Luke Kuechly – Twice in the span of seven days, Kuechly has had a penalty in the end zone waved off by officials. On Sunday, Kuechly was initially penalized for a hit on a defenseless receiver after he made helmet-to-helmet contact with Miami's Rishard Matthews. Matthews had already dropped the ball, but the play should have resulted in a first-and-goal situation at the Carolina 2-yard line. Instead, the Dolphins faced fourth down from the 5 and opted for a field goal and a 16-3 lead. Miami seemingly had control of the game, but the play turned crucial by the end, just like the pass interference call against Kuechly last Monday night against New England that was waved off in a huge controversy. Instead of being able to run more time off the clock, the Dolphins scored with 1:01 remaining. That gave Carolina enough time to drive for a field goal before halftime. Moreover, it prevented the Dolphins from getting another touchdown in a game they eventually lost 20-16.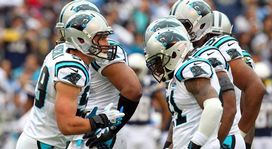 Luke Kuechly and the Panthers got away with another big penalty on Sunday.
2. Carolina tight end Greg Olsen and offensive coordinator Mike Shula – Two guys with strong Miami roots (Olsen went to the University of Miami and Shula is the youngest son of legendary Dolphins coach Don Shula) contributed to another big comeback win for Carolina, which remained a game behind New Orleans. Olsen scored the game-winning touchdown and Shula kept quarterback Cam Newton calm despite a very slow start. The Panthers face Tampa Bay this Sunday before getting two games in a three-week span with New Orleans.
3. Kansas City wide receiver Donnie Avery – Yeah, the Chiefs lost critical ground in the race for the AFC West title after they lost pass rushers Tamba Hali and Justin Houston. That contributed to the Chiefs giving up a season-high 41 points. However, don't blame Avery. The stat line for Avery (four catches, 91 yards) was not nearly as impressive as the performance. Avery opened the scoring for the Chiefs with a 32-yard touchdown on a post route over the top of the San Diego defense. He then set up Kansas City's second touchdown with a 36-yard sideline route over the top of the defense. On the Chiefs third TD, Avery forced the Chargers into back-to-back pass interference penalties for a total of 42 yards. Finally, Avery contributed a catch toward the Chiefs' last touchdown in the fourth quarter. Avery is with his fourth team in four years, but is on his way to becoming one of the better secondary options in the league.
4. Pittsburgh quarterback Ben Roethlisberger – The Steelers may have been torched statistically by Cleveland wide receiver Josh Gordon (14 catches, 237 yards, one touchdown), but Roethlisberger continued his strong play. After being sacked a season-low one time in the previous game, Roethlisberger was sacked zero times on Sunday against Cleveland as the Steelers continued their remarkable comeback. Pittsburgh is now tied for the No. 6 seed despite starting the season 0-4.
5. Tampa Bay coach Greg Schiano – While it's still hard to imagine Schiano surviving after an 0-8 start, the embattled coach and his team picked up their biggest victory in a three-game winning streak. The Bucs went to Detroit and won over the wildly inconsistent Lions, who blew another chance to take control of the NFC North.
FIVE LOSERS
1. NFL Commissioner Roger Goodell – Goodell's idea of expanded playoffs continues to look like a real dud. In the AFC, the day finished with a six-way tie for the final playoff spot among Pittsburgh, Baltimore, the Jets, Miami, San Diego and Tennessee. However, that's a six-pack of lightweight 5-6 teams, with Oakland and Buffalo a game back at 4-7. Theoretically, that's exciting. In truth, it's watching a lot of teams fighting for mediocrity. To add a team among that group seems like a total stretch and the NFC isn't a lot better when you consider how mediocre the East and North are this season.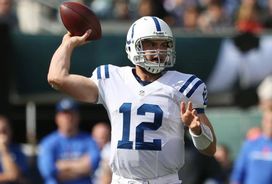 Luck and the Colts fell behind early again on Sunday...but this time they couldn't come back.
2. Indianapolis – Much was made last week of quarterback Andrew Luck seething at halftime and firing up his team for another comeback win. Sadly, that fire-and-brimstone speech didn't have a lasting effect as the Colts fell behind yet again in the first half, this time losing to visiting Arizona and former coach Bruce Arians. The Colts continue to have a terrible habit of getting in an early hole. Luck has been great at comeback wins, but it's not a habit that works long-term.
3. Houston quarterback Case Keenum – Lots of Texans fans were gushing about Keenum, a University of Houston product, after his first two starts in which he threw a combined six touchdowns and zero inter ceptions. Since then, however, Keenum has been the picture of mediocrity in losses at home to Oakland and Jacksonville. As a result, Keenum has helped put the Texans in position for the No. 1 overall pick … and a chance to draft his and Matt Schaub's replacement.
4. San Diego secondary – Yes, the Chargers won a big road game to put themselves in a tie for the final AFC playoff spot. But San Diego also managed to make Alex Smith look like the second-coming of Len Dawson. The Chargers defensive backs continually infuriated defensive coordinator John Pagano, whether it was with awful coverage, pass interference penalties (they had three in one four-play span) or botched blitzes.
5. Detroit coach Jim Schwartz – It was only two weeks ago that the Lions were 6-3 after impressive back-to-back wins over Dallas and Chicago. Detroit has followed that up with losses at Pittsburgh and at home to Tampa Bay. Yes, the Lions are tied with Chicago for first place in the NFC North, but they have not put distance between themselves and the rest of the division at a time when both Aaron Rodgers and Jay Cutler are hurt. Not good.
Follow Jason on Twitter: @JasonPhilCole