November 04, 2013 -
Jason Cole
5 up, 5 down for Sunday
I won't waste time lambasting Tampa Bay coach Greg Schiano for his idiotic decision not to go for it on fourth down at the end of regulation in Seattle because, well, his time in the NFL is short.
Rather, it's probably more important to consider the interesting performance of Philadelphia quarterback Nick Foles and his record-tying seven touchdown passes in Oakland on Sunday. Even in these pass-happy days of the NFL, this is something of a statistical anomaly.
And perhaps an unhealthy one at that.
Over the previous 44 years, no one in the NFL had thrown seven TD passes. The last person to do it before this season was Joe Kapp in 1969. Sure, George Blanda and Y.A. Tittle once threw seven in a game in back-to-back years. But now it has happened twice in the span of nine weeks. Peyton Manning did it in the opener and now Foles.
While Manning's achievement didn't raise eyebrows, Foles' record effort should. That's because not only did Foles do it, he did it in only three quarters. By the fourth quarter, Foles was out of the game in favor of backup quarterback Matt Barkley and after Foles had run up 406 yards on 22 of 28 pass attempts. By the end of the third quarter, wide receiver Riley Cooper had already set career highs with 139 yards and three scores.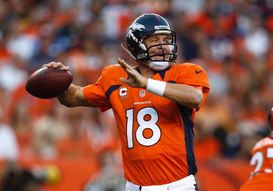 Peyton Manning tossed seven touchdown passes in the season opener.
Perhaps just as stunning is that Eagles coach Chip Kelly actually backed off, but that's a story for another time.
What Foles did looked almost simple as Oakland allowed one receiver after another to run free. Somewhere out there, George Atkinson is shaking his head.
While football fans – and fantasy players, in particular – tend to love the big numbers produced by the passing game, there is a point where this goes from obscene to meaningless. Sure, Foles is a nice prospect and perhaps one day he will prove that he's this good.
Somehow I doubt it. Instead, these kinds of games are a product of rule changes and adjustments that make the art of offense more rudimentary than expert. Manning throwing seven touchdown passes makes sense. A second-year man who lost to Michael Vick in training camp and got hammered by Dallas two weeks ago … that shouldn't happen.
Thus, while Foles deserves great credit for his historic performance, it might be time for people in the league office to take a good look at what they are creating. Maybe, just maybe, the fans might not take it seriously anymore if it keeps happening.
FIVE WINNERS
1. Kansas City Chiefs defense – The Chiefs reached 9-0, which is as improbable as it is fantastic. How they did it was dubious. Yes, Kansas City is a very good team. But for as much as Andy Reid may resemble the Kool-Aid Man, fans should be careful not to sip just yet. The Chiefs won on the road despite having only 124 yards passing, giving up 241 yards rushing and being more than doubled in total yards by Buffalo (470 to 210). The reason? The Chiefs returned two turnovers for touchdowns and have five defensive scores for the season. Yeah, that's the sign of a terrific defense, but it's almost completely unsustainable.
2. New York Jets coach Rex Ryan – There's a lot of credit to go around for the Jets, including a huge share to running back Chris Ivory, who had a season-high 139 yards rushing after dealing with injuries much of the first half of the season. But the impressive part of this is that New York's defense righted the ship after some early struggles in this game and a 49-point shellacking against Cincinnati the previous game. Ryan is one of those people who has a very short memory when it comes to failure. The Jets continue this odd trend of alternating wins and losses. That needs to end over the final seven games, which currently feature only one game against a team with a winning record (Carolina). Don't look now, but Rex and the Jets are going back to the playoffs with another young quarterback.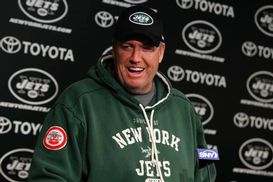 ICONRyan's Jets are 4-0 coming off losses in 2013.
3. Washington fullback Darrel Young – Sure, fantasy football owners who have Alfred Morris are probably not all that geeked up about the fourth-year fullback getting three short TD runs. But give Young his day. Coming into this game, the four-year veteran and former Villanova linebacker had only one touchdown. His effort helped Washington come up with an overtime victory over visiting San Diego. The Chargers were completely loaded up to play two-gap defense in order to stop cutbacks by Morris. Seeing that, the Redskins pounded straight ahead with Young, including a surprisingly easy score in overtime.
4. Minnesota running back Adrian Peterson – Vikings fans on Twitter like to remind me constantly of my remark last year when I dared to say that I thought Frank Gore and Marshawn Lynch were better at getting tough yards. Even though I have long since admitted the error of my observation, Peterson reminded me yet again with a touchdown run in the fourth quarter that might make football historians recount the tales of Bronko Nagurski. If you haven't seen it, check it here. It was awesome as Peterson essentially carried three Dallas defenders into the end zone.
5. Tennessee running back Chris Johnson – The days of CJ2K appear to be long gone, but Johnson provided a small reminder of the past with 150 yards rushing and two touchdowns. That said, it's important to note that Johnson entered the game with the longest drought of games without 100 yards rushing (nine dating to last season) and didn't have a score this season. Nice road win for the Titans, who gained more yards rushing than passing.
FIVE LOSERS
1. Miami Dolphins organization – The Dolphins won on Thursday night in dramatic fashion, but this was a brutal weekend off as the issues surrounding offensive tackle Jonathan Martin continued to mushroom. By Sunday morning, there were accusations and counter accusations about whether teammates had bullied Martin. The final result was that the team issued two statements, the first aggressively declaring there were no problems and the second admitting that there might be serious problems. According to the NFL Network, offensive lineman Richie Incognito has been suspended indefinitely by the team. What an embarrassment.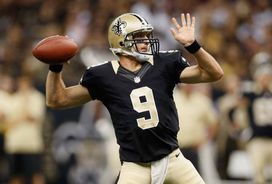 Brees and the offense struggled after losing running back Darren Sproles on Sunday.
2. New Orleans Saints offense – For the second time this season, the Saints went to the Northeast and came up short on offense. The problem for New Orleans is adjusting when it loses key offensive weapons. The Saints struggled mightily when New England took tight end Jimmy Graham out of a game earlier in the season, limiting him to zero catches. On Sunday, the team again struggled after running back Darren Sproles was lost with a concussion. The Saints scored two early touchdowns with Sproles in the lineup, then were limited to two field goals after he was out. Some of that is obviously natural, but the Saints clearly have lost depth in terms of alternative weapons.
3. Oakland Raiders defense – Once again, fans around the league have been fooled into believing that Oakland's defense was actually pretty good. Truth is, most teams simply haven't challenged the Raiders that much this season. That changed Sunday when the Eagles turned Foles loose. At one point in the third quarter, Foles was average 15 yards per pass attempt.
4. Dallas wide receiver Dez Bryant – Bryant's talent is unquestioned and his general demeanor is actually very positive, as everyone in the Dallas locker room said repeatedly this week. But Bryant doesn't understand the key to success is to channel his emotions the correct way and not show up teammates or officials. On Sunday, Bryant drew a 15-yard unsportsmanlike conduct penalty late in the third quarter that ended a possible scoring drive in a very close game the Cowboys managed to pull out at the end.
5. St. Louis coach Jeff Fisher – The Rams fell to 3-6 this season and Fisher failed to get revenge against his former team. But the bigger issue is the Rams dropped a game after playing so impressively on Monday night against Seattle. Instead of building on the good play against the Seahawks, St. Louis regressed in allowing the Titans to dominate on the ground (198 yards rushing) and not forcing more mistakes from quarterback Jake Locker.
Follow Jason on Twitter: @JasonPhilCole