October 14, 2013 -
Jason Cole
5 up, 5 down for Sunday
There have been many brilliant games by the combination of Tom Brady and Bill Belichick over the years. New England's 30-27 victory on Sunday over New Orleans may qualify as one of the best they have ever orchestrated.
Many people will consider that gross overstatement. In fairness, this game doesn't measure up to beating St. Louis in the Super Bowl or taking down San Diego in the 2006 playoffs or Baltimore in the 2011 playoffs. It's also not as obviously clever as taking a safety against Denver to set up a game-winning drive or overcoming an 11-point deficit in the final three minutes against Miami in 2002.
But take into account all the circumstances. The Patriots went into this game with a patchwork receiving corps and without star defensive tackle Vince Wilfork. During the game, the Patriots lost cornerback Aqib Talib to injury after he did a spectacular job in helping shutout Saints tight end Jimmy Graham. In addition, the Patriots lost wide receiver Danny Amendola (again) at halftime.
Regardless, Belichick came up with a game plan that kept this game close throughout. He did that by taking away Graham (zero catches despite being targeted six times) and keeping New Orleans quarterback Drew Brees from getting in rhythm by showing multiple coverages on the other defenders. Brees completed only 17 of 36 passes and never looked comfortable.
And even though New Orleans generally ran well (26 carries, 131 yards for the game), New England was able to stop the Saints on each of their final two drives as they tried to run out the clock. This was great situational work.
Of course, the best situational work was what Brady did on the final eight-play, 70-yard drive. The Patriots needed only 1:03 to go the distance and did it without a timeout. Brady punctuated the drive by hitting undrafted rookie wide receiver Kenbrell Thompkins for the game-winning score. Along the way, he hooked up with Austin Collie for two catches. Collie has been with the Patriots for two weeks.
Put it altogether and the Patriots have somehow gotten to 5-1 despite playing football that often times looks ugly. Ugly, but brilliant.
FIVE WINNERS
1. San Francisco tight end Vernon Davis – There had been moderate concern around the 49ers that quarterback Colin Kaepernick and Davis were yet to have one of those defining games that cements the relationship between quarterback and receiver. Well, you can put that to rest. Davis had eight catches for 180 yards and two touchdowns in a win over Arizona.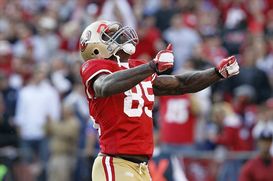 Vernon Davis posted a monster stat line Sunday against the Cardinals.
2. Detroit tight end/wide receiver Joseph Fauria – One of the great mysteries of the 2013 NFL Draft is how the 6-foot-7 Fauria went undrafted. Fauria caught three touchdown passes (every one of his catches) against Cleveland and now has five TDs on seven receptions this season. Fauria is an incredibly difficult matchup for any defender and the Lions usually get him lined up against a cornerback. According to one general manager, Fauria simply "fell through the cracks." Really? First, there just aren't that many human beings with that type of size and athletic ability. Second, Fauria was a very productive player at UCLA, finishing his college career with 88 catches for 1,139 yards and 20 touchdowns. More likely, getting kicked out of Notre Dame in 2009 may have had something to do with it.
3. Pittsburgh linebacker Vince Williams – He wasn't as spectacular as Fauria, but Williams put on quite the show for a rookie in the Steelers defense. Williams did a great job shutting down a reverse in the first half and then closed quickly to stop a screen play in the second half. Both were solo efforts by Williams, who showed explosive quickness. Those were keys as the Steelers held the New York Jets to two field goals and forced quarterback Geno Smith into two interceptions and a fumble.
4. New York Jets defensive lineman Muhammad Wilkerson – As I just mentioned, the Jets lost. However, there's something special about Wilkerson as you watch him play. Whether he's lined up outside at left end or occasionally at nose tackle, Wilkerson is a disruptive force who is simply fun to watch. On back-to-back plays, Wilkerson swatted one pass and nearly got another, lining up outside on the first one and at nose on the second. At 6-foot-4, 315 pounds, Wilkerson has a vague resemblance to Reggie White.
5. Carolina quarterback Cam Newton – Newton had his most efficient game of the season after struggling through his first four starts. Newton completed 22 of 26 passes for 242 yards and three touchdown passes. He also ran for one as the Panthers took apart a pretty listless Minnesota squad.
FIVE LOSERS
1. Baltimore coach John Harbaugh – Usually, Harbaugh is a very good strategist, which is one reason he won a Super Bowl last season. On Sunday, he fell into the trap of going for it on fourth-and-goal instead of just taking a field goal in a close game in the first half. Then, with 12 seconds left in the first half, Harbaugh had his team try to throw from its own side of the field. The result was a turnover that set up a field goal for Green Bay as the half ended. Put those plays together and you could have had a much different result than the 19-17 Green Bay victory.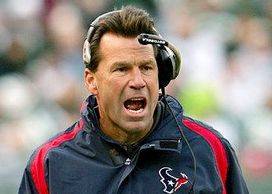 Kubiak and the Texans continue to sink like a stone.
2. Minnesota quarterback Matt Cassel – Cassel had a chance to stake a claim to the Vikings starting job for a few more weeks. Instead, while his completion percentage was good (he hit on 32 of 44 passes), Cassel put on a show that was really more of a study in regression. Cassel threw for only 241 yards, averaging only 5.5 yards per pass. He also threw two interceptions and was sacked three times. Cassel made it easy for the Vikings to switch to Josh Freeman, perhaps as early as this week.
3. The entire Houston organization, fans included – Yes, the Texans were putrid in every way. The defense allowed touchdowns to St. Louis on the Rams first three possessions in the red zone. Houston fumbled a kickoff return and had it returned for a touchdown. Finally, after quarterback Matt Schaub, who played reasonably well, left with an injury, backup T.J. Yates had an interception returned 98 yards for a touchdown. That's the fifth TD return the Texans have allowed off an interception this season. However, the worst moment was when Schaub left the game with an injury and a small number of Houston fans cheered. Yeah, he has played poorly, but have some perspective.
4. Oakland quarterback Terrelle Pryor – Pryor has had some promising moments this season. The second half of the Raiders 24-7 loss at Kansas City was not one of them. Pryor was sacked seven times, threw three interceptions that led to 17 points for the Chiefs and was called for two delay-of-game penalties.
5. Any Buffalo quarterback – This is no commentary on performance, just about bad luck. Thad Lewis, who was elevated from the practice squad to starting this week, became the third Buffalo quarterback to get hur t since the start of training camp. He joined Kevin Kolb and E.J. Manuel. Right now, quarterbacks have roughly the same survival rate as people who barrel over Niagara Falls.
Follow Jason on Twitter: @JasonPhilCole