September 30, 2013 -
Jason Cole
5 up, 5 down for Sunday
So who does Tampa Bay coach Greg Schiano blame now? Better yet, when does the Glazer family, which owns the Buccaneers, come to the realization that Schiano is pretty far in over his head?
On Sunday, the Bucs lost for the ninth time in the past 10 games and dropped to 0-4 on the season. Three of the four losses this season have been by three points or less and this game was especially bitter because the Bucs had a 10-0 lead to open the fourth quarter.
This was even worse because it came amid a week of controversy as former starting quarterback Josh Freeman was not only benched, but was dropped to the No. 3 spot on the depth chart after playing the role of petulant child. Freeman used the mature approach of missing team meetings after being benched.
Weak.
But as easy as it would be to pile on Freeman after his poor play in the first three games, it's not like the Bucs were much better in switching to rookie Mike Glennon. Glennon had a nice first quarter with a 6-yard touchdown pass. He then went into predictable regression and threw two interceptions the rest of the way, finishing with some very Freeman-esque stats. On top of that, running back Doug Martin had his worst game as a pro, rushing for only 45 yards on 27 carries.
In other words, blame Freeman all you want, but there are overarching problems for the Bucs. That problem starts with Schiano, who has done a completely ineffective job of building a quarterback-friendly offense despite signing wide receiver Vincent Jackson and guard Carl Nicks as free agents and drafting Martin. In truth, Schiano is a guy who wants a game manager, not a game winner at quarterback.
That doesn't work in the NFL of today.
And Schiano won't be around much longer if he doesn't right this ship in a hurry.
FIVE WINNERS
1. Cleveland TE Jordan Cameron and CB Joe Haden: Cameron, a 2012 fourth-round pick from USC, has been hot all season. He has been particularly impressive in the past two games since Brian Hoyer took over at quarterback. Cameron has four touchdown receptions the past two games and five for the season. Against Cincinnati, he had 10 catches for 91 yards and even broke up a possible interception to preserve a field goal drive in the second half. Cameron has 30 catches for 360 yards in four games, putting him on pace for 120 catches and 1,440 yards for the season. As for Haden, he was spectacular in coverage all day, doing the primary work in holding Bengals star wide receiver A.J. Green under control.
2. Detroit defensive tackle Ndamukong Suh: Say what you will about Suh (in fact, say a lot because he deserves the criticism), but the man can play. On five occasions, Suh completely disrupted what Chicago was trying to do on offense. He simply overpowered rookie guard Kyle Long at times. His sack and forced fumble on Chicago quarterback Jay Cutler in the third quarter led to a touchdown return by fellow defensive tackle Nick Fairley that sealed the victory. Simply put, Suh was everything the Lions have ever wanted as they moved into a tie for first place.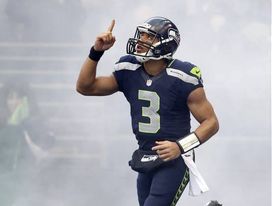 Russell Wilson and the undefeated Seahawks are flying high after Sunday's win.
3. Seattle: The Seahawks improved to 4-0 for the first time in team history with an overtime comeback win at Houston. Seattle was down 20-6 going into the fourth quarter and was obviously struggling on offense because of the loss of three starting offensive linemen. However, quarterback Russell Wilson led one TD drive and star cornerback Richard Sherman came up with a 58-yard interception return against Texans quarterback Matt Schaub to force overtime.
4. Denver wide receiver Wes Welker: Despite all his great numbers over the years (he has had more than 100 catches in five of the past six seasons), Welker has never been great at getting in the end zone. His career-high is nine TD catches in 2011. Through four games, Welker has six touchdown receptions. The really remarkable thing is how open Welker has been inside the red zone this season. He is getting clean looks on a constant basis.
5. The Buffalo defense: The revitalized Bills defense was spectacular against Baltimore and $20 million-a-year quarterback Joe Flacco. Buffalo sacked Flacco four times, hit him 12 times and intercepted him five times. The result was that the Bills eked out their second win of the season.
FIVE LOSERS
1. Minnesota quarterback Christian Ponder: One of the great mysteries of this season is how Ponder (two TD passes, five interceptions) has been unable to play better considering he has running back Adrian Peterson behind him. Injury forced Ponder to the bench this week, but the more efficient play of Matt Cassel may keep him there. Cassel wasn't great, but he got the ball out quickly and let the receivers do the rest. The best example was the 70-yard touchdown pass to Greg Jennings, 65 of which came after the catch. With Peterson getting 140 yards rushing, Cassel averaged 9.9 yards per attempt and finished with two touchdown passes in Minnesota's win over Pittsburgh.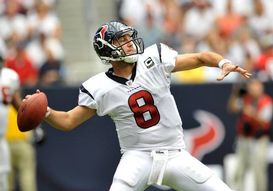 ICONSchaub threw a costly fourth quarter pick in Sunday's loss to Seattle.
2. Houston quarterback Matt Schaub: There are moments when Schaub looks really good. Those times are when the play runs pretty much the way it was drawn up and Schaub doesn't have to improvise at all. When Schaub has to improvise, things get ugly in a hurry. That's what happened in the second half as the Texans dropped a game they should have won against Seattle.
3. Chicago quarterback Jay Cutler: We'll stay on the quarterback run with Cutler, who had one of those days that starts bad and just gets worse. Cutler finished with four turnovers, including a fumble that was returned for the clinching score in the third quarter. One thing to watch with Cutler is that he's a weather-vane player. If the wind is blowing bad, he continues to point that direction.
4. New York Jets defense: Sure, the real problem for the Jets was that quarterback Geno Smith had his first truly atrocious day with three turnovers (two interceptions and a fumble) in the first half. That gave Tennessee a short field on two occasions. However, when any defense makes Jake Locker look like a precision passer (18 of his first 24 for 149 yards and three scores before leaving with an injury), you know there's a problem. Rex Ryan's defense is decidedly short on coverage and is banged up as well.
5. Pittsburgh offensive line: While Steelers quarterback Ben Roethlisberger has always taken more than his fair share of punishment, this could end up the worst season of his career. That's a big reason why the Steelers are now 0-4. He was sacked five times by Minnesota on Sunday and has been sacked 15 times overall. That puts Pittsburgh on pace to allow 60 sacks, the most ever since Roethlisberger was drafted in 2004. While the season-ending injury to center Maurkice Pouncey was a big blow, the play at offensive tackle has been far worse.
Follow Jason on Twitter: @JasonPhilCole