September 09, 2013 -
Jason Cole
5 up, 5 down for Sunday
No doubt, there was plenty of opportunity to second-guess the New England Patriots in the second half at Buffalo on Sunday. The Patriots were down, their offense was stagnant, Danny Amendola was hurt (again) and Wes Welker was sitting somewhere in Denver, three days removed from his two-touchdown performance.
That's when Tom Brady worked a little magic for his 36th career fourth-quarter comeback, leading a drive in which Amendola and running back Shane Vereen made three critical plays. That allowed New England to overcome a couple of critical early mistakes.
But if Sunday is any indication, this is going to be a rough road for the Patriots, who headline the five biggest winners and losers from the first Sunday of the NFL season.
FIVE WINNERS
1. Amendola and Vereen save the day – There were times when the Patriots looked like they were playing offense in a shoebox, as Brady's 288 yards on 52 attempts proves. However, Amendola, whose history of injuries is longer than the Korean cease-fire, left in the first half with a groin injury. This was exactly what critics talked about when the Patriots essentially traded out Welker for Amendola. Amendola returned in the second half, finished with 10 receptions for 104 yards, including a critical catch on third-and-8 on the final drive. Vereen, who took over from Stevan Ridley after Ridley lost a fumble in the first half, finished with 159 total yards. Vereen had 101 rushing and accounted for 31 yards on the game-winning field-goal drive.
2. Reggie Bush gives Lions balance – The biggest thing missing from the Detroit offense last season was any semblance of a threat from the backfield. That's why Matthew Stafford threw a ridiculous 727 passes last season. On Sunday, Bush had 90 yards rushing on 21 carries and 101 yards receiving, turning a short pass into a 77-yard touchdown. That allowed the Lions to overcome Minnesota and three touchdowns by Adrian Peterson.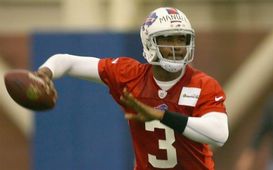 Buffalo rookie E.J. Manuel is one of nine black quarterbacks to get the start in Week 1.
3. Black quarterbacks – In a story that didn't get much attention (which is perhaps a good thing in the grand scheme of how we look at race), there are nine black quarterbacks who have/will line up under center for their respective teams in Week 1. That's a record for the NFL, a league that has long been dominated by black faces at just about every other position. The importance is that if black men are considered good enough to play quarterback, eventually they are considered good enough to be offensive coordinators and head coaches.
4. Andrew Luck runs to a win – While Luck is considered more of a classic pocket passer, he had two sensational runs in leading Indianapolis to the eighth comeback win of his young career. The last of those runs was a 19-yard TD scamper on third-and-3 when the Raiders left the gap over the right guard uncovered and proceeded to play man defense in the secondary. That left Luck, whose running ability is underrated, a chance to win with his legs.
5. Marc Trestman gets a critical win – There were a lot of questions about the hiring of Trestman, who is about as far removed from legendary Bears coaches George Halas and Mike Ditka as you could imagine. Trestman often comes off more as a lawyer than head coach. But the goal is for Trestman to earn the trust of quarterback Jay Cutler and wide receiver Brandon Marshall. Well, Cutler's 19-yard TD pass to Marshall in the fourth quarter was the deciding play in a comeback victory for the Bears over Cincinnati. That's exactly the type of thing that can earn trust for a coach.
FIVE LOSERS
1. Tampa Bay implodes – New York Jets fans will want to give Geno Smith more credit for an 18-17 victory than he deserves. Smith was solid in his debut, which is good. However, the Buccaneers played about as miserable a game as you could imagine. For a team that's supposed to be led by a disciplinarian head coach in Greg Schiano, the Bucs were the antithesis. The Bucs had 13 penalties for 102 yards, a bad snap that led to a safety and a horrendous penalty by linebacker Lavonte David at the end of the game that set up New York's game-winning field goal. There was also a pretty ugly sideline argument featuring left tackle Donald Penn. After how the Bucs finished last year, there are serious questions about Schiano's leadership.
2. Blaine Gabbert – The plan for the Jaguars this season is to find out if Gabbert has any chance to pan out. Based on the opener, Jags GM David Caldwell probably already knows the answer and should spend the rest of the season scouting the college ranks. Teddy Bridgewater, Tajh Boyd, David Fales, Derek Carr, Bryn Renner and Johnny Manziel are just a handful of the top prospects in what is expected to be a loaded draft. Gabbert was 16 of 35 for only 121 yards and had two interceptions against Kansas City. Ugly.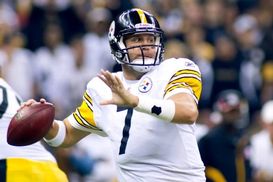 ICONBig Ben and the Pittsburgh offense struggled with virtually no running game to fall back on.
3. Pittsburgh's running game – Rebuilding the running game has been a three-year priority for the Steelers since playing in the Super Bowl against Green Bay in the 2010 season. However, between injury (center Maurkice Pouncey was knocked out for the season with a knee injury on Sunday) and changes in the offense, Pittsburgh continues to go nowhere. The Steelers finished with 32 yards rushing on 15 carries against Tennessee. Coupled with changes in the receiving corps (such as the loss of wide receiver Mike Wallace in free agency), the Steelers offense didn't score until the final two minutes.
4. Carolina coach Ron Rivera and Cam Newton – In the three years coach Ron Rivera and quarterback Cam Newton have been together, the team has yet to win a season opener. Each game has been decided by a touchdown or less. Worse, this could be the indication of another bad start after Carolina opened 1-5 in 2011 and 1-6 in 2012. Beyond that, Newton's strong opening performances of 2011 seem to be a thing of the past. He was limited to 125 yards passing on Sunday against Seattle.
5. Brandon Weeden struggles mightily – Just as with Gabbert in Jacksonville, Weeden doesn't have a lot of fans in the front office with the Browns (President Joe Banner and GM Mike Lombardi would love to have replaced him already). Weeden opened the season by completing only 26 of 53 passes for 289 yards and three interceptions. Worse, he was sacked six times, fumbled once and had at least four passes deflected at the line of scrimmage. Weeden led the league in passes batted at the line last season.
Follow Jason on Twitter: @JasonPhilCole