January 06, 2014 -
Jason Cole
5 up, 5 down for the playoffs
In the aftermath of Indianapolis' fourth comeback this season from a double-digit halftime deficit, which included the eighth game-winning drive of quarterback Andrew Luck's two-year career, Colts General Manager Ryan Grigson was comparing Luck to Michael Jordan in an interview with NFL Network's Albert Breer.
While that's a tad apocryphal, there is no question that Luck is on the right path, particularly as he faces off against one of the great comeback masters of NFL history, New England's Tom Brady on Saturday night in Foxboro, Mass. In two seasons, Luck has 11 fourth-quarter comebacks and eight game-winning drives.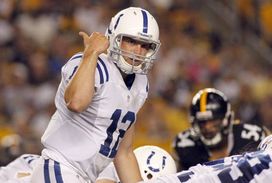 Luck already has 11 fourth-quarter comebacks in just two NFL seasons.
Brady, who is in his 14th season, has 42 comebacks and 31 game-winning drives. That includes two game-winning playoff drives during his historic 2001 season, when he took over as the starter and led the Patriots to the Super Bowl title.
All of which sets up a fantastic look at the once and future of NFL quarterbacking in the second round of the AFC playoffs. However, Luck has been doing this game-ending stuff for quite some time.
As a junior in high school, Luck was playing in a Texas seven-on-seven tournament with his teammates from Stratford High in Houston when they faced a squad from Lufkin High. On the Lufkin team was Dez Bryant, who was as unstoppable then as he is now.
Luck engineered a final, game-winning drive. Almost as important, Luck did it by eating up nearly five minutes of the clock. That's absurd in seven-on-seven football and Luck did it with the kind of precision that left Lufkin with no chance to get the ball to Bryant for a miracle finish.
Stratford coach Eliot Allen, who was sitting in the stands and watching because high school coaches aren't allowed to run seven-on-seven teams in Texas, shook his head as he watched Luck finish the drive. Allen turned to his assistant coaches and called the exhibition "brain surgery."
On Saturday, Luck put on another show that was as much mind over matter. Luck and the Colts put themselves in yet another first-half hole. Luck contributed to that deficit with back-to-back interceptions in the first half and a third in the second half.
But as the saying goes, if you don't mind, it doesn't matter. Luck kept throwing and, most importantly, did it aggressively. Despite Kansas City being able to pass rush with impunity, Luck found a way to hit deep passes of 64 yards to T.Y. Hilton (who finished with 13 catches for 224 yards) and 46 to Da'rick Rogers.
Those throws were critical to the Colts putting together one of the most stunning comebacks in playoff history. In just two years, this is becoming old hat for Luck. Then again, he's been at it a lot longer than that.
FIVE WINNERS
1. San Francisco quarterback Colin Kaepernick – While Kaepernick didn't replicate his record-setting rushing performance from a year ago against the Packers, he was still good enough that Green Bay will have more nightmares about him running around. His 28-yard touchdown pass to Vernon Davis in the fourth quarter was a brilliant throw and a great response after Green Bay took the league only moments before. Likewise, Kaepernick rushed for 98 yards on seven carries, setting up San Francisco's first touchdown with a 42-yard run and then set up the game-winning field goal with a critical 11-yard run on third down for a first down.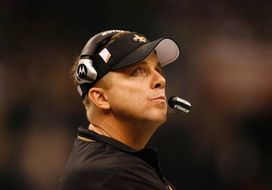 ICONPayton and the Saints found a way to get it done on the road Saturday in Philadelphia.
2. New Orleans coach Sean Payton – In a season when his team has been fraught with doubt for its inability to win on the road, Payton was able to keep his team focused for its toughest road test of the season. Payton didn't lose his cool after quarterback Drew Brees threw two first-half interceptions, sticking with the running game in the second half.
3. Old kickers – Between 38-year-old Phil Dawson and 36-year-old Shayne Graham, this was a brilliant weekend. Both hit game-winning field goals as time expired and went a combined seven for seven in brutally cold weather. Both also ended long careers of playoff futility. Dawson was playing in only the second playoff game of his career and hadn't been in the playoffs since 2002. As for Graham, he has been on a four-season, 10-team odyssey that started with an ugly playoff performance in Cincinnati in January 2010. That's the day that Graham missed field goals of 28 and 35 yards in a 24-14 loss to the New York Jets in the first round of the playoffs. After the game, Bengals coach Marvin Lewis sadly admitted that Graham's performance "killed us." While Lewis allowed that Graham felt worse about it than anyone, that didn't stop the Bengals from letting go of Graham in the offseason, ending his seven-year run in Cincinnati. Since then, Graham hasn't been with any team for longer than seven months. He landed in New Orleans three weeks ago after the team cut Garrett Hartley. On Saturday night, Graham hit four field goals, including two as time elapsed in both the game and first half. At 36, Graham might have earned a return to New Orleans next season.
4. Indianapolis running back Donald Brown – Like Graham, Brown hasn't appeared in the playoffs since playing in three postseason games in the 2009 season. In both 2010 and 2012, Brown didn't get any playing time in the playoffs and his inconsistent career was largely to blame. On Saturday, Brown played a vital role in the Colts comeback and continued what has been the best season of his career. He scored two touchdowns and had 102 yards combined rushing and receiving. His back-to-back scores in the third quarter got the Colts within two touchdowns. Moreover, Brown is doing this just as he's heading into free agency.
5. San Diego offensive coordinator Ken Whisenhunt – One year removed from getting fired by Arizona, Whisenhunt has become the hottest name on the coaching front. He is on the short-list for Detroit and Tennessee and will be considered by Cleveland if the Browns don't get Josh McDaniels. Whisenhunt's work this season to get Philip Rivers back on track has made him a prime target for Detroit, which is trying to get Matt Stafford on the right track.
FIVE LOSERS
1. Kansas City coach Andy Reid – It's hard to blame a coach who loses his best offensive player (Jamaal Charles) on the first drive and still manages to put up 44 points. However, Reid is going to take his lumps after a game in which he had a 28-point lead at half and called 23 passes and only 11 runs in the second half. Time management has never been an area of expertise for Reid, even when he has the lead. Not a good way to end such a glorious season for Reid and the Chiefs.
2. Running backs – After only one week of the playoffs, none of the top five leading rushers in the NFL this season remain in the playoffs. League leader LeSean McCoy was knocked out on Saturday night when Philadelphia lost to New Orleans. As mentioned, Charles, who led the AFC in rushing, was knocked out in the first quarter. Worse for Charles, the Chiefs were able to score quite easily without him. The trend for years is that running backs are less and less valuable. This year, the playoffs are merely further proof.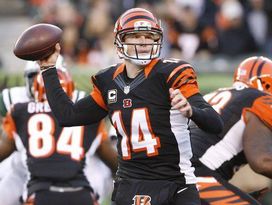 Another year, another postseason disaster for Andy Dalton.
3. Cincinnati quarterback Andy Dalton – The postseason nightmare continues for Dalton, who had three turnovers in the second half for Cincinnati. While Dalton has led the Bengals to the playoffs all three years he has been in the league, he now has seven turnovers (six interceptions and one fumble on a play in which he wasn't even hit) in three playoff games.
4. Philadelphia's third-down offense – After converting two of its first four third-down situations, Philadelphia converted only one of eight the rest of the game. As a result, coach Chip Kelly's electric offense was limited to only 256 yards of total offense. Ugly.
5. Green Bay backup cornerback Jarrett Bush – Bush doesn't blitz a lot and it's really hard to come down on a guy who doesn't play much, but he made a huge technical error on a third-and-8 play in the fourth quarter, allowing Kaepernick to get away. The 11-yard run not only converted for a first down, but set up the game-winning field goal and put San Francisco in position to run out the clock.
Follow Jason on Twitter: @JasonPhilCole