October 31, 2013 -
Jason Cole
$60 million lawsuit points to $100 million scam
A lawsuit filed Thursday in Florida by a group of 16 current and former NFL players may be the latest evidence of perhaps the biggest scam of player money in league history.
Two sources said the losses could approach $100 million or more.
The lawsuit, which includes Ray Lewis, Jevon Kearse, Frank Gore and Fred Taylor, claims a Florida-based bank participated in the illegal opening of accounts and transfer of funds that resulted in the players losing nearly $53 million.
However, that is only part of a much larger group of players who were once represented by disgraced financial advisor Jeff Rubin. At one time, Rubin's client list numbered more than 100 athletes, including boxer Floyd Mayweather. In 2012, Mayweather separately sued Rubin for $4 million and the 16 players who sued Thursday are less than half the number who invested in a failed Alabama casino investment.
Furthermore, the casino was only one of several investments that Rubin had players participate in, according to attorney Andy Kagan of the Kagan Law Firm in Fort Myers, Fla. Kagan is one of the lawyers who represents the group of 16.
That led another source to suggest the numbers could well approach $100 million.
"You start to think about some of the guys who have settled already or aren't in this suit," a source said, alluding to players such as Greg Olsen and Jonathan Stewart. "There's $4 million here, $2 million there. If you just write the numbers on the back of an envelope, I think $100 million is very possible."
Kagan said the lawsuit was filed Thursday in U.S. District Court in Fort Lauderdale after his firm spent approximately two years working on the case. The suit was filed against Branch Banking and Trust, although the improprieties are alleged to have been allowed by BankAtlantic. Branch Banking and Trust bought BankAtlantic in 2012.
"It's pretty unbelievable that a bank would allow this to happen," said Kagan, one of the lawyers representing the 16 players. "With the Bank Secrecy Act and other regulations put in place, it's pretty shocking that this would happen. It shouldn't have happened if the bank had followed everything."
The suit accuses the bank with negligence, breach of fiduciary duty, breach of contract and aiding and abetting. The suit alleges that BankAtlantic employees allowed financial advisor Jeff Rubin to open accounts with documents that included forged signatures. According to the suit, the bank was influenced by the large sum of money Rubin deposited. Kagan estimated in an earlier interview that Rubin had approximately $100 million in player money deposited in BankAtlantic at one point.
Rubin was allegedly allowed to transfer money from those accounts to various investments, including an Alabama bingo casino operation. The lawsuit accuses BankAtlantic of failing to properly notify the players of the transfers.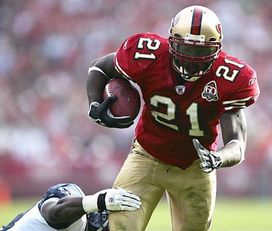 San Francisco 49ers running back Frank Gore was allegedly scammed out of $1.6million.
As a result, the suit specifies that at least $59.893 million was transferred from the accounts of those players without their knowledge and "for illegitimate purposes."
Aside from Lewis, Kearse, Gore and Taylor, other players involved in the suit are Jamal Anderson, Jacob Bell, Tavares Gooden, Santonio Holmes, Greg Jones, Brandon Meriweather, Gerard Warren, Jabar Gaffney, Kenard Lang, Santana Moss, Clinton Portis and Lito Sheppard.
Kagan's firm may seek damages on top of return of the lost funds.
Gore and Kearse are listed as two of the victims in the suit. Gore had at least $1.6 million transferred from his account. Kearse had $7.958 million taken from his account. Both Anderson and Sheppard lost more than $5 million each. Lewis lost $3.778 million.
As an aside, Kearse, Portis and Moss also all lost homes to foreclosure in the aftermath of having the money transferred from their accounts.
Rubin, along with his relationship with NFL agent Drew Rosenhaus, was the subject of a six-month investigation by Yahoo! Sports that was published in September 2012. Rubin formerly ran a concierge financial services firm called Pro Sports Financial. He invested as much as $43.6 million of the players' money in the Alabama casino project alone, according to bankruptcy documents.
However, Kagan said Rubin invested in numerous other projects without telling the players. According to the lawsuit, Rubin did that by using his influence at BankAtlantic/Branch Banking and Trust.
"BB&T allowed … accounts to be opened and to be maintained without following its own protocols and without regard to reasonable or due care or concern for the authenticity of the signature cards associated with each … account in order to promote its own self-interest," the suit states. "After allowing the … accounts to be opened as power of attorney accounts without the … plaintiffs' knowledge or consent, BB&T also occasionally accepted and acted upon wire transfer instructions from Pro Sports employees who were not even named as the attorney-in-fact for a particular account."
The suit specifically names BankAtlantic employees Steve Johnson and Phil Fitzpatrick as having worked with Rubin or being in charge of overseeing the accounts.
The suit further alleges the bank "substantially assisted in allowing and concealing" the improper accounts and transfers.
In a related case, former NFL wide receiver Terrell Owens filed a $6.5 million lawsuit against agent Drew Rosenhaus in August. Owens has alleged that in 2005 Rosenhaus recommended that he use Rubin as a financial advisor. Owens said he followed that advice and eventually found out his money had been invested in the Alabama casino project.
In 2008, Rubin began recruiting players to invest in the Alabama casino project. Rubin eventually convinced 35 players to invest, of which 18 were Rosenhaus clients. No other agent had more than four players involved.
Of the 16 players in the lawsuit filed Thursday, 10 are current or former Rosenhaus clients. No other agent has more than two players in this lawsuit.
Rosenhaus has said on numerous occasions that he had no knowledge of his players' investments in the casino project on in what Rubin was doing.
By 2011, players began discovering the improprieties.
In 2012, an NFLPA source said the union was investigating the relationship between Rosenhaus and Rubin. As of now, no penalties or discipline have been announced.
Follow Jason on Twitter: @JasonPhilCole
Editor's note: A Friday phone conversation with Kagan brought to light a couple of changes recently made to the lawsuit. 49ers running back Frank Gore lost $1.6 million, not $8.7 million, which changes the total from $60 million to approximately $53 million.