April 28, 2012 -
National Football Post
7th Round Breakdown
Round seven notes…

• The Browns landed themselves not your typical seventh round type lineman in Boise State's Billy Winn. Winn has an athletic looking frame, a good get off burst and initially can keep himself clean. However, if he doesn't win off the snap he has a tendency to pop upright and is really easy to block through contact. There is some one-gap potential to his game or he could play as a base 43 end. Nevertheless, he's well worth the risk for the Browns at this stage no matter where they want to play him.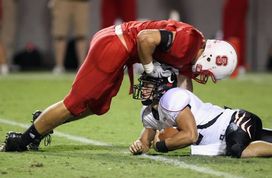 ICONCole will find the football.
• There isn't anything real sexy about the game of N.C. State LB Audie Cole. However, he's a tough, instinctive kid who can play off blocks in the run game, tackle the football and beat up the tight end off the line. A 43 strong side backer only in the Ben Leber mold. A good value for the Vikings late in the draft.

• The Vikings also got good value in Cal DE Trevor Guyton. Guyton isn't a real explosive guy off the edge, but he plays with a good motor, can gain leverage and overpower through contact. He's more of a base end in a 43, but I could see him getting some rep inside as a potential three technique as well. Either way I like his potential as a two down run defender on the edge.

• I loved the Titans 7th round selection of Rice DE Scott Solomon. He's a better athlete than given credit for off the edge, can play with power and has a motor that runs non-stop. However, he's not just a try hard guy, Solomon has the ability to slip blocks through contact and in my mind can be just as productive for the Titans as some of the defensive ends taken much earlier in the draft.

• RB Michael Smith from Utah State was a standout at the Players All-Star Classic this year and despite being a reserve behind Robert Turbin he's got NFL talent. He should find a niche role this year on the Buccaneers offense as he has the ability to be dynamic in the open field and is a better than advertised runner between the tackles. Another potential late round running back standout.

• Oklahoma LB Travis Lewis looked like a potential top-50 pick coming into the year. However, he dealt with injuries all season, played through them and ultimately killed his draft stock. Nevertheless, he's a tough kid who can play the "mike" or the "will" in a 43 front and if healthy I think the Lions got themselves a long time starter in the linebacking core.

• At one point Nebraska CB Alfonzo Dennard was considered a potential first round pick. However, he didn't run real well at the Combine and had some off the field concerns pop up in recent weeks. But, the idea that a talent like this could fall to the Patriots in round seven is a bit mind boggling. He's a tough kid who can play press, loves to mix it up in the run game and has the attributes to mature into a potential starter on the outside or slot man early on in his NFL career, if he can stay out of trouble.