August 23, 2011 -
Barry Dorey
A Colt Influence
The Weekend That Was
Given the deadline constraints of Friday's column, I didn't have a chance to tackle the other 14 games from preseason Week 2 -- until now. Here are some mini-Revelations from the action ... minus any definitive judgments about Plaxico Burress's much-ballyhooed return from a two-year absence -- diving TD catch and all.
1. Peyton Manning has slumped in the QB rankings. No one doubts Peyton's capacity for 300 yards and/or three TDs once the November and December games kick in. But given the slow-healing nature of nerves in the neck and his zero preseason reps (practices or games), it's foolish to assume that Peyton will maintain an elite level of play in the first month; and when quantifying a QB's seasonal worth in August, that's one-quarter of his overall grade. As a collateral effect, Colts receivers Reggie Wayne (111 catches/1,355 yards/6 TDs last year), Pierre Garcon and Austin Collie should be dropped a notch or two during Manning's period of uncertainty -- although Dallas Clark's value remains the same (No. 4 tight end). The wideouts' fantasy greatness might not be fully realized if Curtis Painter or Dan Orlovsky are getting full-time reps in Indy's opener against Houston.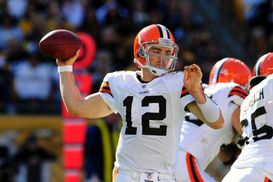 ICONFormer Texas standout Colt McCoy is having an impressive preseason.
2. Colt McCoy deserves a modicum of draft-day respect. Think of it as a chicken-or-egg kind of debate. Is McCoy (4 TDs in two preseason games) showing signs of life with the Browns in Year 2 because it's his nature to make big improvements off a so-so rookie season (7 TDs, 9 INTs)? Or, is McCoy taking a major step forward because head coach Pat Shurmur is there to guide him through this process? Not to denigrate the Browns' offensive staff last season, but McCoy couldn't have asked for a better new leader in Shurmur, Sam Bradford's QB guru with the Rams last year. On Friday night against Detroit, McCoy had the Browns briskly in and out of the huddle and exhibited a previously unseen flair for making downfield throws. But the ultimate proof's in the pudding ... or the regular season, where Cleveland has an interesting mix of daunting defenses (Pittsburgh and Baltimore twice) and potential pushovers (Oakland, Miami, Houston, Cincinnati, Seattle, Arizona). With 12-team leagues, McCoy has earned a promotion to preferred-backup status.
3. Tim Hightower has risen to a Round 8/9 value in standard-scoring drafts. This recent change of heart has less to do with Hightower's homecoming to the D.C. area ... and more to do with coach Mike Shanahan's impressive track record of converting ho-hum running backs into 1,200-yard rushers. Plus, it helps that Hightower (23 career TDs in three seasons) is a prototypical one-cut back and will likely remain an annual threat for 50-plus catches, no matter the offense. On the flip side, Hightower (129 total yards, 1 TD in the preseason) must compete for touches with rookie Roy Helu and veteran Ryan Torain (a Shanahan favorite), while likely navigating the choppy waters from the most desultory quarterback controversy since Jeff Komlo vs. Jerry Golsteyn -- in the form of John Beck vs. Rex Grossman. Nevertheless, Hightower is an ideal flex consideration in 12-team leagues.
4. Carolina's Steve Smith will struggle in fantasyland, regardless of who wins the QB battle. I defy anyone to derive something positive from the Panthers' ugly loss to the Dolphins on Friday, short of applauding how QBs Cam Newton/Jimmy Clausen and RBs DeAngelo Williams/Jonathan Stewart/Mike Goodson/Tyrell Sutton evaded injury. With god as my witness, late in the game, I wondered aloud if Carolina (199 net yards, 22 minutes of possession) had even been in Miami territory all night, before Fins TV announcer Dick Stockton confirmed the grave truth: Not one trip past the 50-yard line for the first three quarters. If I was a Carolina fan, I'd be encouraged about the club's long-term rebuilding project on offense, spearheaded by the charismatic and superbly athletic Newton; but the seeds of development won't be sown any quicker with a 32-year-old receiver drawing half-hearted double teams from opponents. At best, Smith is a max candidate for 55 catches, 700 yards and 4 TDs.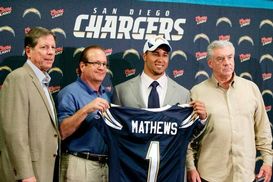 ICONWill Mathews rebound from last year's disappointing rookie season?
5. Ryan Mathews has returned to the good graces of most fantasy owners. Granted, it's just one preseason run -- and doesn't quite erase the stench of failing a conditioning test during training camp, Haynesworth-style -- but Mathews showed the grace and explosion of a third-round fantasy pick in that 15-yard touchdown against Dallas. By all accounts, Mathews floundered as an overhyped rookie (823 total yards, 7 TDs), but his 120-yard, three-TD effort in Week 17 may have been the launching point for sustained success -- not unlike Jamaal Charles's 262-yard, two-TD explosion in Week 17 of the 2009 season ... setting up his amazing campaign last year (1,935 total yards/8 TDs). Verdict: Don't let Mathews slide after the 40th pick.
6. Terrelle Pryor is now property of the Raiders. Even if Pryor (the Raiders' 3rd-round pick in Monday's supplemental draft) immediately abandons his quarterback dreams to play wide receiver or tight end, he's still not fantasy roster-worthy in Year 1. And for every owner who believes that Pryor's obvious athletic gifts will lead to a smooth transition at a new position -- and I'm talking consistent success here -- then you probably don't have much respect for every other tight end who's spent a lifetime trying to be relevant in the NFL.
Passing Fancy
Here's a revised listing of my always-fluid rankings for starting QBs, 1 through 32:
1. Drew Brees, Saints
2. Tom Brady, Patriots (moved up to No. 2 around 8:45 p.m. EST on Thursday)
3. Aaron Rodgers, Packers
4. Michael Vick, Eagles (let's pretend the 3-INT flameout vs. Pittsburgh didn't happen)
5. Philip Rivers, Chargers
6. Matt Schaub, Texans
7. Tony Romo, Cowboys
8. Ben Roethlisberger, Steelers
9. Matt Ryan, Falcons (No. 3 wideout Harry Douglas has recaptured his lethal speed)<br /> 10. Peyton Manning, Colts (the breaks of the game)
11. Josh Freeman, Buccaneers
12 . Eli Manning, Giants
13. Joe Flacco, Ravens (history tells us that 27 TDs is eminently doable)
14. Matthew Stafford, Lions (has the perfect cannon for 20-yard seam routes)
15. Jay Cutler, Bears
16. Sam Bradford, Rams
17. Mark Sanchez, Jets
18. Matt Cassel, Chiefs (one of the most indispensable NFL talents ... given K.C.'s shaky backup QBs)
19. Kevin Kolb, Cardinals
20. Kyle Orton, Broncos (still flourishing without former puppet master Josh McDaniels)
21. Ryan Fitzpatrick, Bills
22. David Garrard, Jaguars
23. Alex Smith, 49ers
24. Colt McCoy, Browns
25. Matt Hasselbeck, Titans
26. Chad Henne, Dolphins
27. Donovan McNabb, Vikings
28. Jason Campbell, Raiders
29. Tarvaris Jackson, Seahawks (curiously entrenched as Seattle's starter)
30. Cam Newton, Panthers
31. Andy Dalton, Bengals
32. John Beck, Redskins (a longtime favorite of 'Skins O-coordinator Kyle Shanahan)
Would You Like To Play A Game?
The National Football Post has once again partnered up with the good folks at FanDuel.com to offer weekly fantasy football contests throughout the regular season. Here's a breakdown of how the FanDuel Game works: Players are given a $60,000 salary cap to assemble a starting lineup comprising 1 QB, 2 RBs, 3 WRs, 1 TE, 1 kicker and 1 D/ST.
Most points wins. And if you can put up more points than NFP head honcho Joe Fortenbaugh, you