October 13, 2011 -
Barry Dorey
A matter of trust
Mr. Vick Goes To Washington
The last time we saw Michael Vick playing in our nation's capital (yes, I know FedEx Field is in Landover, Md.) ... he was busy carving up a division rival for 413 total yards and six touchdowns -- easily this decade's greatest fantasy outing for a QB until Aaron Rodgers (433 total yards, 6 TDs) went loco on the Broncos two weeks ago. Last year's performance -- on a wet field, mind you -- was so dominant and so transcendent, that it even prompted a number of fantasy experts to hail Vick as the No. 1 fantasy asset during the preseason. (Fantasy Football Today -- one of my favorite sites from July-December -- has Vick as the No. 5 QB.) But for today's Philanthropist, we're not concerned with season-long prospects ... we're dying to know if Vick can break the 1-4 Eagles' real-world slump with monster numbers in Week 6 -- the club's first boom-or-bust clash of the season?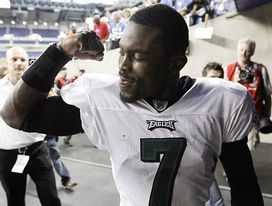 ICONVick destroyed the Redskins in Washington last season.
This year's Redskins (ranked 4th in sacks; 8th in passing yards allowed) are no chumps on the defensive end, especially with Brian Orakpo, Ryan Kerrigan, London Fletcher, DeAngelo Hall and safety LaRon Landry operating at full power. Throw in the emergence of Eagles superstar LeSean McCoy (553 total yards, 7 TDs in 2011) ... and we're left to wonder if Philly will consciously take a conservative tack with Vick in such a vital game. After all, the Eagles shouldn't be expected to repeat the philosophies and tendencies of the last four games (all losses) -- even if Vick (720 passing yards, 4 TDs in Weeks 4/5) has nothing to do with the club's woes against the run (140 yards per game -- 30th in NFL). Right? Verdict: On reputation alone, Vick has earned the right to be a "lock" for the minimum star threshold of 275 yards and/or three TDs -- a mark he's reached in nine of his last 12 games. Just don't expect 30-plus passes or an outing that sniffs 400 total yards.
It's A Little Known Fact ...
... The Eagles are actually favored to win Sunday's clash with the Redskins, prompting this declaration: In the history of Vegas betting for the month of October, Philadelphia is likely the first one-win club to be road favorites over a one-loss team in consecutive weeks. Think about that for a moment. (pause for quiet reflection) In fact, from what I hear, the Eagles are the first 1-4 team to be favored on the road since 1983. Wow!
Week 6 Rules To Live By
1. If you can absorb the short-term hit of trading for emerging stars who are slightly injured or on a bye ... do it! In standard 12-team leagues, most owners won't waste time bidding for good-but-not-great receivers on a bye; but for the GM who's largely unaffected by the Cardinals, Broncos, Chiefs, Chargers, Seahawks and Titans being on the sidelines, why not make a savvy free-agent play for WRs Doug Baldwin, Steve Breaston, Malcom Floyd or Damian Williams? The same holds true for quarterbacks and tight ends ... if Matt Cassel, Tim Tebow, Jared Cook and Antonio Gates (remember him?) can be stealthily stashed for the stretch run. This principle details exactly why teams that go all-out for talent and depth on draft day (ignoring kickers and defenses in the middle rounds) are often rewarded with stress-free bye weeks; and with that depth comes previously unforeseen windows to land premium, but struggling talents, via trade -- like Chris Johnson, Rashard Mendenhall, Shonn Greene, DeAngelo Williams, Reggie Wayne, Brandon Marshall, Percy Harvin, Sidney Rice or Tampa Bay's Mike Williams. Opportunity knocks.
2. Don't be afraid to exploit an owner who's running out of FAAB money. In a CBS league headed by Golf.com guru Jeff Ritter, I am behind the proverbial 8-ball on three significant fronts: 1) A 2-3 record, 2) Strapped for free-agent cash ($15 out of $100) and 3) Sporting a starting lineup that's so devastated by Week 6 byes ... I'll have no choice but to start Steve Breaston (currently on a bye) -- outside of a trade involving backup QB Josh Freeman. In other words, I am extremely vulnerable to making a desperate trade this weekend -- since only six teams make the playoffs and winning percentage, not Points For, is the determining factor with Wild Card teams. How does this translate to your league? Well, take a look at every roster ... and find that flailing-in-the-wind chump who's quietly/secretly dying to execute a blockbuster that will rescue him/her from Bye Week Hell. And if you can't find him/her right away ... perhaps you're the league chump? (vague Rounders reference)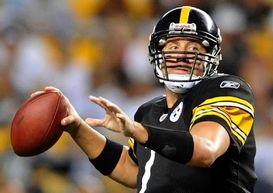 Is Big Ben headed for another monster week?
3. Respect the red-hot veteran when filling out starting lineups. Just four days after Ben Roethlisberger threw five TDs against the Titans -- on a bad foot -- you'd think he would get the proper respect heading into Week 6; and yet, I've received numerous Tweets from owners who are worried about starting him against the Jags. To which I reply: Unless we're talking Brees, Brady, Romo, Vick, Stafford, Newton as his direct fantasy competition, Big Ben is a rubber-stamp starter on Sunday. So, spare me any rationalizations of Andy Dalton, Colt McCoy, Rex Grossman or Matt Schaub against the Ravens ... none of whom can touch Roethlisberger's ceiling for five TDs on this bye-ravaged weekend. (Note: Schaub amassed 393 passing yards and three TDs against Baltimore last year; but do you really see that happening on the road -- without Andre Johnson?)
Running With The Moon
Here is my always-fluid top-40 listing of tailbacks in standard-scoring leagues -- from this point forward:
1. Adrian Peterson, Vikings (still the gold standard of fantasy studs)
2. Ray Rice, Ravens
3. LeSean McCoy, Eagles
4. Darren McFadden, Raiders
5. Arian Foster, Texans (excellent litmus test against the Ravens)
6. Matt Forte, Bears
7. Fred Jackson, Bills
8. Ryan Mathews, Chargers
9. Michael Turner, Falcons (averaging 97.3 total yards/1.5 TDs against the Panthers)
10. Chris Johnson, Titans
11. Maurice Jones-Drew, Jaguars
12. Jahvid Best, Lions (the 49ers haven't allowed a 100-yard rusher since 2009)
13. Frank Gore, 49ers (slowly becoming a weekly hunch for 130 total yards)
14. BenJarvus Green-Ellis, Patriots
15. Ahmad Bradshaw, Giants
16. Steven Jackson, Rams
17. Beanie Wells, Cardinals
18. Peyton Hillis, Browns (a reputation-defending weekend for the bowling-pin rusher)
19. Willis McGahee, Broncos
20. Rashard Mendenhall, Steelers (looked slow even before hamstring injury)
21. Felix Jones, Cowboys
22. DeAngelo Williams, Panthers
23. LeGarrette Blount, Buccaneers (could drop if alleged knee injury is significant)
24. Darren Sproles, Saints
25. Cedric Benson, Bengals
26. Tim Hightower, Redskins (this is no time to fear Ryan Torain -- I think)
27. Shonn Greene, Jets
28. Marshawn Lynch, Seahawks
29. James Starks, Packers
30. Michael Bush, Raiders
31. Mark Ingram, Saints
32. Mike Tolbert, Chargers (recent spate of injuries moves him down a few notches)
33. Pierre Thomas, Saints
34. Daniel Thomas, Dolphins
35. Ryan Torain, Redskins
36. Brandon Jacobs, Giants
37. Joseph Addai, Colts (low ranking solely based on likelihood of missed games)
38. Jonathan Stewart, Panthers
39. Kendall Hunter, 49ers
40. Stevan Ridley, Patriots (the future of the Pats ... but limited in the meantime)
40a. LaDainian Tomlinson, Jets
Week 6: QB Locks For 275 Yards and/or 3 TDs
1. Aaron Rodgers vs. St. Louis
2. Ben Roethlisberger vs. Jacksonville
3. Ryan Fitzpatrick @ N.Y. Giants
4. Tom Brady vs. Dallas
5. Michael Vick @ Washington
6. Tony Romo @ New England
7. Drew Brees @ Tampa Bay
8. Mark Sanchez vs. Miami
9. Cam Newton @ Atlanta
RB Locks For 120 Total Yards and/or 2 TDs
1. Ray Rice vs. Houston
2. Matt Forte vs. Minnesota
3. Steven Jackson @ Green Bay
4. LeSean McCoy @ Washington
5. Frank Gore @ Detroit
6. Adrian Peterson @ Chicago
7. Darren McFadden vs. Cleveland
8. Michael Turner vs. Carolina
9. Arian Foster @ Baltimore
Talking Points
1. Sam Bradford has already posted three sub-200-yard games this season. Be honest: The day Josh McDaniels was tabbed as Rams offensive coordinator, you thought Bradford would have an immediate chance to be a top-10 QB ... and the presumptive steal of all August drafts -- lockout or no lockout. Well, it's been a so-so start for McDaniels, Bradford (849 yards/3 TDs), RB Steven Jackson (143 total yards, 2 TDs on 27 touches) or any of the other misfit toys in St. Louis. In fact, as I look at the Rams' depth chart, it's hard to pinpoint one wideout who's an educated-guess lock for back-to-back weeks of fantasy goodness before Thanksgiving. Danario Alexander? Eh, maybe. Greg Salas? Austin Pettis? I have no use for low-end rookies. Brandon Gibson? Great athlete, but too inconsistent. Mike Sims-Walker? Perhaps I have a fantasy death wish ... because that's my horse in this lame race. Ouch!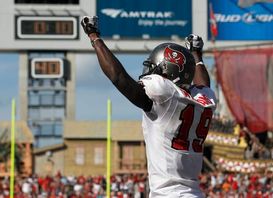 ICONWilliams has been a complete bust so far in 2011.
2. Bucs WR Mike Williams has challenged himself to step up against the Saints. There's no way to sugarcoat the dismay over Williams' sophomore slump (19 catches/183 yards/1 TD). Five straight games of 66 yards or less ... and seven dating back to last season? But given the dearth of quality Tampa Bay receivers, LeGarrette Blount's injury situation (out for Week 6?) and the intriguing potential of QB Josh Freeman (1,154 yards/3 TDs), fantasy owners have no choice but to wait for Williams' breakout -- which may occur on Sunday. After all, if Jordy Nelson, Randall Cobb and Kevin Walter