April 14, 2011 -
National Football Post
A pair of 3-4 nose tackles possess All-Pro type talent
A look at the nations top two nose tackles and the concerns each carry.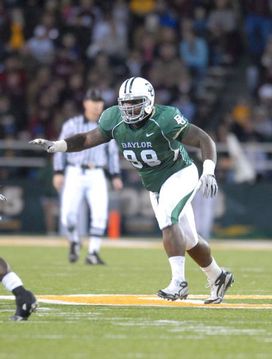 Taylor has all the talent needed to be successful at the next level.
1. Phil Taylor: Baylor (6-3, 334)
Why we like him…
Taylor possesses a massive frame; strong base and when he keeps his pad level down the guy can be downright unblockable inside. He displays an overpowering lower half on his bull rush, surprisingly good body control/short area quickness when asked to shed and is a bear to move inside vs. the run game. He also displayed a better motor this year in pursuit, was more violent with his hands and I honestly think he could also get some looks as a five-technique at times as well at the next level. When the motor is running and the pad level is down, Taylor has the ability to dominate and could mature into a Kris Jenkins type nose if he's willing to put in the time.
Cause for concern…
He's a former Penn State transfer who was suspended during his time at Happy Valley after being charged with simple assault stemming from a fight on campus. Also, concerns about his weight came into question last year during his uninspiring first season at Baylor, as some scout's I talked with said he ballooned up to over 380 pounds. Therefore, keeping his weight in check and making sure he stays focused and motivated is really the key for Taylor in deciding if he wants to be an All-Pro or just another big body in the NFL.
2. Kenrick Ellis: Hampton (6-5, 346)
Why we like him…
Much like Taylor he's another tall, wide-bodied player with a strong anchor, a great first step for his size and the flexibility needed to keep his base down and fight his way through contact. He's a developing pass rusher, but displays natural lateral quickness and does exhibit some violence with his long arms/hands when trying to disengage though contact. The Hampton product also showcases impressive range off his frame for a guy of his dimensions and can make plays in pursuit.
Cause for concern…
Ellis is still raw, has a tendency to drop his head down into contact, doesn't always quickly identify the football and will get overextend and upright because of it. However, all are correctable with coaching. The major concern with him is that he was kicked off the South Carolina football team in 2008 for violating university policies. The former Gamecock was suspended for the first three games of the 2008 season prior to his dismissal from the team for an undisclosed violation of team rules. However, according to Internet reports and scouts I've spoken with, Ellis had failed multiple drug tests during his time at South Carolina. Overall, just keeping Ellis focused on football is the biggest factor in determining his success. The guy has first round talent, there is no doubt about that and at his size he can be as good as he wants to be in the NFL. It's just figuring out -much like Taylor- does he want to be an All-Pro or will he be content to be just another big body?