November 04, 2013 -
Jason Cole
A state of chaos
The Miami Dolphins went from trying to deny reports in the morning regarding offensive tackle Jonathan Martin to essentially admitting there were issues by the end of the night when the team suspended guard Richie Incognito indefinitely.
At the end of the day, the Dolphins appear to be in a state of chaos as they return to practice Monday after what was supposed to be a weekend off.
"Right now, I have no idea how tomorrow is going to do," one assistant coach said. "I'm sure we're going to have some angry guys and some guys who are just confused. All I know is, we better get focused as soon as possible."
Incognito was suspended for conduct detrimental to the team after the Dolphins gathered enough information to conclude that he had been harassing Martin. Among the accusations are that Incognito demanded $15,000 from Martin for an excursion to Las Vegas for the offensive linemen. Martin did not go on the trip, according to reports by ESPN during its morning pre-game show.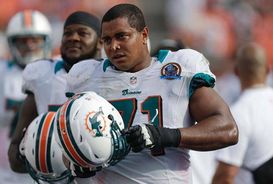 Martin left the team and is currently in Los Angeles.
In response, the Dolphins issued a statement that "the notion of bullying is based on speculation and has not been presented to us as a concern of (Martin) or anyone else internally." In addition, Incognito openly challenged the reports over Twitter.
Incognito also told reporters on Saturday that he had talked to Martin and that Martin wasn't blaming him. However, ESPN countered that by saying that Martin, who was placed on the non-football injury list on Sunday, feared retribution from Incognito. Martin left the Dolphins last Monday and is currently with his family in Los Angeles.
Later Sunday, the Dolphins changed the tone of their statements after talking to Martin's agents.
"We received notification today from Jonathan's representation about allegations of player misconduct. We are taking these allegations very seriously and plan to review the matter further. We have also reached out to the NFL and asked them to conduct an objective and thorough review. As an organization, we are committed to a culture of team-first accountability and respect for one another," team said.
FOX's Mike Garafalo reported late Sunday that the investigation could include racial harassment. Martin is black and Incognito is white.
The bottom line is that the Dolphins are now missing two offensive linemen who were starters at the beginning of the season and are left to clean up the mess that has nothing to do with what happens on the field.
Follow Jason on Twitter: @JasonPhilCole