January 24, 2014 -
Jason Cole
A storm is brewing
The star-studded class of the 2011 draft had to put off guaranteed money when the latest Collective Bargaining Agreement was signed that year.
But three years later, when players such as Cam Newton, Patrick Peterson, A.J. Green and J.J. Watt have established themselves, don't expect the top players from that draft to make serious money.
And maybe not for a while.
In a survey of 10 NFL general managers and/or salary cap specialists, all of them said they expect almost every player from the first round in 2011 to be tendered for a fifth year in their contract rather than sign a long-term extension this year. Simply put, a system that was advertised as a way to reward players who perform has instead turned into leverage against the players.
Or as one team executive put it: "Why wouldn't you just put the option on them?"
In response, numerous agents said the system is clearly broken.
"The (NFL Players Association) sold the best players in the draft down the river," one agent said. "And the worst part is they don't understand the ripple effect. If star players like Newton, Peterson and Watt don't get paid, how is anybody else supposed to get paid? You base the value of contracts on what the stars make and work your way down."
According to data produced by the website Spotrac.com and confirmed by many executives, the fifth-year salaries for most players from the 2011 draft are expected to be so inexpensive that there is almost no reason for teams to want to renegotiate right now. In addition, those salaries aren't guaranteed for anything more than injury until the beginning of the player's fifth season, putting the team in almost no risk.
For instance, standout defensive ends Watt, Robert Quinn, Cameron Jordan and Muhammad Wilkerson project to have fifth-year salaries of only $5.25 million in 2015, according to Spotrac.com figures. While several executives said the number will probably be a little more than $6 million by the time new figures come in, the salary is still relatively small.
And not guaranteed. Beyond that, those players can be franchised in 2016, giving teams ample control of them through the 2016 season.
In the case of Watt, who is due to make just over $1.9 million this season, if his fifth-year option is $6 million and the franchise tag is $12 million for him in 2016, the Texans essentially have him under contract for three more years at only $20 million. On the open market, Watt might be worth double that.
"If I was Houston and had Watt or I was the Jets with Wilkerson, why do anything right now?" one executive said. "What's the pressure on the team? Sure, if you get a good deal and you can buy out three or four more years, essentially buy his whole career, maybe."
Thus, a player like Watt would be lucky to get $20 million guaranteed on a six-year, $60 million deal that would mean the first nine years of his career would be with Houston. Compare that to defensive ends Jared Allen (six-year deal for $73.2 million with $31 million guaranteed) or Mario Williams (six years, $96 million with $50 million guaranteed).
Even teams like Tennessee, Jacksonville and Minnesota, which took quarterbacks Jake Locker, Blaine Gabbert and Christian Ponder, have little risk in putting a tender on those players.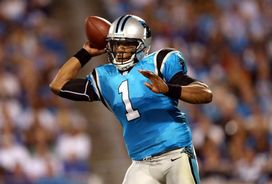 Cam Newton took a big step forward in 2013, but it's unlikely that he will be fairly compensated for his efforts.
To many people in the industry, that's an indication of how lopsided the rules on paying rookies – and top rookies, at that – have become under the new CBA. In 2011, the owners recoiled at signing bonuses that reached upwards of $50 million for players such as 2010 No. 1 overall pick Sam Bradford. Other players in the top 10 picks were regularly getting $25 million and $30 million guaranteed before playing a down in the NFL.
At the same time, the idea at the time was that players who prove themselves deserved to get paid sooner. Rookie contracts were reduced from a maximum of six years in the first round to only four (players drafted after the first round still only can get a four-year max contract). The catch is that NFL teams have the option to exercise a fifth season on first-round picks. This is the first year under the new system in which teams can exercise the option.
With the exception of a team such as Green Bay with injury-ravaged offensive lineman Derek Sherrod, just about every team is expected to exercise the option. Even Tampa Bay, which has disappointing 2011 first-rounders Adrian Clayborn and Gabe Carimi, is likely to exercise the options because the contracts aren't guaranteed.
"You'd rather have control than not because there's very little risk. What if Carimi comes in and plays really well? You have him under contract for $5 or $6 million in 2015. Do it. Same goes for Clayborn," one source said.
Even flop quarterbacks such as Locker and Ponder could get the option, several GMs said.
"You'd probably have to alter the contract a little so that you could buy insurance for the season against an injury, but that's not expensive. If you're talking about a $13 or $14 million salary, the insurance is about $150,000 and you'd get the cap credit back," an NFC executive said.
Even someone like Newton, who has performed better than Bradford to this point, is unlikely to get a contract commensurate with other quarterbacks. Bradford received a six-year, $78 million deal.
If Carolina wants, it can wait on Newton. Under the current system, Newton is due an option salary of $13.6 million according to Spotrac.com's numbers and a $16.4 million franchise salary in 2016. Add that to his original four-year, $22 million contract and Newton will make roughly $52 million over his first six years.
And at a time when quarterbacks such as Jay Cutler, Matt Ryan and Tony Romo are getting in excess of $50 million over the first three years of their new contracts, Newton is due to make roughly $35 million over his next three years.
Or as one agent put it: "Think about that. As good as Newton is when you compare him to those guys, he has no leverage. This system was supposed to give guys leverage if they played well. It has failed. Absolutely failed."
Follow Jason on Twitter: @JasonPhilCole