May 03, 2011 -
National Football Post
AFC Draft Grades
We all know that an NFL draft can't be properly evaluated until 3-4 years from now. However, it's still fun to hand out draft grades breaking down each team and today we look at the AFC.
AFC East
Buffalo Bills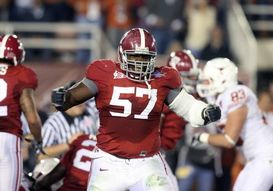 ICONDareus has the ability to make everyone around him better.
First-round pick Marcell Dareus was the safe option at three overall. He's a strong anchor player who can eat up blocks inside and make everyone's life around him easier. However, I would want more of an impact guy when picking that high. Second-round pick CB Aaron Williams is an overrated DB in my book and my favorite pick of their draft is LB Kelvin Sheppard, whom they might have reached on just a bit.
Grade: C-
New England Patriots
I like what the Patriots did in the draft more so toward the mid/late round range as opposed to their first two picks. TE Lee Smith will be their in-line blocking tight end from day one, OL Marcus Cannon could be a steal once he's healthy and I love RB Shane Vereen in that offense. QB Ryan Mallett is a boom or bust guy in the 3rd, as are their first two picks in my mind, OT Nate Solder and CB Ras-I Dowling.
Grade: B-
New York Jets
The only pick of the Jets I'm not a huge fan of is their first one, DL Muhammad Wilkerson. He's a talented kid who has experience two gapping as a five-technique at Temple, but is going to need a lot of work. DT Kenrick Ellis is the most interesting guy of the bunch. He possesses Kris Jenkins-type talent — he just needs to put it all together. Also, late-round picks QB Greg McElroy and Jeremy Kerley should both make the roster.
Grade: B+
Miami Dolphins
First-round pick Mike Pouncey is as safe a prospect as there is in the class. He's a day one starter inside for the Dolphins who should see a couple of Pro Bowls throughout the course of his career. However, as safe as he is, the rest of the Miami draft crop is unsettled. I can't see RB Daniel Thomas holding up inside; WR Edmond Gates is a talented kid, but more of a vertical option-only and I don't see much intrigue with their picks late.
Grade: D
AFC North
Baltimore Ravens
This is why the Ravens are always a contending team in the AFC as they once again brought in a nice mix of solid productive players to go along with some real gifted physical talents. CB Jimmy Smith is the second-best prospect at his position in the draft and has the ability to press off the line from day one. I also really like WR Tandon Doss and DE Pernell McPhee in the mid rounds. Both could end up being starters 2-3 years down the line. Not a huge fan of WR Torrey Smith, but he gives the Ravens what they need — a vertical threat in the pass game.
Grade: A
Cleveland Browns
This is the second year in a row I really like the Browns draft and if DT Phil Taylor can end up being the dominant force inside, I think they'll have a winner in Cleveland soon. FB Owen Marecic should start as the lead guy from day one. DE Jabaal Sheard, WR Greg Little and OG Jason Pinkston all have starting abilities down the line as well and TE Jordan Cameron is a gifted talent who possesses the athleticism to make plays down the seam. He just needs to continue to develop.
Grade: A-
Pittsburgh Steelers
A solid draft class for the Steelers, who brought in a pair of big, strong offensive linemen in Marcus Gilbert and Keith Williams. Both have the skill sets to develop into very good in-line guys at the next level. CB Curtis Brown can certainly be starting in the secondary come year two and DL Cameron Heyward is a day one type starter who will be able to consistently set the edge on the outside.
Grade: B
Cincinnati Bengals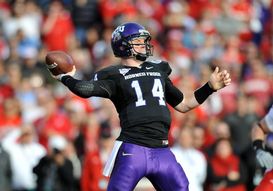 ICONDalton has a chance to be a solid starting NFL quarterback.
In my view the Benglas got the best overall talent in the draft class when you look at WR A.J. Green with the first-round pick. He has the makings of a blue-chip receiver in the NFL. QB Andy Dalton has starting potential, but don't think he was worth a second-round selection. Top-tier athletes like SS Robert Sands and DE Dontay Moch can both instantly improve their kick coverage units, but both are transition players and might have trouble developing into starters.
Grade: C+
AFC South
Houston Texans
The overall improvements the Texans made in the secondary in my mind will be the gems in the class. CB Brandon Harris has the ability to play both inside and out, while Rashad Carmichael is one of the better off/zone corners in the draft. Both have starting capabilities and will play all over the Houston secondary next year. DE J.J. Watt is a good fit as a five-technique and Brooks Reed is the type of safe/high motor pass rusher the Texans need off the edge.
Grade: B+
Jacksonville Jaguars
I'm not a fan of the idea of trading up for any QB in this year's draft class. However, longterm for the Jaguars, Blaine Gabbert will be an upgrade at the quarterback position. I like OL Will Rackley, who they nabbed in round three and I do think he gives them some thump inside. However, after that there isn't too much in my mind to get excited about.
Grace: C-
Tennessee Titans
Outside of the Jake Locker pick in round one, the Titans did a nice job filling needs with good values. OLB Akeem Ayers is a first-round caliber talent, as is DT Jurrell Casey. Both have some flaws off the field, but if they can ever put it together both could develop into very good starters at the next level. RB Jamie Harper can be a nice complement in the run game as well. But the base of this grade longterm will fall on the play of Locker and his development as a franchise QB and for the record I don't like his chances.
Grade: B-
Indianapolis Colts
Both of the offensive linemen they drafted in the top two rounds — Anthony Castonzo and Benjamin Ijalana — have the ability to mature into starters you can win with at the next level, though I do like Ijalana more. However, my favorite pick might be DT Drake Nevis. He's a great fit in the Colts one-gap scheme and has the ability to mature into one of the better interior pass rushers in the league.
Grade: A
AFC West
San Diego Chargers
Not a big fan of what the Chargers did during draft weekend. FS Marcus Gilchrist is one guy who should be able to start all over an NFL secondary and gives them some nice versatility in the defensive backfield. However, LB Jonas Mouton seemed liked a major reach in round two and the idea of takin g Corey Liuget to play as a five-technique over Cameron Jordan, who was still on the board, still has me scratching my head.
Grade: D
Kansas City Chiefs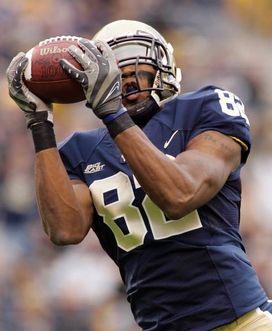 ICONBaldwin is at his best tracking the football.
WR Jonathan Baldwin has the ability to develop into a legit number one wideout in the NFL and is a solid pick for the vertically starved Chiefs in round one. OL Rodney Hudson, OLB Justin Houston and defensive linemen Jerrell Powe and Allen Bailey all have starting potential in two to three years. However, the wildcard is QB Ricky Stanzi, who has an intriguing skill set and longterm could be the QB of the future.
Grade: B
Oakland Raiders
A typical draft in Oakland where they brought in a lot of highly gifted athletes who can run. I don't like the DeMarcus Van Dyke pick in round three and actually like Chimdi Chekwa — the corner they took in round four — more. RB Taiwan Jones adds some big- play ability to the backfield and WR Denarius Moore gives them another vertical threat on the outside. However, the addition of Stefen Wisniewski will give them an instant upgrade inside at center and he should be a starting pivot there for the next 8-plus years.
Grade: C+
Denver Broncos
Overall, it looks like the Broncos are going to get a fair share of starts out of their draft crop early on — I just don't know how good a lot of these prospects are going to be as starters. OLB Von Miller doesn't seem like an ideal fit as a 4-3 guy. OL Orlando Franklin possesses good size, but I don't know if he has a real position at the next level. The Broncos needed to add starters, which they did. We'll just see longterm if they are starters you can win with.
Grade: B-
Follow me on twitter: @WesBunting