October 16, 2012 -
National Football Post
AFC East Practice Squad Breakdown
After a weekend where the Ravens lost two of their best defensive players, MLB Ray Lewis and CB Lardarius Webb, to season ending injuries, the importance of quality backup players and depth on the practice squad becomes more evident. While every NFL team suffers at least a few major injuries each season, those that have quality backups/depth are able to persevere and end up winning in the playoffs. So today we take a look at five practice squad players in the AFC East that we believe have the tools to develop.
1. Marcus Easley WR Connecticut 6026 210 4.45 Buffalo Bills Practice Squad
Viewed by many, but not me, as one of the "sleepers" of the 2010 NFL Draft, Easley is still a raw prospect who needs to improve if he is going to become more than a practice squad receiver. Despite still needing a lot of work on his route running, the reality is that receivers with Easley's great size and long speed are extremely hard to find and therefore are worth trying to develop. On film Easley lacks consistent explosiveness off the ball and is generally a "build to speed" runner, but occasionally he flashes the burst off the ball and elite acceleration that is so rare. Additionally, he is a high route runner and struggles to get in and out of his cuts with any quickness, which limits his ability to consistently get separation. Occasionally flashing the ability to make the great catch does not make up for his inconsistent hands. Overall, Easley is a good practice squad player to try and develop because of his size and speed, but he is a long way from being a contributing receiver in the NFL.
2. Marcus Forston DT Miami 6012 301 5.13 N.E. Patriots Practice Squad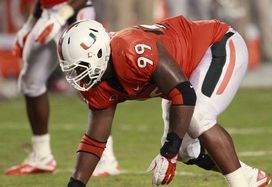 ICONMarcus Forston right before snap when playing at Miami.
A thickly built defensive tackle with outstanding snap anticipation and initial quickness, Forston is a much better athlete than football player right now. Despite having the playing strength, explosiveness, flexibility and all-around athleticism of an NFL starter, Forston's production at Miami was wildly inconsistent. He struggled to stay healthy in college and when healthy he did not play with the passion or effort needed on every snap to succeed. He seemed to wear down in games and would pop upright and play high when he got tired, which too often made him a non-factor. Overall, players who display "under-achiever" traits in college rarely "change their stripes" in the NFL, but because of his natural talent at such a vital position, Forston is an excellent developmental candidate.
3. Andrew Jackson OG Fresno State 6050 299 5.27 Buffalo Bills Practice Squad
One of the most aggressive college linemen I have evaluated in years, Jackson has not been able to establish himself in the NFL. Despite only weighing around 300 pounds, Jackson's aggressive blocking style and natural strength give him the ability to lock onto man and physically control him when he blocks with good base and stays over feet throughout. Jackson's issue is that he lacks the high end athleticism to let him recover when he gets in bad position, which is bound to happen when you block as aggressively as he does. In order for Jackson to develop and become a quality backup guard and emergency tackle, he will need to do a better job of maintaining good footwork and technique from snap to whistle.
4. Ricky SappClemson 6037 252 4.66 New York Jets Practice Squad
A dynamic defender at Clemson, Sapp consistently was able to get backfield penetration as a pass rusher and against the run to make game changing plays. A long, linear defender whose on field play warranted a second round selection, Sapp has struggled to make an impact in the NFL after suffering a knee injury towards the end of his college career. Additionally, Sapp is somewhat of a "tweener" as he is best going forward and attacking the play from a 3-Pt stance, but his long, thin frame hinders his ability when he plays down as a defensive end at the NFL level. While he has experience aligning upright and playing as an outside linebacker in a 34 scheme, he is not the same athlete playing off the ball as he is attacking the play. While Sapp may develop for the Jets, I think his best chance to contribute in the NFL is as a defensive end in a 43 scheme that aligns their defensive ends very wide.
5. Jordan White WR Western Michigan 5116 208 4.62 New York Jets Practice Squad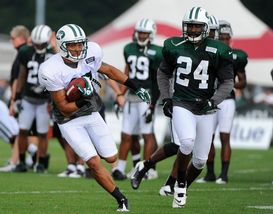 US PRESSWIREReceiver Jordan White runs after catch during Jets' training camp practice.
One of the most productive college receivers the final two seasons in college (He caught 234 passes for 3289 yards and 27 TD's over the 2010 and 2011 Seasons), White is a great story after missing so much time during his college career due to major knee injuries (He blew out each knee one time in college). He is a tremendously polished route runner who understands the subtleties of creating space vs. man coverage and finding open space vs. zone. White's ability to get his head and hands around quickly out of cuts helps him to catch every pass thrown to him and enables him to bail out the quarterback who makes a very quick throw to beat a blitz that gets on top of White instantly. The big thing holding White back from contributing in the NFL right now is his lack of explosiveness out of his cuts to get separation vs. NFL cornerbacks (While he is good at creating space vs. college cornerbacks, he has not proven he can do it at the NFL level yet) and to stretch the field to make big plays deep. Do not be shocked if he ends up getting playing time later in season and catches a lot of passes for the Jets.
Email Russ at Russelllande@yahoo.com and Follow Russ on Twitter @RUSSLANDE