October 23, 2012 -
National Football Post
AFC North – Practice Squad Breakdown Part One
As NFL teams continue to juggle rosters, there is always a lot of movement on practice squads as teams promote and steal players in order to fill holes on their rosters. Additionally, a practice squad can give you a chance to develop a player that a team thought of lot of when they drafted him, but who has not developed. You will see a great example of that next week in the breakdown of the second group of five players from the AFC North, when I look at Ravens' outside linebacker Sergio Kindle who they recently cut from the active roster, but plan to sign to their practice squad. Unlike most weeks where we break down the five most interesting practice squad players in a division, this week we look at the first five of ten practice squad players in the AFC North that we believe have the tools to develop into contributors on the 53 man roster. On measureables listed, they are all verified (As in taken by someone in the NFL) unless they have an "E" next to them, which stands for estimated.
1. Ronnie Cameron DT Old Dominion 6020 299 5.20 E Cleveland Browns Practice Squad
A dominant small school defender, Cameron has the combination of excellent natural strength and good athleticism of an NFL starter. At Old Dominion, Cameron was able to use his brute strength to physically dominate offensive linemen to collapse pocket and make plays behind the line against the run and rushing the passer. Production has not been as easy for Cameron in the NFL as his bad technique has limited his ability to consistently hold ground vs. run blockers and to get a push when he "bull rushes." He needs to be more consistent getting off the ball quick, get hands on offensive linemen first and to play with leverage every snap if he is going to become a quality defensive tackle in the NFL.
2. Toney Clemons WR Colorado 6020 208 4.55 E Pittsburgh Steelers Practice Squad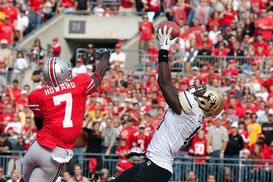 US PRESSWIREColorado WR T. Clemons makes great catch against Ohio State.

A tall receiver with soft, natural hands, Clemons has many of the traits for NFL success. At Colorado and the Players All Star Classic, Clemons flashed the quick acceleration and burst out of cuts to easily get separation from man coverage. However, he did not do this consistently enough. While he is tall, he is thin framed and struggles to get off the line vs physical press coverage and can be "ridden off stem" by physical man coverage. Deceptively fast for a 6'2 receiver, Clemons has the speed to get separation deep down the field once he gets to full speed. Overall, Clemons must become more consistent in his route running and improve his playing strength, but he has the talent to eventually be a contributing receiver if he can.
3. Jack Cornell OG Illinois 6060 E 315 E 5.35 E Baltimore Ravens Practice Squad
While lacking the good athleticism that NFL teams prefer, Cornell's combination of long arms, playing strength and football intelligence enable him to be productive once he gets ahold of his man. When he keeps his knees bent, stays over his feet from snap to whistle and uses his long arms well to "get a good fit" he has the strength to tie up and eliminate man from the play. Cornell does not have the speed to pull and get out in front on outside runs and struggles to consistently get through the line of scrimmage to the second level in time to block linebacker. When he gets there in time he can be a good blocker when he stays over feet and under control. If Cornell can become more consistent blocking with leverage and staying under control, he could develop into a valuable backup guard and emergency tackle.
4. Adrian Hamilton OLB Prairie View A&M 6030 E 251 E 4.75 E Baltimore Ravens Practice Squad
After dominating at Prairie View, Hamilton really grabbed our attention with an excellent week of practice at the HBCU All Star Game. A quick and agile athlete with excellent pass rush skills, Hamilton is a developmental prospect having played mostly with his hand down rushing the passer in college. Having displayed natural instincts getting moving fast at the snap and to read and react quickly while attacking the play from a pass rush alignment gives me confidence that he will be able to handle the mental side of playing off the ball in pass coverage. Hamilton is not likely to make any real contribution in 2012, but I expect him to make the team in 2013 and contribute as an edge pass rusher in the Ravens 34 defense.
5. Daniel Herron RB Ohio State 5096 213 4.66 Cincinnati Bengals Practice Squad
Despite good instincts/vision with very quick feet and a deceptive burst through the hole, Herron's lack of top end speed and a bad forty time led to him not being selected until the sixth round of the 2012 NFL Draft. An aggressive runner who runs with excellent body lean, good strength and natural balance contribute to his ability to consistently run through arm/grab tackles to gain yards after contact. He is however a bit of a "straight line" runner who lacks the wiggle to make tacklers miss, which is vital for success in the NFL. While he has excellent hands catching the ball, unless he improves greatly in pass protection he will never be able to contribute as a receiver in the NFL. If Herron can improve his pass protection he should be able to make it in the NFL as a backup tailback and third down running back.
Email Russ at Russelllande@yahoo.com and Follow Russ on Twitter @RUSSLANDE