November 06, 2012 -
National Football Post
AFC North – Practice Squad Breakdown Part Two
After drafting Sergio Kindle in the second round of the draft, the Ravens expected that he would eventually pair with Terrell Suggs to give them one of the best pass rushing tandems in the NFL. However, Kindle fell down a flight of stairs prior to his rookie season and has never developed into the player they hoped, so they recently cut him and signed him to their practice squad with the hope that he can eventually get back to the player he was before this injury. Unlike most weeks where we break down the first most interesting practice squad players in a division, this week we look at the second five of ten practice squad players in the AFC North that we believe have the tools to develop into contributors on the 53 man roster. On measureables listed, they are all verified (As in taken by someone in the NFL) unless they have an "E" next to them, which stands for estimated.
1. Otis Hudson OG Eastern Illinois 6050 E 330 E 5.25 E Cincinnati Bengals Practice Squad
A small school player, Hudson is still a work in progress having played defensive line at Minnesota early in his college career before making switch to offensive line after transferring to Eastern Illinois. Hudson has the playing strength to control and dominate defensive linemen when he blocks with base and "gets a good fit" first. Despite his athleticism, Hudson still struggles with consistency as a blocker due to not blocking with good technique every snap. In his third season with Bengals, Hudson has the potential to start at guard in 2013 if he can improve his technique and consistency.
2. Sergio Kindle OLB Texas 6027 250 4.70 Baltimore Ravens Practice Squad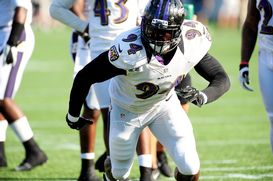 US PRESSWIRESergio Kindle rushes passer during practice.

A tremendously gifted pass rusher at Texas, Kindle's career has never taken hold after suffering skull fracture prior to rookie year. Never the big, powerful defender who could over-power blockers and toss them aside, Kindle relies upon his initial quickness, pass rush repertoire, rare competitiveness and explosive closing burst to beat pass blocks. He must improve his playing strength to be as effective rushing the passer in the NFL as he was in college. After being cut from the active roster this year many are writing off Kindle, but with his physical talent if he can re-gain his confidence and play with the aggressiveness that he displayed at Texas he could still develop into the dynamic pass rusher the Ravens thought they drafted.
3. Antoine McClain OG Clemson 6054 329 5.48 Baltimore Ravens Practice Squad
Undrafted out of Clemson because he did not play up to his talent level often enough, McClain is an excellent developmental candidate because of his raw tools. In college, McClain used bad technique, was beaten too often and ended up on the ground way too much for a player with his talent. However, at the Players All Star Classic he displayed much better footwork and use of hands, which enabled him to have a dominating week of practice. If the Ravens can work with McClain to improve his in-game performance and consistency they could end up with a strong and productive starting guard in the future.
4. Jacques McClendon OG Tennessee 6030 E 324 E 5.30 E Pittsburgh Steelers Practice Squad
McClendon does not fit what many teams want, but with his aggressive blocking style and brute playing strength he has two traits that the Steelers like in their guards. He will never "wow" anyone with great foot quickness or top end athleticism, but he is a smooth athlete with good balance, which helps him to stay over feet to play strong at the point of attack. With a season being coached by Steelers offensive line coaches, I expect McClendon to make the Steelers active roster in 2013 and could challenge to start at guard as he is similar, but younger than Ramon Foster who has been a very valuable backup and part-time starter for the Steelers.
5. Brad Smelley FB / H-Back Alabama 6017 233 4.70 E Cleveland Browns Practice Squad
Somewhat of a "tweener" coming out of Alabama, Smelley has the size of a fullback, but played mostly as a receiving tight end and h-back in college. While I have no doubt that Smelley could contribute now as a receiver for the Browns, for him to earn a spot on the active roster he must learn the nuances of playing fullback; especially lead blocking. Not a blazer, Smelley is quicker accelerating to full speed than one would expect, runs sharp routes and has outstanding hands, which makes me confident that in 2013 he will contribute catching passes for the Browns.
Email Russ at Russelllande@yahoo.com and Follow Russ on Twitter @RUSSLANDE