November 13, 2012 -
National Football Post
AFC South Practice Squad Breakdown
Many fans and those in the media view practice squad players as barely a part of their team and do not consider them to have much of an NFL future. However, you can be sure that the bulk of NFL teams do not have the same view. Not only are practice squad players excellent in-season depth, but they provide a place for players to develop their skills in order to become contributors on the 53 man roster in the future. On measureables listed, they are all verified (As in taken by someone in the NFL) unless they have an "E" next to them, which stands for estimated.
1. Zach Clayton DT Auburn 6020 E 299 E 4.85 E Tennessee Titans Practice Squad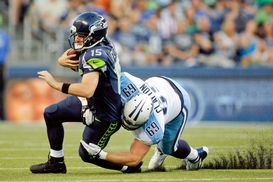 US PRESSWIRETitans DT Zach Clayton makes tackle in pre-season.

A tremendously competitive defensive tackle at Auburn, Clayton made many plays through sheer effort and determination. Viewed as mostly an over-achiever, Clayton shocked many scouts with his outstanding pro day workout coming out of college displaying better all-around athleticism than expected. He is still working to show that athleticism on the playing field consistently, but with his great competitiveness and surprising strength he is an ideal developmental prospect. For the Titans, if Clayton can improve his ability to get backfield penetration and display his athleticism in games more consistently then he could become a contributing interior player in 2013.
2. Rico Council LB Tennessee St 6010 E 255 E 4.70 E Tennessee Titans Practice Squad
Council personifies why the practice exists as he is a thickly built and very athletic linebacker, who played at a smaller school and is still learning the nuances of playing linebacker at the highest level. While not especially tall, Council's strength and ability to play with good knee bend help him to consistently play strong against blockers and as a tackler. When he wraps up and drives up into the ball carrier he can be a punishing hitter/tackler. Council's body type may point towards him being an inside linebacker exclusively, but with his speed and athleticism he has a chance to play any linebacker position in a 43 defense if his instincts and awareness catch up with his physical tools. I expect Council to make the Titans' 53 man roster in 2013 and will be an excellent backup linebacker who makes a big contribution on special teams.
3. Thaddeus Gibson OLB Ohio St 6020 E 243 E 4.65 E Tennessee Titans Practice SquadTH
Maybe a little old to warrant a spot on this list, but I can't help but remember what a dominating player Gibson was at Ohio State, so I keep waiting for the "light to go on." A impact player in college when he was on his game and reading and reacting to the play quickly, his struggles identifying and reacting to the play in time have hindered his development in the NFL. When he reads the play right, Gibson's first step explosiveness combines with his playing speed so he can chase plays down in pursuit. Natural at defeating/avoiding blockers when he has some space, Gibson flashes the skills to make an impact rushing the passer off the edge. Having bounced around the league so much I do not expect Gibson to ever develop into the dominating player I thought he would coming out of school, but he could still be an impact special teams player who backs up all the linebacker positions.
4. Davin Meggett RB Maryland 5080 E 215 E 4.55 E Houston Texans Practice Squad
The son of former Giants great, Dave Meggett, Davin is a good player in his own right. Despite a good career at Maryland, Meggett was viewed as a "tweener" who lacked the explosive burst and top end speed to make up for his lack of size, but ran with the aggressive style of a bigger back despite lacking great size. However, in my eyes Meggett is a "quicker than fast" back who finds the hole fast, makes decisive cuts and has the quickness to get through the hole before it closes. Not a true power back, he has the thick build, strength and balance to run through hits to make plays after contact. While I do not believe he will ever be a starter, I expect him to become a quality backup who contributes catching passes and as a short yardage runner.
5. Nick Mondek OT Purdue 6050 E 303 E 5.10 E Houston Texans Practice Squad
With only two years' experience playing offensive line in college, Mondek is still a work in progress. Having playing defensive line early in his career at Purdue, Mondek made a surprisingly easy transition to offense and started his final two seasons (And first two seasons playing offensive line at Purdue) in college. A better athlete than he gets credit for, Mondek needs to improve his technique to make a roster and potentially become a starter. In terms of technical improvement, Mondek must bend his knees to block with base/leverage more consistently and has to do a better job of "getting a good fit" on defensive linemen before they can get their hands on him. Overall, Mondek needs work no doubt, but he is the type of player for whom the practice squad was developed.
Email Russ at Russelllande@yahoo.com and Follow Russ on Twitter @RUSSLANDE