November 20, 2012 -
National Football Post
AFC West Practice Squad Breakdown – Part One
This week I breakdown the first five practice squad players from the AFC West that I believe have the tools to develop into contributing NFL players. On measureables listed, they are all verified (As in taken by someone in the NFL) unless they have an "E" next to them, which stands for estimated.
1. Brandon Bair DE Oregon 6057 277 4.91 Oakland Raiders Practice Squad
A season after making the Chiefs roster as an undrafted free agent, Bair was released and signed by Oakland to their practice squad. Coming out of Oregon, Bair was a tall, but thin defensive linemen who needed to add weight in order to play strong at the NFL level. He has added weight, which has helped his playing strength, but he is still developing. Not a "quick twitch athlete" Bair lacks the explosive initial quickness and speed to threaten the corner as a speed rusher and relies primarily on his long arms, excellent technique and improving strength to be an effective effort pass rusher. Technically sound against blockers, Bair's ability to play with leverage and correct positioning helps him to anchor and slow running plays at him. He is a good developmental prospect with the tools to become a versatile backup defensive lineman in the NFL whose strength would be playing the run and pressuring the passer through effort and determination.
2. Edwin Baker RB Michigan State 5080 204 4.48 San Diego Chargers Practice Squad
Drafted late by the Chargers, Baker did not do enough during the pre-season to win a job on their 53 man roster. Having come out early for the Draft, Baker is still a young player who is not close to fully developed. While short, Baker is solidly built and was an effective runner between the tackles at Michigan State. "Quicker than fast," Baker can get through the hole fast and has the agility to make tacklers miss in close quarters, but he lacks the speed to out the defenders or angles to score long touchdowns. Despite soft hands catching the ball out of the backfield, Baker must improve greatly in pass protection if he is ever going to make a team as their third down back. Overall, Baker is worth trying to develop because if he improves his pass protection and can add some weight he could develop into a quality third down back.
3. Greg Gatson CB Arkansas 5011 E 165 E 4.45 E San Diego Chargers Practice Squad
While not a big name at Arkansas, Gatson just kept making plays every time I evaluated him in college and he kept it up throughout the summer and in training camp with the Chargers. With good height, Gatson needs to add some weight to be able to handle covering NFL receivers who are adept at using their hands/strength to push-off and create separation. Gatson's ability to transition and close on passes is impressive. Despite lacking the ideal bulk/weight, Gatson has not been shy trying to make tackles on special teams (Even when he was activated for some regular season games earlier this season), which bodes well for his toughness. Although he is most likely going to have to carve out a career as a backup cornerback and special teams player, Gatson's height, long arms, aggressiveness, speed and ball skills give him a chance at becoming more than that and that is why he is an excellent developmental candidate.
4. Kevin Haslam OT Rutgers 6050 304 5.63 San Diego Chargers Practice Squad
Haslam is the type of player for whom the practice squad was developed. With good size, long arms, excellent feet and good natural athleticism, he has the talent to start at tackle in the NFL. However, at Rutgers and so far in the NFL, he is still a far "better athlete than football player." He does not use good technique, which greatly limits his ability to block effectively. He blocks upright/high and without leverage, which limits his ability to adjust side to side and to play up to his natural strength. Too often he bends at the waist and ends up leaning and reaching to make/maintain contact, which is why he loses his blocks so often. While offensive linemen with these issues rarely develop, it is worth trying with Haslam because if he can improve his technique (Especially playing with leverage and using his hands better) he could become a starter in time.
5. Junior Hemingway WR Michigan 6007 225 4.51 Kansas City Chiefs Practice Squad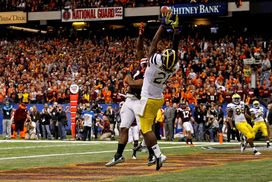 US PRESSWIREJ. Hemingway makes a great catch against Virginia Tech.

A tall, well-built receiver, Hemingway is raw and needs development if he is going to become a contributing receiver in the NFL. With surprising foot quickness he is able to get off the ball and accelerates to full speed fast, but he needs work on getting in and out of his cuts quicker and smoother. He has a tendency to be an upright route runner, which greatly limits his ability to run sharp and precise routes. Additionally, having played receiver at Michigan with Denard Robinson as the quarterback definitely hindered his development. Robinson is not a polished passer who throws timing passes well, but rather is more of a "school yard quarterback" who runs around and throws the ball only when a receiver is open and looking at him. This has led to Hemingway needing to adjust to playing in an NFL style passing attack while trying to improve his route running and make the jump to the NFL. Despite his physical talent, Hemingway is not ready to make an impact in the NFL anytime soon, but with improved routes he has the size and hands to develop. Additionally, he will need to display more aggressiveness running after the catch to take advantage of his size if he is going to be more than a backup in the NFL.
Email Russ at Russelllande@yahoo.com and Follow Russ on Twitter @RUSSLANDE