November 27, 2012 -
National Football Post
AFC West Practice Squad Breakdown – Part Two
This week I breakdown the second five practice squad players from the AFC West that I believe have the tools to develop into contributing NFL players. Since I posted the first one the Chargers promoted OT Kevin Haslam to their active roster and the Chiefs promoted WR Jamar Newsome (Who was going to be included in today's part two). On measureables listed, they are all verified (As in taken by someone in the NFL) unless they have an "E" next to them, which stands for estimated.
1. David Mims OT Virginia Union 6080 E 335 E 5.15 E Kansas City Chiefs Practice Squad
At 6-8 and with long arms, he looks the part of an NFL offensive tackle, but is still a raw and needs a lot of technique work. With rare foot quickness and overall athleticism for such a tall offensive tackle, Mims frustrates because too often he blocks like a bad athlete. He has a habit of leaning and reaching to make contact and ends up bending at the waist and over-extending to try and stay on and maintain blocks. All of these bad habits lead to him falling off blocks and ends up on the ground too often. Despite flashing the ability to bend knees and pass block with leverage and use his hands well to lock on and control man, most of the time he is an upright blocker who can be pushed around at the point of attack because he blocks so upright and high. At this point Mims is an ideal developmental prospect because of his tools, but in his second season with the Chiefs, he needs to improve greatly to stick on their 53 man roster in 2013.
2. Quentin Saulsberry C Mississippi State 6020 E 305 E 5.25 E Denver Broncos Practice Squad
A vastly under-rated center, Saulsberry, held his own blocking some of the best defensive linemen in the country in the SEC. Despite looking short and stocky on film, his ability to set-up to block so quickly, pass block with leverage and use his hands so well to "get a good fit" allowed him to anchor and stop pass rushers who out-weighed him significantly in their tracks. His lack of size definitely hindered his ability to consistently get movement on in-line run blocks, but he was able to easily get good position fast in order to seal man to the side of the hole. Having begun his college career as a defensive lineman, Saulsberry's sound technique and high end production by the end of his college career prove his smarts and ability to learn quickly. Unlikely to contribute any time in 2012, Saulsberry should make the Broncos' 53 man roster in 2013 and could challenge to start at center or guard.
3. Jason Slowey OG Western Oregon 6030 E 300 E 5.05 E Oakland Raiders Practice Squad
A left tackle in college, Slowey is adjusting to moving inside to play guard/center in the NFL. Entering the NFL, Slowey was clearly a far better athlete than football player and it showed in his bad technique and inconsistent production. Surprisingly quick footed and fast, Slowey looks at ease pulling and getting out in front on outside runs, but he did not consistently adjust to block well out in space. Rather than bending knees and blocking with base, at Western Oregon Slowey had a tendency to be an upright blocker who bent at the waist to make blocks. If Slowey is ever going to develop into a good enough linemen to stick on an active roster and contribute, he will need to do a much better job of playing with knees bent, stay over his feet and use hands better.
4. Darrion Weems OT Oregon 6050 E 320 E 5.35 E Denver Broncos Practice Squad
Playing bigger and stronger than his listed size, Weems flashes the ability to physically dominate man once he gets ahold of him. Despite the talent to be a top level offensive lineman at Oregon, Weems struggled with consistency due to bad technique and inconsistent effort. Blocking up on toes and without base/leverage, Weems too often ended up leaning and reaching to make blocks instead of moving his feet. This led to him whiffing and missing blocks he should easily have made. While not nearly ready to contribute as a starting offensive lineman now, Weems is an excellent developmental prospect because he has the size, playing strength and foot quickness of an NFL starter and if he can improve his technique (Both footwork and use of hands) he could really develop.
5. Mike Willie WR Arizona State 6020 E 220 E 4.55 E San Diego Chargers Practice Squad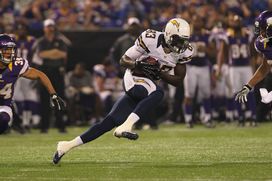 US PRESSWIREChargers' WR MIke Willie runs after catch.

Possessing the combination of excellent size, good foot quickness and all around athleticism, Willie has the physical talent NFL teams have been searching for as big receivers are the trend in today's NFL. With better than expected acceleration off the ball and sharp route running ability Willie makes it look simple getting open vs. tight man coverage and has the hands to make tough catches routine. However, he does not play with great intensity and concentration all the time, which leads to his routes losing their sharpness and him dropping too many passes he should easily catch. In training camp and pre-season games, Willie showed glimpses of being an NFL starter, but he needs to become more consistent in all areas, especially toughness catching passes in traffic, aggressiveness running after the catch and focus to catch every pass. Unlikely to contribute much in 2012, Willie's size, athleticism and hands potential give him the tools to stick in 2013 and become a contributing member of the Chargers' offense then.
Email Russ at Russelllande@yahoo.com and Follow Russ on Twitter @RUSSLANDE