April 25, 2014 -
Ari Nissim
Agent vs. Club: J.J. Watt mock negotiation Part I
By: Joel Corry and Ari Nissim
Former NFL agent Joel Corry and former New York Jets Director of Football Administration Ari Nissim are going to give the NFP readers an in-depth perspective of how an actual contract negotiation between an Agent (Joel) and the Club (Ari) takes place in the NFL. Although condensed, Joel and Ari are attempting to take readers through a player contract negotiation from beginning to possible conclusion in weekly segments. Whether they can reach an agreement on the hypothetical contract extension is not known by anyone at this point. The player Joel and Ari will be negotiating over is Houston Texans pass rusher J.J. Watt, the 11th overall draft selection from the 2011 NFL Draft.
Let the negotiations begin…
CLUB (Ari): Thank you for meeting with us today to discuss J.J. Watt. As you know, we hold J.J in high regard. We wanted to sit down to speak about extending his contract because J.J. is exactly the type of player, both on and off the field, who embodies the qualities of the Texans organization. From an organizational standpoint, he is someone we want to represent the organization for a long time and be part of bringing a championship to Houston. As winning is the ultimate goal of both J.J. and the Club, we want to work with you to create a win-win solution that will allow us to continually build a competitive team around Watt. So our first question is this: What is important to J.J. when considering an extension that will allow the team to remain competitive?
AGENT (Joel): We appreciate the organization's interest in signing J.J. to a new deal. He is happy in Houston and would like to spend his entire career with one team. That being said, J.J. has done some things that are unprecedented over the last two years, particularly while primarily playing as a 3-4 defensive end. He has established himself as not only the NFL's top defensive player, but the best non-quarterback in the game and should be paid accordingly in 2014 and beyond.
CLUB (Ari): We do not disagree that J.J. is a talented defensive player and someone that shows that hard work truly does pay off. However, as you know, he is currently under contract for 2014 at roughly $1.9 million and we have exercised the option year for 2015 which is $6.969 million for a total of $8.876 million for the next two years. Thus, by doing an extension this early, the Club has to receive credit for the years remaining as well as alleviating the financial risk of injury from the player by receiving a deal two years before his current contract is finished. J.J. is a player we have a great deal of respect for, but we cannot consider any one individual above the entirety of the organization; so any deal would have to consider the impact in allowing us to be a consistent Super Bowl contender which is something we know J.J. understands and appreciates.
With that in mind, please tell me who are some comparable player contracts you have looked at in determining what you believe the appropriate value for J.J.'s contract should be? In addition, do you have any thoughts on the length of the contract?
AGENT (Joel): We understand that the organization controls J.J.'s rights for the next two years at significantly less than his market value. If the salary cap goes up the same as it did this year (8.13%) in each of the next couple of years, which is a conservative estimate, it will be around $145 million in 2015 and $156 in 2016. Any deal must reflect the impact the growth of the cap will have on salaries for top players. It's in nobody's interest for J.J. to be in the same situation Andre Johnson was in after he signed his six-year extension in 2007. He quickly became unhappy with his deal because the wide receiver market changed. The organization addressed the inequity three years later in 2010.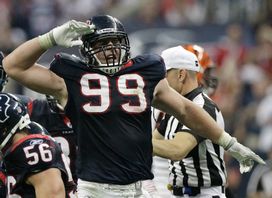 No player in the league has amassed more sacks over the last two years (31.0) than Watt.
J.J. is so unique that he does not have any defensive peers. He is the rare player that is a dominant pass rusher and run stopper. J.J.'s 31 sacks since the start of the 2012 season are tops in the NFL. He also leads the NFL with 38 run stuffs over the last two years. As you know, J.J. had 20.5 sacks in 2012, which tied him with Lawrence Taylor for the sixth-most all-time in a season. He also became the youngest player in NFL history to reach the 20-sack mark in a single season as a 23-year-old.
Conventional statistics don't do J.J. justice. Football Outsiders has a metric called "Defeats" that measure turnovers (or tipped passes leading to turnovers), tackles for loss, and tackles or passes defensed on third or fourth down. J.J's 56 Defeats in 2012 were the most since Football Outsiders started the metric in 1996. According to Pro Football Focus (PFF), J.J. batted an unheard of 15 passes in 2012. Nobody else in the last five years has reached double figures in batted passes.
In some respects, J.J.'s 2013 campaign was better than his 2012 season when he was the near unanimous NFL Defensive Player of the Year. He had 85 total quarterback pressures (combined sacks, quarterback hurries and quarterback hits) in 2013 according to PFF after posting 76 pressures in 2012. J.J. also graded out better in 2013 than 2012 with PFF. His 111.6 grade was 10 points higher than his 2012 grade of 101.6. The next highest grade for a defensive player in the last two years is Geno Atkins in 2012 at 80. J.J. is the modern day equivalent to Reggie White, but without a contemporary who is a modern day Bruce Smith.
J.J. has transcended his position. His dominance as a defensive lineman is on par with Calvin Johnson's dominance at wide receiver. As you know, Calvin Johnson signed a 7-year, $113.45 million extension in 2012 with $53.25 million in guarantees. Johnson's deal is two years old while the salary cap has gone up 10.28% since he signed. The equivalent deal with a $133 million salary averages almost $17.875 million with approximately $58.725 million in guarantees.
I appreciate that the Texans can control J.J.'s rights for up to an additional three years by placing franchise tags on him. The defensive end number increased from $11.175 million to reach $13.116 million this year, a 17.37% increase. With comparable increases until J.J. can be franchised in 2016, his tag number will be almost $18.075 million. A second franchise tag in 2017 with a 20% increase would be $21.69 million. Please note that these two additional years for J.J. could cost the Texans close to $40 million.
We are open to a lengthy extension provided it ensures that J.J. isn't faced with the same problem Andre Johnson encountered after a couple of years with the value of his extension.
CLUB (ARI): We appreciate your insight into the future of the salary cap and can debate the merits of the league salary cap increasing, however, no one truly knows what those numbers will be until they are set. We believe your metrics accounting for the franchise tag increase are a bit off, as the franchise tag is determined by a percentage of the top-five players for that individual position for that year,by summing the amounts for that for the franchise tag at that position for the last five years and divided by the league salary cap for those years to create a percentage that is multiplied by the league salary cap for that year . For example, to predict the 2016 franchise number assuming the $156M cap number as you suggested, Watt's franchise number would be roughly $15.6 million. A franchise number of $15.6 million would assume a 10% defensive end franchise percentage which is higher than the percentage has be en for a defensive end in any of the past three seasons (typically 8.7%-9.9% of that year's cap). That being said, we believe focusing on the franchise number will only sidetrack us towards our common goal.
What cannot be debated is the fact that any extension for J.J. would move the injury risk from a financial perspective from his shoulders and place that risk on the Club, something we are willing to do because of our respect for his play and passion for the game. We understand your position in regards to what type of player J.J. is and we would expect nothing less from an intelligent and well prepared agent such as yourself. However, you can appreciate that the deals that reset market places typically are deals that are signed either entering the final contract year or when the player in question completes his contract. Our organization is not interested in resetting the market place for defensive ends two years early. If J.J. is looking for the sums you mentioned, we may be better off waiting until next year to revisit this conversation. However, let us propose the following contract below that will make J.J. one of the top-five highest paid defensive players in the league in new money, while still allowing our organization the ability to put players around him so we can all collectively achieve our goal.
Base salaries in Yellow are guaranteed for skill, injury and cap
AGENT (Joel): I appreciate the offer. I'll share it with J.J. and will get back to you shortly.
Next Week – The response to the initial offer.
Follow Joel on Twitter: @corryjoel
Follow Ari on Twitter: @AriNissim
Joel Corry is a former sports agent who helped found Premier Sports & Entertainment, a sports management firm that represents professional athletes and coaches. Prior to his tenure at Premier, Joel worked for Management Plus Enterprises, which represented Shaquille O'Neal, Hakeem Olajuwon and Ronnie Lott. You can email Joel at jccorry@gmail.com.
Ari Nissim worked with the New York Jets from 2006 through 2013, serving six years as Director of Football Administration. In addition, Nissim interned at the NFL League office and worked at Athletic Resource Management Sports Agency, and currently teaches in the NYU Sports Management Program.