May 01, 2014 -
Ari Nissim
Agent vs. Club: J.J. Watt mock negotiation Part II
By: Joel Corry and Ari Nissim
Former NFL agent Joel Corry and former New York Jets Director of Football Administration Ari Nissim are going to give the NFP readers an in-depth perspective of how an actual contract negotiation between an Agent (Joel) and the Club (Ari) takes place in the NFL. Although condensed, Joel and Ari are attempting to take readers through a player contract negotiation from beginning to possible conclusion in weekly segments. Whether they can reach an agreement on the hypothetical contract extension is not known by anyone at this point. The player Joel and Ari will be negotiating over is Houston Texans pass rusher J.J. Watt, the 11th overall draft selection from the 2011 NFL Draft.
Let the negotiations continue…
CLICK HERE to check out Part I.
AGENT (Joel): I've had an opportunity to review your offer with J.J. We appreciate the spirit in which it was made as the common goal should be to ensure that J.J. stays in Houston for a long time. Your proposal doesn't satisfy one of our primary concerns. We aren't interested in a contract extension in the $12 million per year range because it doesn't adequately address the Andre Johnson problem I mentioned to you in our previous discussions.
Any salary comparisons for J.J. should be with the top of the non-quarterback market. For example, the average of the three highest paid non-quarterbacks (Calvin Johnson, Larry Fitzgerald and Mario Williams) is $16,122,500 per year. $49,416,667 is the average in guarantees with their deals.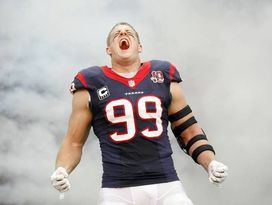 Is Watt worth what his "agent" is asking for?
I don't accept your notion that a deal resetting the market place must occur when a player is in a contract year, hits free agency or has been franchised. The San Francisco 49ers set the inside linebacker market with Patrick Willis in 2010 when he had two years remaining on his five-year rookie contract. Willis signed a five-year, $50 million extension containing $29 million in guarantees. As you know, there were special structural challenges with the deal because of the uncapped year. It's been almost four years and that deal has held up, unlike in Andre Johnson's case. Willis still sets the inside linebacker market.
More recently, the Green Bay Packers reset the quarterback market in 2013 when Aaron Rodgers signed a five-year, $110 million extension with two years left on his contract. Additionally, Chris Johnson set a new salary standard for running backs in 2011 with two years left on his five-year rookie deal. He signed a four-year extension averaging $13,493,750 per year when the top of the running market was Steven Jackson's five-year extension averaging $8,619,500 per year. The average salary in these three deals is 18.02% more than the average salary in their predecessors' deals as the highest paid at their respective positions.
I believe the Texans are equipped to handle a contract that adequately reflects J.J.'s true value. With the trade of Matt Schaub, $17 million and $19 million salary cap numbers have been wiped off the books in 2015 and 2016, which may have made a deal for J.J. more challenging. Barring something unforeseen, your organization should have a young quarterback on his first contract (with modest cap numbers) at the helm over the next few years.
We believe the following contract below is more appropriate for a player of J.J.'s caliber.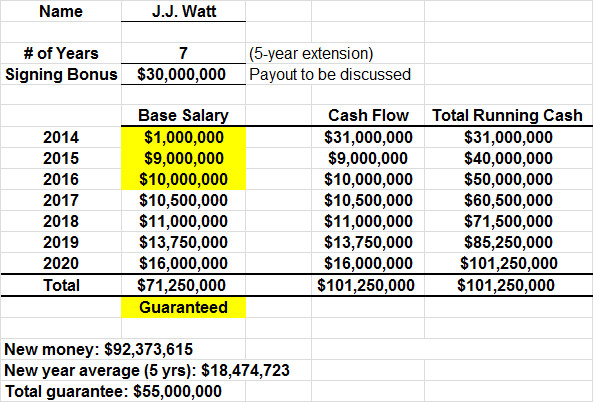 Base salaries in yellow are guaranteed for Skill, Injury and Cap-No Offsets; $5 million of 2017 base salary is guaranteed for Skill, Injury and Cap-No Offset.
A deal of this magnitude for J.J. shouldn't prevent the Texans from being competitive, especially considering the lack of a high-priced quarterback on the roster for the foreseeable future and your expertise at managing the cap. I have attempted to keep the percentage of Total Running Cash in J.J's proposal consistent with the five-year extensions Aaron Rodgers and Patrick Willis received that reset their respective markets while having two years remaining on their contracts.
I'm open to different contract structures, including use of an option bonus. However, any option bonus structure should provide the same type of security Jonathan Stewart received in the five-year extension he signed with the Carolina Panthers in 2012.
CLUB (Ari): Joel, thank you for the offer, but we do not understand how you justify $18.5 million per year for J.J. while he has two years remaining on his contract. We believe that with J.J. and some of our other pieces and the No. 1 overall pick we have the ability to start building something special here, but that requires every player, coach and staff buying into the Texans Way. Although we understand your point that currently we do not have a quarterback under contract with a large salary, that doesn't mean we will pay that money to one player. We are not interested in paying individuals, but rather players that understand that they are part of the team and every dollar spent on them is one less dollar that goes to helping them bring in a player to help us all reach our ultimate goal. We want to be fair with players and prudent in safeguarding the team's ability to become a consistent contender and will spend that money to build our team in that pursuit.
First, let me address that the Andre Johnson situation you mentioned was unique because his initial contract was a deal that was done without an agent, thus creating a situation that ultimately was changed. Andre originally signed a six-year contract extension, a longer term than what we have been speaking about for J.J. The shorter term contract we are speaking about for J.J. should also alleviate some of your concern about the Johnson situation.
In response to Larry Fitzgerald, Calvin Johnson and Mario Williams, none of those players had two years remaining on their current deals when they signed their new contracts. Fitzgerald and Johnson were entering the final year of their respective contracts and both signed contract extensions that added seven new years. Mario Williams was a free agent who signed a six-year deal as opposed to the five-year extension we are speaking about.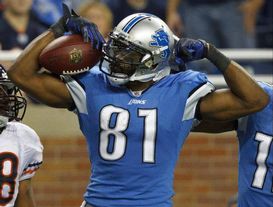 The "Club" wants Calvin Johnson's deal to be removed from the discussion.
Even though we do not believe wide receivers are relevant to this conversation, we must clarify that the guarantee you mention for Calvin Johnson is inaccurate. Calvin Johnson signed a seven-year extension with $48.75 million guaranteed at signing, not the $53.25 million that you mentioned, which likely came about by inadvertently adding the money that becomes guaranteed if the club chooses to exercise their buy-back of the last two years of the contract - a decision the Lions do not need to make until 2017. In addition, after the Lions exercise the option in year two of the deal, the remaining $11.5 million yet to be earned of the $48.75 million guaranteed becomes guaranteed for injury only, thus reducing the effective fully guaranteed amount to $37.25 million.
Furthermore, if we were going to look at Johnson, Fitzgerald and Williams, it would only be fair to prorate the guaranteed dollars to what they would be for a five-year contract si nce each one of those players signed longer deals. Calvin Johnson's per year guarantee is $6.965 million (seven years/$48.75m), Larry Fitzgerald's is $6.429 million and Mario Williams' guarantee would be at a prorated amount of $8.33 million. If you average those three numbers, you get $7.242 million on a guarantee per year, then multiplying that amount by five new years, the guarantee amount is roughly $36.2 million. A guarantee amount of $36.2 million is substantially less than the $55 million your proposal asks for and is derived using your own methodology. Finally, this still does not account for the portion of those guarantee numbers that are guaranteed for injury only.
As you mentioned, Patrick Willis had many structural challenges which no doubt led to part of his increased average per year. In addition, $13.5 million of the $29 million guaranteed was guaranteed for injury only, not fully guaranteed as you are asking for. This is the case with many of the contracts you mention. For instance, Mario Williams had only $39.4 million fully guaranteed at any point in his deal and only $24.9 million was fully guaranteed at the time of signing.
We would finally like to narrow the scope of this discussion to defensive players. If you are going to bring up wide receivers and every other top contract in the league, I will bring up the top contracts at other positions such as Rob Gronkowski, who did his deal with two years remaining and signed for an average of $9 million per year, or the newly signed Earl Thomas, who just inked a contract in the last year of his rookie deal becoming the highest paid safety at $10 million per year. We do not believe these comparisons will benefit either side, thus, let's try and narrow the scope of this discussion to front seven defenders. In this regard, we acknowledge that Mario Williams signed a six-year deal in 2012 for $96 million after becoming a free agent as we have discussed previously. In addition, Clay Matthews signed a five-year extension with Green Bay in 2013 in the last year of his rookie contract. Matthews' new contract had a new money average of $13.2 million per year and guaranteed $20.5 million, a guarantee that our initial offer surpassed. We believe focusing on these types of defenders will help us work towards our common goal.
Finally, we must note that as much as we truly want to do a deal with J.J., any deal will have an offset in the guarantee language. This is a club policy and not something we will change. We appreciate that you may feel differently about this, however this is the only way a contract of any sort will be done by us. We have put it in deals for Duane Brown, Brian Cushing and Johnathan Joseph and will not deviate. If this is unacceptable to J.J., we do not need to continue our talks.
In an attempt to bridge the gap between our differences, we are open to increasing our guarantee and potentially increasing the cash flow over the first two years, but the average per year on the deal would have to be much closer to our average per year. We do not believe you are giving due consideration to the fact(s) that J.J. is under contract for the next two years and if we franchise him in 2016, even assuming a franchise amount of $16 million, his total pay for the next three years is a little under $25 million, with the majority of that coming in the franchise year. We seek your thoughts and insight on how we can collectively solve our differences and come to a meeting of the minds on this agreement.
Next Week—Will the two sides come closer to an agreement?
Follow Joel on Twitter: @corryjoel
Follow Ari on Twitter: @AriNissim
Joel Corry is a former sports agent who helped found Premier Sports & Entertainment, a sports management firm that represents professional athletes and coaches. Prior to his tenure at Premier, Joel worked for Management Plus Enterprises, which represented Shaquille O'Neal, Hakeem Olajuwon and Ronnie Lott. You can email Joel at jccorry@gmail.com.
Ari Nissim worked with the New York Jets from 2006 through 2013, serving six years as Director of Football Administration. In addition, Nissim interned at the NFL League office and worked at Athletic Resource Management Sports Agency, and currently teaches in the NYU Sports Management Program.