May 06, 2014 -
Ari Nissim
Agent vs. Club: J.J. Watt mock negotiation Part III
By: Joel Corry and Ari Nissim
Former NFL agent Joel Corry and former New York Jets Director of Football Administration Ari Nissim are going to give the NFP readers an in-depth perspective of how an actual contract negotiation between an Agent (Joel) and the Club (Ari) takes place in the NFL. Although condensed, Joel and Ari are attempting to take readers through a player contract negotiation from beginning to possible conclusion in weekly segments. Whether they can reach an agreement on the hypothetical contract extension is not known by anyone at this point. The player Joel and Ari will be negotiating over is Houston Texans pass rusher J.J. Watt, the 11th overall draft selection from the 2011 NFL Draft.
Let the negotiations continue…
CLICK HERE to read Part I.
CLICK HERE to read Part II.
AGENT (Joel): I'm willing to work with you on the structural framework of J.J.'s deal. My degree of structural flexibility will largely hinge on the financial components of the contract. I'm not looking at the contract's structure in a vacuum.
I'm curious about how the team's policy on offsets will work if you remain at the top of the draft or a quarterback is selected with another high pick in the event of a trade. Quarterbacks taken in the top-five since the 2011 Collective Bargaining Agreement implemented the rookie wage scale haven't signed contracts with offsets. Your first round pick shouldn't be treated more favorably than J.J. would be with a new deal.
All of the top non-quarterback contracts are relevant to the negotiations because J.J. has transcended his position with his extraordinary play. I wouldn't be resistant to narrowing the scope of our discussions if J.J. was just an above average player.
There isn't any compelling reason why J.J. should sign a contract extension in the $12 million per year range. J.J. isn't interested in signing a new deal that will quickly become obsolete as salaries continue to escalate for the game's best players.
Ndamukong Suh is currently having talks with the Detroit Lions about an extension. He's earned almost $52 million in his four NFL seasons from his rookie contract. I can't see Suh taking a pay cut from the rookie deal he got as an unproven commodity after he's become the NFL's best defensive tackle. I expect Suh's deal will make him one of the NFL's five highest-paid non-quarterbacks. If franchise player Greg Hardy signs a long term deal with the Carolina Panthers, it will likely exceed Charles Johnson's $12,666,667 average per year with more than $32 million in guarantees. As you know, $30 million of Johnson's guaranteed money was a signing bonus.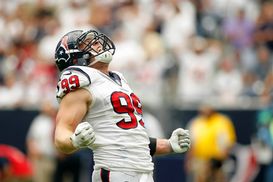 The two sides are getting close, but can they reach an agreement?
Chris Long's four-year extension averaging slightly over $12 million per year containing $36.75 million in guarantees should serve as a starting point for Robert Quinn, who was taken three picks after J.J. in the 2011 draft. I'm sure you will point out that Long had $23.55 million fully guaranteed at signing. Since his $13.2 million 2014 base salary became fully guaranteed five days after Super Bowl XLVII (February 8, 2013), I consider him having $36.75 million practically fully guaranteed at signing. The likelihood of the Rams cutting Long before the full guarantee in 2014 kicked in was infinitesimal because his $13.25 million 2013 base salary was already fully guaranteed. Since Long signed his deal in 2012 when the salary cap was $120.6 million, I really look at Quinn's worse case scenario as an extension averaging close to $13.3 million per year with slightly more than $40.5 million in guarantees. That's basically the equivalent of Long's deal with a $133 million salary cap.
Most, if not all, of the top young wide receivers with rookie contracts (Dez Bryant, A.J. Green, Julio Jones, Demaryius Thomas) should top the five-year extension averaging $12,843,500 per year Percy Harvin signed in his trade to the Seattle Seahawks on their next deals. It won't be a surprise if at least one of these receivers gets a deal in the Larry Fitzgerald/Calvin Johnson neighborhood.
The amount of guaranteed money in your initial offer is also insufficient. Since $8,876,385 of the $22 million fully guaranteed is J.J.'s own guaranteed money, the new guaranteed money is merely $13,123,615. Although J.J.'s $6.969 million 2015 base salary is only guaranteed for injury right now, you and I both know that there isn't a scenario where that salary won't become fully guaranteed. This exact issue didn't exist with Duane Brown or Brian Cushing because their existing contracts didn't contain guaranteed money when they received their extensions.
It's disingenuous to mention Clay Matthews' guaranteed money without recognizing that it's an anomaly because of Green Bay's structural conventions and how it compares generally with the other top outside linebacker deals in existence when he signed. Besides Aaron Rodgers, the Packers don't have a player on a veteran contract with guaranteed money outside of the first year of the deal.
DeMarcus Ware's six-year extension with the Dallas Cowboys contained $40 million in guarantees. The $40 million was practically fully guaranteed because they weren't cutting him one season into the deal after giving him $25 million more than he was scheduled to make in the last year of his rookie contract (his contract year). Terrell Suggs had $37.1 million guaranteed in his six-year deal. The $23 million in an option bonus was practically fully guaranteed at signing considering the last time the Baltimore Ravens didn't pay an option bonus was with Elvis Grbac in 2001. Tamba Hali had $35 million guaranteed in the five-year deal he signed in 2011. He was in a similar situation as Chris Long because $19 million in base salary became fully guaranteed two days after the start of the waiver system in 2012 (February 7). I know that those guarantees voided because of Hali's one game suspension for violating the NFL's substance abuse policy, but that doesn't negate how the deal was structured.
J.J. is well aware of the different negotiating dynamics with players who got new contracts after their third NFL season when they had two years left on their rookie deals. Things went so smoothly with Patrick Willis that he signed his extension approximately three months before training camp started while Chris Johnson had to force the Titans' hand in order to get a new deal.
I hope you sincerely take our concerns into consideration when making another offer.
CLUB (Ari): Joel, you make valid points in your argument. Especially in regards to your point about J.J.'s guarantee for injury only being essentially guaranteed because we both agree there likely isn't much of a chance outside of injury that he will not be on our roster in 2015. Since we agree with your assessment that J.J. will likely be on the roster in 2015 unless a serious injury occurs, our sides should have no problem agreeing to guarantee the money in future years for injury only until the 5th day of that league year. This will allow us to substantially increase our offer in terms of guaranteed dollars, because we would avoid funding the money to the league for deferred compensation purposes. Thus, in the spirit of compromi se and consideration of your views we have increased the guarantee amount in our offer substantially.
In regards to the pass rushers you mention, Terrell Suggs and Demarcus Ware both signed contracts with six new years which increased their total guarantee amount. In addition, both Terrell Suggs ($10.6 million/year) and Tamba Hali ($10.6 million) took substantially less on an average per year than our initial offer, not to mention our new proposal which has a higher average per year than all of the pass rushers you mention. Further, I do take exception with your thoughts on Clay Matthews, as he is the most recent dominant pass rusher to sign a contract. And although you may not like how that contract is structured, it is part of the landscape. Finally, there are other teams that do things similar to the Packers, the Steelers being one of them.
To answer your question about offset, as previously mentioned this is a deal breaker for us. As for your question about our draft picks, it's something we have had in every first round deal including J.J.'s rookie deal as you know. In addition, the No. 1 overall pick last year had offset in his deal.
In regards to Patrick Willis, in addition to the other points we have made about his contract, he had $750,000 in 46-man per game roster bonuses in each new year of the deal, which means the deal can be reduced by a total of $3.75 million if he is not active for every game, which in turn would reduce his contract's new money average per year to $9.25 million a year. This is a component we have not put into our deal for J.J., thus not reducing J.J's opportunity to earn every dollar of his contract if he misses games.
Furthermore, we don't base deals on hypothetical scenarios, such as the ones you mention for Robert Quinn and the young receivers. If J.J. feels more comfortable playing the 2014 season under his current contract while the players you mention do or do not receive contracts, then we will oblige J.J.'s wishes and wait until 2015 to pursue a contract. However that would be J.J.'s choice, not ours.
In listening to your concerns and how you view J.J.'s current contract's guarantee, we have attempted to bridge the gap and have moved substantially in guaranteed dollars. This substantial move in guarantee dollars was done to show we are serious about doing a deal now, however, please do interpret this one-time move to indicate future movement. Our offer has substantial movement in both guaranteed dollars and New Money Average Per Year. Thus, if our current offer is not considered a serious attempt to sign J.J., we are not sure how to reach an agreement with two years remaining on his current contract.
The offer presented below will give J.J. $35 million in guaranteed money and pay $27 million over the next two years; $18 million more in cash over what he is scheduled to make during the next two seasons. Please find our offer below. We look forward to hearing your thoughts after you and J.J. have reviewed this proposal. Thank you.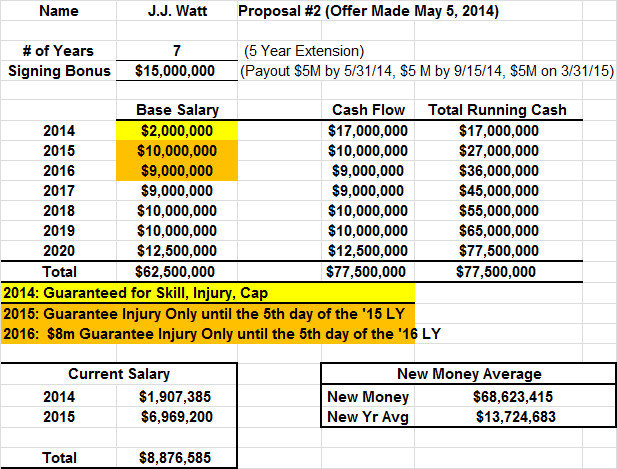 Next week—Can both parties find a common ground?
Follow Joel on Twitter: @corryjoel
Follow Ari on Twitter: @AriNissim
Joel Corry is a former sports agent who helped found Premier Sports & Entertainment, a sports management firm that represents professional athletes and coaches. Prior to his tenure at Premier, Joel worked for Management Plus Enterprises, which represented Shaquille O'Neal, Hakeem Olajuwon and Ronnie Lott. You can email Joel at jccorry@gmail.com.
Ari Nissim worked with the New York Jets from 2006 through 2013, serving six years as Director of Football Administration. In addition, Nissim interned at the NFL League office and worked at Athletic Resource Management Sports Agency, and currently teaches in the NYU Sports Management Program.