April 26, 2017 -
Aaron Wilson
Alabama pass rusher Tim Williams has rare quickness, extremely strong motivation
Alabama standout Tim Williams has rare talent as a pass rusher. He's a whirling dervish rushing off the edge, dominating blockers with his unique repertoire of moves and athleticism. "My first two steps, I feel like I'm the quickest guy getting off the rock," Williams said in a telephone interview. "I've got a lot of moves. I can spin move, bull rush, get around the corner, just get to that quarterback and make sure I get the head of the snake. I can be a predator on the field. "Whoever drafts me, they're going to get the best guy in the draft. A pass rusher is a hot commodity. When they get me, they're getting the best guy."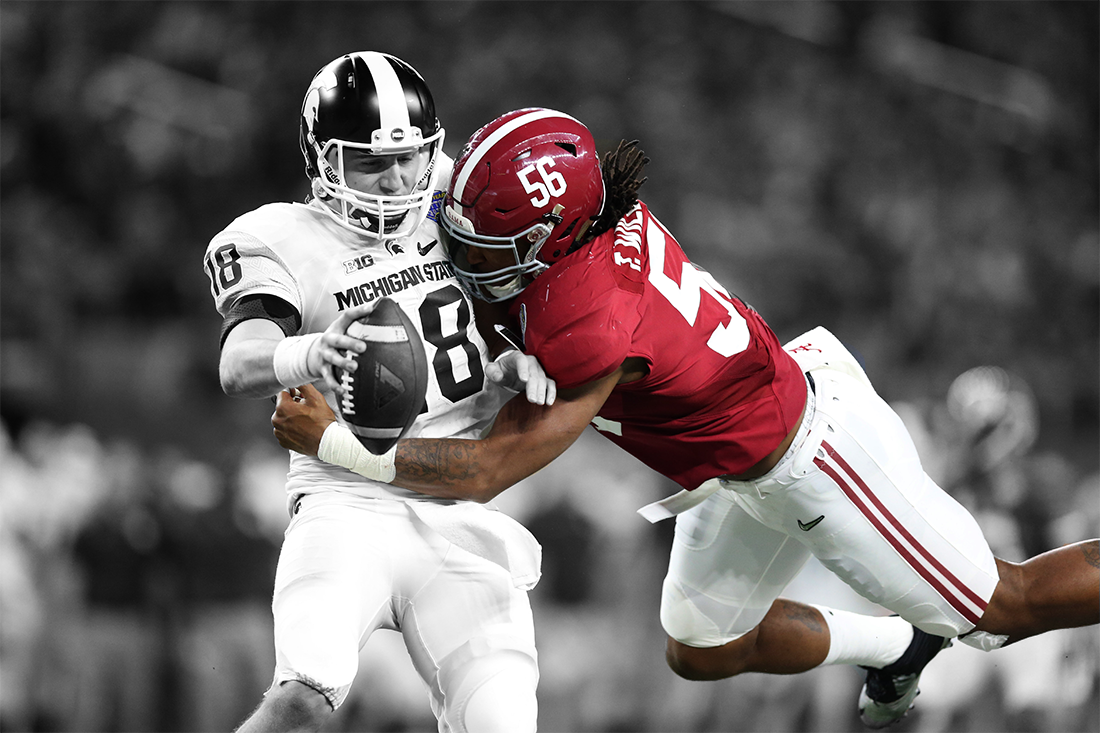 NFL executives agree with Williams' self-assessment, noting his 4.6 speed, 30 tackles for losses and 20 sacks. "He is like no talent we have ever seen," an NFC scout said. "Easily the best edge rusher in the draft." "You know we know this kid," an AFC general manager said. "This kid is a talent. We took a chance on guys like that in the past and it paid off. "We believe Tim loves football. You gotta win, so you take chances. We need a pass rusher." Williams is 6-3, 245 pounds and has run the 40-yard dash in 4.66 seconds. He plays even faster, though. "Tim has the quickest first step off the line since Jadeveon Clowney," New York Giants Pro Bowl safety Landon Collins said in an ESPN podcast regarding his former Crimson Tide teammate. Williams has displayed increased maturity. A father of two daughters, he's extremely motivated to succeed. "It gives me more reason to go out there and get it," Williams said. "I have two beautiful daughters motivating me to make it and be their role model."
Williams drew praise for being honest and forthcoming about his past mistakes, including acknowledging some failed drug tests in the past when he was a younger player at Alabama. He's put those mistakes behind him, Williams insists. Williams enters the NFL with the same status as any other incoming player. "The teams said I was one of the best interviews they'd had," Williams said. "I was just open and honest about everything and laid it all on the table. I let them know they're getting a guy who what I did was in my younger days at Alabama. That's behind me and I'm going to be a professional. They already knew everything about everything. They just wanted to see my perspective, if I grew from it, my mindset, can I be honest. It's a billion-dollar industry. They pay guys to find out about you. You need to tell them everything and show them you've changed."
Williams has visited the Buffalo Bills, Pittsburgh Steelers and Baltimore Ravens. He's drawn considerable interest from the Ravens and Redskins. He enjoyed his visit to Buffalo. "It was a great meeting with the head coach, position coach and defensive coordinator," Williams said. "I saw the city. It was snowing. I liked Buffalo a lot." Alabama utilized Williams as a designated pass rusher. The native of Baton Rouge, La., excelled in that role. He was a second-team All-American and an All-Southeastern Conference selection. He recorded 31 tackles, 16 for losses and nine sacks. He had 10 1/2 sacks the previous year and 12 1/2 tackles for losses. Williams has been working hard to gain weight and is up to 250 pounds, five pounds more than the NFL scouting combine. Williams prepared for the combine at Michael Johnson Performance training facility in the Dallas area in McKinney, training with Brian Abadie, the high performance coordinator. Abadie is convinced Williams loves the game and has the proper work ethic. At heart, Williams is a country boy who enjoys outdoor activities like alligator hunting.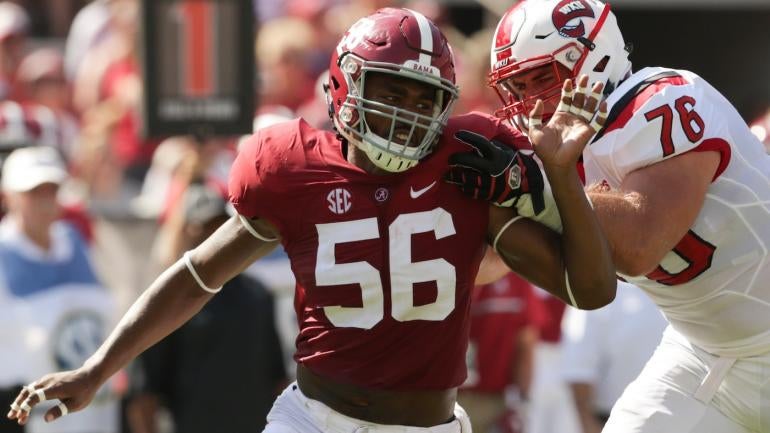 "He's a very fun-loving guy who always had a smile on his face and worked very hard," Abadie said. "Tim worked hard and bought into what we're doing. Tim has kids. He's a father and a family man. He's got a lot he's fighting for. That pushes him every day.  He showed up every day on time and ready to work. He showed maturity. He's a very genuine guy. Having two babies changed him as a person and a man. It grounds him a little bit more. "He was like a laser, locked in on whatever the theme of the day was. He went after it. He's definitely a football guy. It showed every day. He came in at 225 pounds. We put him on a serious nutrition plan and he weighed 244 poundsa t the combine. Nutrition was a big goal for him. He improved his power-speed numbers a lot and maintained his speed. He can run at a different level on the fiedl. The film tells the truth. He reminds me a lot of Von Miller."