February 08, 2011 -
National Football Post
All-Star game fallers
A look back over the past three weeks at which prospects hurt themselves the most competing in this year's All-Star game circuit.
East-West Shrine…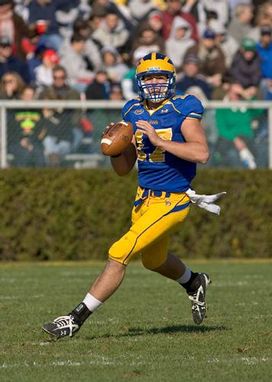 Devlin was less than impressive in Orlando.
QB Pat Devlin: Delaware
I was a big fan of Devlin on tape. He was smart, decisive and used his eyes as well as any quarterback in the draft. However, before stamping my final grade of approval on him I had to see him throw live. And I came away unimpressed. He lacked great arm strength, didn't spin a real clean football and passes really seemed to wobble on him on all areas of the field. I still like him enough on tape to think he warrants a draftbale grade. However, after seeing him throw live, in my mind he's not worth anything more than a later-round pick.
OLB Bruce Miller: Central Florida
I understand he's a productive, high motor overachiever who has been able to get the most out of his athletic skill set at the college level and consistently make plays. However, when watching him vs. top-tier competition he just isn't real explosive off the edge, lacks ideal length, struggles to gain leverage and can easily be engulfed on contact. He works hard to shed, but isn't a real powerful athlete and despite his production looks more like a fringe roster guy to me.
OLB Cheta Ozougwu: Rice
Ozougwu is another defensive end/outside linebacker tweener who lacks the initial get off to consistently threaten the corner and doesn't have the length to keep himself clean/disengage from blocks when engaged. He was very "blah" all week trying to rush the passer and despite his high motor and natural leverage, he's another guy who proved when matched up with the big boys, he's going to have a tough time consistently reaching the passer and making an NFL roster.
Senior Bowl…
QB Jake Locker: Washington
He flashed all week, I'll give him that. However, when watching him throughout the week of practice I just can't understand how you can take a guy with so many inconsistencies in his game in the first round. He never seemed to have a great grasp on the offense as he rarely seemed in control and really struggled to quickly decipher information vs. strictly cover one and cover three looks. He's got it physically, but from the shoulders up it's a different story and his week in Mobile was just a further exclamation point on everything I saw on tape from the guy this past season.
OL DeMarcus Love: Arkansas
From an athletic standpoint Love is an NFL-caliber blocker. He's got some anchor, displays some natural bend initially into his stance and has good range off the edge. However, playing on both sides of the line of scrimmage at Arkansas may have stunted his growth a bit from a technique standpoint. He doesn't do a great job sitting into his stance into contact, easily gets doubled over at the waist and will drop his eye level causing him to get his head out in front of his body into blocks. I will say the skill set is there, but the guy is going to need plenty of work and in my view is better suited to play as an OG early in his career where he looked very comfortable as a sophomore.
DE Jeremy Beal: Oklahoma
Beal entered the year as one of the most hyped senior prospects in the nation. However, after watching him during the season there was just nothing real dynamic about his game as a pass rusher. And when watching him up close again at the Senior Bowl he's simply not a guy who can reach the edge with his first step, doesn't have much lateral quickness and isn't long/strong enough to overwhelm and shed. He looks more like a reserve only to me at the next level with some versatility as a potential 34 rush guy. However, he doesn't seem to have the anchor to play the run as a down DE or the fluidity to hold up in space as a 34 OLB. Overall, a fringe roster guy in my book.
NFLPA Game…
DE Ugo Chinasa: Oklahoma State
The one thing I will say about Chinasa is that the guy does look the part. He's tall, long armed and has a well-put-together frame. However, he's a really stiff-hipped kid who struggles to sit into his stance, pops upright off the football and isn't real sudden laterally when trying to disengage. He uses his long arms to eventually fend his way off blocks, but overall he's just a pretty easy guy to initially reach/block off the edge. He will still get a shot because of his frame, but is going to have a tough time making an NFL roster.
OT Josh Davis: Georgia
Davis is how you want to draw your offensive tackle prospect up. He's a tall, long-armed kid with good natural girth. However, like Chinasa he's a stiff-hipped tackle prospect who lacks range to the corner, struggles to sit into his stance off the line and isn't a guy who can redirect with much success in space or through contact. Will get a look because of his frame and coming from an SEC program, but again, doesn't look like a roster guy to me.
CB Kevin Rutland: Missouri
When you get a cornerback who plays leggy, is stiff when asked to turn and run and struggles keeping his pad level down, the guy is going to have problems. Rutland is a tall, physical corner who can be effective when he gets his hands on you off the line. However, he doesn't possess the speed to make up for a false step, lacks balance changing directions and had a tough time covering just about any wideout vertically down the field who lined up opposite him in San Antonio. A camp body at best.
Follow me on twitter: @WesBunting