February 07, 2011 -
National Football Post
All-Star game risers
A look back over the past three weeks at which prospects helped themselves the most competing in this year's All-Star game circuit.
East-West Shrine…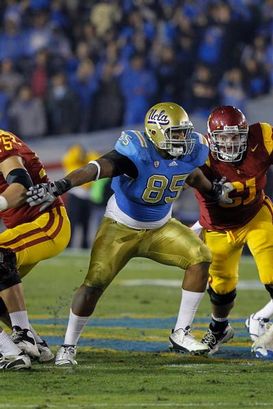 ICONCarter was downright unblockable at times in Orlando.
DL David Carter: UCLA
Watching the first-year starter on junior tape and early in the year you saw a guy with a long frame and some natural get off for his size. However, he really came a long way as the season went on. And at the East-West Shrine his game really seemed to be coming together, as he exhibited good initial explosion off the snap, was sudden laterally and used his length well to disengage from blocks inside. Plus, despite being a bit narrow framed, has the body type to add even more weight and potentially kick out as a five-technique in the NFL. However, as of now looks like an intriguing mid-late round three-technique with some potential versatility.
OL William Rackley: Lehigh
Despite being a bit rusty and playing out of position — playing right tackle instead of left — you could see the type of natural movement skills the guy possessed during the week of practice. He's fluid laterally, can redirect and knows how to sit into his stance. He looks more like a guard to me in the NFL, but being able to make the jump in competition from an athletic standpoint was absolutely no problem at all for the big guy on the outside.
CB Justin Rogers: Richmond
We knew coming in that Rogers was one heck of an off/zone corner. He's comfortable being patient off the line, doesn't waste much motion when asked to click and close and has a good feel getting his hands on the football on front of him. However, he was a bit more physical than I gave him credit for on tape, was able to hold his own on the outside in press man and quickly snapped his head around and located the football. He is a bit undersized and still might be better suited for the slot. But, he's a natural athlete with good ball skills and balance and will find a way to make his way onto the field early in his NFL career.
Senior Bowl…
DL Cameron Jordan: California
Jordan was the one guy coming into the Senior Bowl who I thought had the ability to make the epic rise up draft boards with a dominant week and catapult his way into the top ten. I'm not sure if he did quite that, but he was as dominant as anyone down there. He showcased a good first step for his size, is violent and savvy with his length/hands and has a motor that runs non-stop. Add that in with his versatility to play both inside and out, and you have a guy who isn't going to last long come draft day.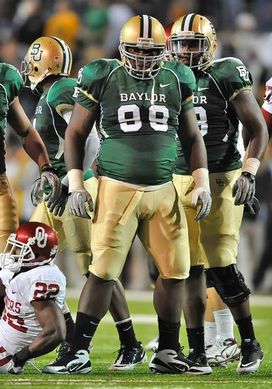 ICONTaylor can be a tough guy to move inside.
DL Phil Taylor: Baylor
It's not real common to find a lineman at 6-4 and 340 pounds who has the kind of first step and overall athletic ability Taylor possesses. And when he's is able to keep his pad level down, the guy can be downright dominant, overpowering blockers on contact and using his length/body control to consistently shed blocks. Now, when he gets upright, he's a very limited player. However, with a lack of ideal 34 type linemen in this year's draft, I don't think there's any way Taylor gets out of the first round and with a good Combine could end up going higher in the first than most think.
OG Danny Watkins: Baylor
Watkins was another guy who had his "media" coming out party. After dominating the Big 12 this past year at left tackle, the 26-year-old Canadian kicked inside to guard and proved he had the base strength and lateral agility to anchor and mirror through contact. His hand placement was a bit poor at times, which can be expected for a guy who hasn't taken many reps at guard. However, for the most part he was downright dominant and even despite his age, I could see the guy get a real hard look late in the first round.
NFLPA Game
DL Kenrick Ellis: Hampton
Physically the guy proved that he was just a notch above everyone else at the NFLPA game. He displayed good initial explosion off the snap, was able to keep his pad level down through contact and exhibited good closing speed toward the football. Has a tendency to drop his head down when doubled inside and has some technique issues that need to be cleaned up. But he's one of the few potential 3-4 nose tackle prospects in the draft who I also think has the athleticism to play as a five-technique as well.
OC Tim Barnes: Missouri
Barnes isn't the most physically imposing of centers. However, he's got some natural bend to his game, is quick handed inside and moves well laterally through contact. And in a weak center class I think Barnes is one of the better pivots this draft has to offer. Plus, he's natural on the move, can reach targets at the second level and is the one mid-round center prospect who I cold see fighting for a starting job down the line.
CB Buster Skrine: UT Chattanooga
In what was a pretty poor cornerback crop at the NFLPA game last week, Skrine was the one guy who really opened my eyes. He was patient/compact in his drop, showcased good balance and body control getting out of his breaks and was able to keep his base down when asked to redirect in space. Plus, at 5-10 he's got good enough size and has the kind of frame that can continue to fill out and get stronger as he matures in the NFL. After this week I think worst case scenario he's now a priority free agent who will be able to compete for a roster spot and depending on how well he runs at his pro day could end up warranting a later-round pick.
Follow me on twitter: @WesBunting