October 31, 2011 -
Barry Dorey
Andrew Luck vs. Matt Barkley
Evaluating the two signal callers' performances from this past weekend…
Stanford QB Andrew Luck
It was good to see Andrew Luck look human at times vs. USC Saturday evening. His accuracy suffered periodically on the move when stepping up in the pocket due to pressure. He floated a couple balls down the field, almost looking to guide his touch passes at times on the second level. And it looked like he made up his mind pre-snap on his pick-six, as he held onto the football for a split second too long waiting for his receiver to come out of his breaks.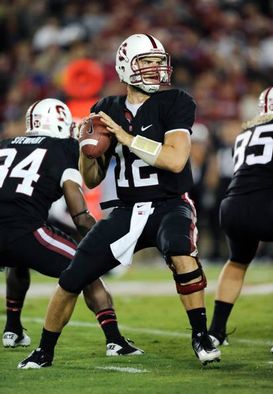 ICONLuck displayed some real mental toughness in the 4th quarter.
However, even with all that said, this was the kind of performance I have been waiting to see from Luck. He had to be gritty at times, manufacture yards when pressure won up front and finally face adversity. Things have been so smooth for Luck throughout his entire career, as he routinely plays ahead of the chains and is in favorable down and distance situations. Therefore, it was refreshing to see him forced to throw from behind the chains, open up the offense a bit and make some big time NFL stick throws into tight windows to wide outs who don't generate much of separation.
His arm was live all night. His ability to maintain balance when manipulating a defense, come off a read and accurately deliver the football was again elite. And watching the big man move in the pocket and legitimately gash the Trojans defense with his legs made me think that he might be Peyton Manning-like as a pocket passer, but from an athletic standpoint, Luck would run circles around the Manning as an athlete. He will give opposing defenses fits with his ability to move the chains with his legs when plays break down.
However, the biggest positive I took away from Luck's game Saturday evening was that he never seemed rattled, even after his 4th quarter mistake. He looked determined to make amends for his mistake and was focused/driven, but I never got the "woe is me" feeling from him and he never seemed to question his ability.
That is exactly what I wanted to see from Luck. When times got tough how would he respond? And in all honesty, the mistake looked to only feed his hunger in pulling off this win. He wasn't intimidated by his mistake, the situation or environment; he was driven by it. And outside of all the physical tools and mental capabilities that were on display from Luck all evening, it was his desire to win over all else that make this kid such an elite prospect.
USC QB Matt Barkley
As for Barkley, he will once again play second fiddle to Luck. But in no way was he disappointing in this game either.
He, like Luck, also has complete control of his offense, deciphering pre-snap reads, using the hard count in order to force an opposing defense's hand and quickly finding the matchup he wants to exploit. Barkley was very effective all night in the three-step game, quickly getting away from center, balancing himself and snapping the football out of his hands accurately and on time.
His feel in the pocket has also improved from a year ago, as he subtly moved away from pressure, buying himself just enough extra time to scan the entire field and still delivered the football in rhythm. He showcased good touch vertically as well on his bucket throws and routinely threw receivers open on all levels of the field, allowing the gifted USC receiving corps the ability to run after the catch and create yards in space.
Now, from a physical standpoint, he still doesn't possess the same caliber skill set that Luck exhibits. Nevertheless, this is a guy who gets the most out of his talent, can match wits with any of the top-tier quarterback prospects to come out over the past five years and outside of Luck is as NFL ready as any quarterback in the draft.