November 04, 2011 -
National Football Post
Andrew Luck's arm strength looks just fine to me
There was a growing debate this week concerning the overall arm strength of Stanford quarterback Andrew Luck and if those concerns would in fact will hurt his chances at the next level.
So I went back this week, took a look at some tape from last year on Luck as well as his game vs. USC Saturday evening and came to the conclusion that he has more than enough arm to make all the stick throws needed at the next level.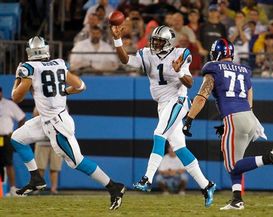 Is Newton's skill set clouding the minds of talent evaluators?
Now, is his arm strength elite? No. He doesn't have a Matthew Stafford or Cam Newton type rocket. However, because of his lower body mechanics, ability to transfer his weight and cleanly spin the football, there is no doubt in my mind Luck will be able to make every NFL throw.
Watching him vs. USC this past week, when Stanford fell behind by double digits early in the 3rd quarter there where two big throws on the following drive that he made, that makes me feel confident in his arm.
The first was to WR Griff Whalen, where he got inside of his defender and Luck spun about a 20-yard rope into the second level with a clean rotation, on time and into a window where only his man could make a play the on the football.
The second was a another completion to Whalen on a 3rd and 12 situation where Luck kept his eyes down the field while subtly moving toward his left, quickly re-set his feet, generated "plus" torque from his lower half and spun it over the middle of the field in rhythm for a 17-yard completion.
Again, you can tell when watching him throw he doesn't have an elite arm. But, his arm strength is plenty enough above average to make all the throws needed. Plus, when you add in the fact that this guy has about as good a feel for the pass game as any quarterback to come along in years, with elite anticipation skills and natural timing in the pocket, that to me is more important than having an elite arm.
And in all honesty, I thought we were over the idea that elite arm strength and physical tools where the prerequisites needed for being a Pro Bowl quarterback in the NFL. I understand that Cam Newton has taken the league by storm with his physical skill set. But, I would much rather have a guy with elite level accuracy, timing, anticipation and leadership qualities with an above average arm than say a rocket armed quarterback prospect without those aforementioned skills.
Overall, the point of all this was just to say that despite his arm strength not being elite, Andrew Luck generates more than enough velocity to make all the throws in the NFL and that his arm strength won't be anywhere close to a negative for me going forward.
Follow me on twitter: @WesBunting
Check out the NFP's 2012 NFL DRAFT PAGE...