March 08, 2011 -
National Football Post
Are there any first-round RBs in 2011?
The running back position has seen an average of three prospects come off the board during the first round each of the past ten drafts. However, with the NFL becoming more of a two-back league and without any runner showcasing the kind of straight-line speed to really intrigue early, do any of the top three backs in this year's crop make it into round one?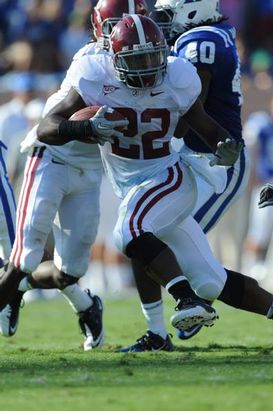 ICONIngram's lack of straight-line speed could hurt him.
Mark Ingram: Alabama
In all honesty when I watch tape of Ingram and compare him to Fresno State running back Ryan Mathews, who went 12th overall last draft, I firmly believe that Ingram is the better overall prospect. He possesses a better feel in tight areas, exhibits natural change of direction skills, fluidity and short-area quickness and maintains his balance as well as any back through contact.
However, the one advantage Mathews has over Ingram is straight-line speed, which is one attribute that we have seen in past drafts have a direct correlation on a back's overall stock. And despite playing fast, breaking off his fair share of long runs vs. SEC competition and being in my view the nation's best running back prospect, when Ingram timed in the 4.62 range at the NFL Combine, the chances of him going with in the top-20 picks dropped significantly.
Now, if you check out my rankings you can see I'm extremely high on Ingram and personally if my team was in need of a back I wouldn't have any trouble taking a hard look at him in the top half of the draft. But because of that lacking straight-line speed, I just see him having a tough time going in that area now.
And when you look at the second half of the first round, there aren't many teams in need of a running back and it's kind of hard to find a home for the Alabama standout after the Dolphins at 15. Therefore, unless a team is content to take the best player available in the second half of the first round or a team early in the second is looking to move back into the first to nab him, Ingram might have a tough time as it stands now getting selected in the top-32 picks.
Ryan Williams: Virginia Tech
Williams is the one guy who I thought had the ability to make a run toward the back end of round one with a strong Combine. On tape as a redshirt freshman he was explosive when asked to press the edge, displayed violent/sudden cutback ability and makes a lot of sense for a team in need of a zone-type runner or a back who could effectively run/catch the football from the gun.
However, much like Ingram, Williams ran in the 4.6 range in Indianapolis and despite his explosive vertical jump and short-shuttle time, it's going to be hard to take a flyer on a back who struggled with injuries this past year and didn't run well at the Combine in the first round.
Mikel Leshoure: Illinois
Despite weighing in at 6-0, 227 pounds, Leshoure was able to run the fastest time of any of the top three backs, clocking in with a time in 4.55 range. Now, it's not lighting by any stretch, but if you're looking for size/speed measurables, Leshoure is not only the biggest of the three backs, but he's also the fastest. Plus, he runs hard, displays a natural feel picking his way through traffic and changes directions naturally. He isn't the same type of sudden/shifty runner as either Ingram or Williams, but for a guy his size, he moves well laterally and can make defender miss and break tackles in tight areas. The Illinois standout also catches the football well out of the backfield and is comfortable working his way open in the pass game.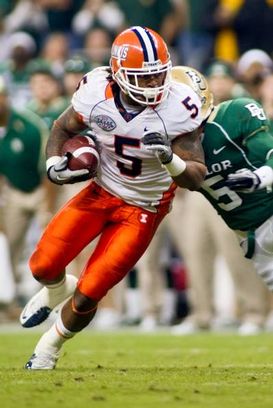 ICONLeshoure possesses the size/speed combo to intrigue early.
Some potential suitors for running backs in round one…
Miami Dolphins: With Ricky Williams and Ronnie Brown potentially both out the door, a back could be THE need for the Fins.
New England Patriots: If the Patriots do look for a back, I expect them to take a long look at a guy who is more natural catching the ball out of the backfield and is more explosive pressing space.
New Orleans Saints: The Saints could definitely look at a running back early, however, if you look through history, it's rare that a Gregg Williams team drafts anything but a defender in round one.
Seattle Seahawks: The Seahawks got a good effort from Marshawn Lynch toward the end of the year and have a lot of other needs elsewhere, but running back still seems like a long shot in round one.
Cincinnati Bengals: Wouldn't be shocked if one of the top-tier backs slipped and the Bengals made a move back into the first to get him.
Washington Redskins: The same could be said about the 'Skins looking to move back into round one to get an instant impact type running back prospect if one seems to fall.
Predictions for running back landing spots…
Mark Ingram: Miami Dolphins (first round)
The Dolphins have a major need at running back and with Ingram potential falling, they could be in a perfect situation to trade back, add some more picks and still get the guy they need/want.
Ryan Williams: Washington Redskins (second round)
Williams is an ideal fit for the Redskins zone-blocking scheme, plus can catch the football out of the backfield.
Mikel Leshoure: Detroit Lions (second round)
Leshoure would be the perfect kind of complement to RB Jahvid Best in the run game and would give the Lions one of the better young one-two running back combos in the league.