December 11, 2010 -
National Football Post
Army-Navy preview
The Army-Navy game every year is more than about talent. It's about the passion, the pageantry and the overall respect the fans and players have for each other.
However, from a talent evaluation process, prospects from a service academy get looked at by scouts and NFL personnel men a bit differently than most. Because unlike most college prospects who are potentially good enough to take their game to the next level, the academy prospects still have a service to their country that they need to carry out after graduation. So even if a kid might be good enough for the NFL, he can really only end up in a NFL team's camp during the summer before having to go back and serve for the number of years he's been designated for. Now, he can be invited back to an NFL camp every year during that designation, but he first needs to complete his full term of duty for his academy before being able to go into the NFL full time.
Therefore, when evaluating both Army and Navy prospects, they have to be evaluated more so from a future standpoint because they aren't going to be able to come in and help a team during year one. The academy prospects can be put on a "reserve military" list, however, to be kept on an NFL team throughout their service time. But even so, it's typically too risky to select a kid from an academy with a draft pick because you simply don't know what you will be able to get from them a couple years from when he actually would have been drafted. And will he even want to still play football after his service is finished?
Nevertheless, here is a breakdown of some of the top prospects competing the Army-Navy matchup today.
Prospect breakdowns…
Army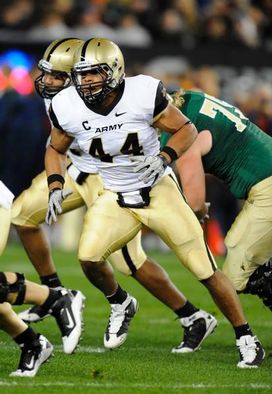 ICONMcNary has the ability to rush the passer.
DE/OLB Josh McNary: No. 44 (6-0, 235) An undersized pass rusher who plays both from a three- and two-point stance off the edge. Lacks ideal size obviously and isn't a guy who consistently is going to be able to anchor with any kind of consistency at the next level. Isn't a real natural bender when asked to coil up into his stance, allows his butt to stick up high and is a bit leggy with his first step. Allows himself to stand upright off the ball and doesn't have the type of initial burst to consistently threaten the corner. Plays too high into contact, is easily handled on contact and will struggle to generate a push with the bull rush or slip blocks laterally. Is inconsistent with his hands trying to disengage through contact off the edge, but when he's asked to stunt inside he does a much better job using his length to keep himself clean and close on the football.
Takes him far too long to fight off blocks in all areas of the game, but he does have good range once he locates the football and can close quickly. Showcases some decent lateral ability when asked to slip a block on his inside move, but lacks a first step to get back up to speed quickly. Has a tendency to get a bit overextended and isn't real fluid or sudden changing directions and then accelerating up the field. Has been very productive through the years and is Army's all-time leading sack man. Plays with a passion for the game and has a motor that runs nonstop.
Impression: He's an undersized guy who lacks a great first step and will struggle to reach the edge and fight off blocks in the NFL. Gets a lot of his sacks because of his good closing sped and effort, but lacks the fluidity to be much of a factor getting after the QB in the NFL.
Navy
QB/RB Ricky Dobbs: No. 4 (6-1, 203)
Possesses a thick upper body and natural power as a runner. Isn't a real natural passer, exhibits only average balance in his drop, doesn't spin a consistently clean football and isn't real accurate — seems to have a tough time really gripping a throw and letting it rip. Showcases good decision making as an option quarterback. Reads his defensive keys quickly, does a nice job picking his way through traffic and runs behind his shoulder pads. Does a nice job finishing runs and has a stronger lower half than given credit for when trying to push the pile for tough yards inside. Is more quick than fast. Lacks ideal top-end speed and looks more like a 4.65-plus guy on tape. However, he's a coordinated runner with good short-area footwork and balance. Has the ability to stick his foot in the ground, shrug off a tackle and accelerate into daylight. However, doesn't look nearly fluid enough to be able to separate as a slot guy or running back at the next level. A high-character kid who has always done what's best for the team and has gotten the most out of his physical skill set at Navy.
Impression: Has found a way to be productive, but there are just a lot more intriguing athletes out there for him to be able to make a roster spot as a RB/slot guy.
SS Wyatt Middleton: No. 8 (6-2, 192)
A tall, lean strong safety prospect. Gets a bit upright in his drop, struggles to keep his feet under him and gets too leggy when asked to redirect and make a play on the football. Wastes a lot of motion trying to collect himself before changing directions and fails to get up to speed quickly. Generates solid power as a tackler in tight areas, has good length and breaks down well. However, isn't real fluid when asked to break down in space, will overrun plays, lacks ideal balance and can be easily slipped in the open field. Isn't real rangy in the deep half either vs. the pass game and lacks the athleticism and initial burst needed out of his breaks to hold up in an NFL secondary. Possesses above-average instincts and exhibits a good feel for the game, but again plays slow because of his inability to quickly redirect and close.
Impression: Lacks the size or overall athleticism/fluidity to hold up as a safety at the next level.
Follow me on twitter: @WesBunting