January 08, 2011 -
National Football Post
BBVA Compass Bowl prospect preview
Breaking down some of the top senior prospects to watch out for in the Pittsburgh-Kentucky matchup.
Who to watch for…
Pittsburgh
OG Jason Pinkston: No. 77 (6-4, 305)
Possesses good overall thickness through his upper body and looks a lot broader than his height/weight numbers would indicate. Also plays long and does a nice job of keeping his elbows inside his frame and maximizing his length on contact. Is a pretty natural bender out of his three-point stance and does a nice job of keeping his base under him and really firing off the football in the run game. Exhibits an impressive combination of body control and pop when asked to reach linemen off his frame and is really powerful on contact eliminating defenders on kick-out blocks inside. Displays good coordination on the move and can break down in space, but he seems to get a bit confused at times and struggles to consistently find his assignment at the second level. Will consistently make his way out into space, but at times gets caught blocking no one.
Showcases natural balance out of his stance in the pass game and does a nice job of quickly redirecting laterally. Generates a good burst laterally when asked to change directions back inside while keeping his base down and feet under him. Does a great job keeping his hands up where his eyes can see them at all times and is a quick puncher who can sit in and anchor at the point. Doesn't waste much motion off the snap when asked to reach the corner out of his three-point stance. Looks natural on his kick-slide toward the edge and remains compact initially with his footwork. However, the biggest concern I have with him at this stage is his overall range, as I don't think he's a good enough athlete to reach speed off the edge at the next level. He's consistently forced to open up his hips/shoulders toward the outside and push the pass rusher past the pocket on their outside speed rush if they get on top of him quickly.
Impression: He's physical and coordinated in the run game and pretty fluid redirecting vs. the pass. Just lacks the kind of range needed to play left tackle at the next level. However, he looks like a very capable right-sided player with significant potential if kicked inside to guard.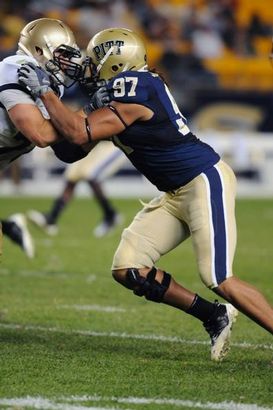 ICONSheard has shown good improvement as a senior.
DE Jabaal Sheard: No. 97 (6-4, 260)
An instinctive defender who plays the run game with integrity and quickly is able to decipher plays and get his hands up in passing lanes. Isn't overly powerful into contact and although he does a nice job of maintaining his balance when working his way down the line vs. the run game, he lacks the kind of body control and power needed to routinely shed blocks and make plays on the football. More of a congestion guy than playmaker at this stage.
However, as a pass rusher he has the ability to get after the quarterback in a variety of ways off the edge. Isn't the most natural of benders when sitting in his stance, and as he tires his butt seems to get higher and higher, but he has the first step and balance to reach the corner and at least threaten to flatten around the edge. Uses his violent hands well to chop himself free once he gains a step and loves to work the rip once he gets himself to the edge. Also, does a nice job of working the arm over as a counter move back inside and plays with enough leverage to win as a bull rusher as well. He's a pretty technically sound pass rusher at this stage, but he needs to do a better job of getting off the snap count more consistently. And he needs to do a better job of playing with leverage, as he can be stalled by opposing tackles when fighting his way through blocks even once he gains a step.
Impression: Isn't quite the long, sudden athlete that Greg Romeus is, but he's a more technically sound pass rusher who can certainly get after the quarterback in his own right. After watching him on tape, I really think the guy has the ability to mature into a solid NFL pass rusher who can reach the QB in a variety of ways and play the run.
RB Derrick Locke: No. 20 (5-9, 179)
A thin, undersized running back prospect who runs with an inconsistent pad level. Gets a bit upright at times when trying to break down and/or accelerate into the open field, and can easily be knocked off balance inside. Now, will lower his pad level through the line of scrimmage to protect his frame, but lacks the type of strength to consistently stay on his feet through contact. However, is at his best in space and on perimeter runs when he has the ability to press the corner. Is an absolute burner who never looks to be running hard, but consistently is able to outpace defenders, maintain balance and explode into daylight. Exhibits a real second gear to his game, running past angles in the open field and never looks to be straining himself once he gets to top-end speed.
Now, is a bit of a linear runner who struggles to consistently break down and make a man miss in tight quarters. Displays the ability to plant his foot in the ground and simply use his burst to outrun defenders as a one-cut guy, but isn't overly shifty. Lacks ideal instincts in tight quarters as well. Tries to be patient setting up blocks, but lacks the kind of vision to consistently pick out defenders attacking off his frame.
Looks comfortable getting out into the pass game, isn't a natural plucker but does a nice job setting up routes and separating underneath as a receiver. Is also a willing blocker who takes good angles in blitz pick up. Obviously isn't real physical, but works hard to initially get into his man.
Impression: His pure straight-line speed will allow him to find a niche as a third-down type option/special teams guy in the NFL, as he has the ability to hit a home run every time he gets his hands on the football. But he isn't overly laterally shifty or instinctive and seems to rely on his ability to simply outpace defenders toward the edge, something he won't be able to get away with consistently in the NFL. Needs to play in space in order to be effective.
WR Chris Matthews: No. 8 (6-5, 219)
Lacks a great initial burst off the line of scrimmage, more of a strider who takes a bit to get into his routes and will need some time to mature vs. press man in the NFL. However, he builds speed as he goes and knows how to use his big frame in order to go up and make plays on the football at its highest point. Plus, he's a pretty coordinated kid for his size. Exhibits some natural body control and change of direction skills as a route runner and does a nice job finding soft spots in zone and using his big frame to shield defenders from the ball. There is also some physicality to his game after the catch and once he gets those long strides going he can be a tough cover down the field when asked to run vertical routes. He's going to need some time, but these big, long receivers with good body control and lanky speed definitely have a home in the NFL.
Has the size to be a solid blocker on the outside and has seen a real spike in his stock this year after a productive senior campaign.
Impression: Isn't real explosive or sudden off the line and will need some time to learn to beat press, but has enough talent to make a roster and reminds me some of Malcolm Floyd.
DT Ricky Lumpkin: No. 53 (6-4, 310)
A long, well-built defensive tackle prospect who has added a signi ficant amount of weight during the past year which has really helped with his overall anchor inside. Is doing a much better job this season getting off the snap count on time and simply looks like a more confident, polished lineman compared to last season. Still has a big tendency to stand too upright into contact as a pass rusher, which really limits his leverage and overall power at the point. Does a nice job extending his long arms into blocks, but because of his high pad level, he struggles to generate much push on his bull rush and lacks the lateral suddenness to effectively slip blocks in the pass game when engaged. However, exhibits some natural athleticism to be somewhat effective when asked to keep himself clean on the stunt, drop his pad level and drive his way into the backfield.
Now, he does play with better leverage against the run game and does a much better job sitting into his stance, extending his arms and holding the point of attack. He's still an above-average athlete who has some range on the move. But, he isn't real instinctive and will routinely take false steps trying to find the football, virtually sealing himself from the play at times.
Impression: Displays some natural athleticism and range for a guy his size and his added weight has made him a much better player vs. the run. Isn't a natural pass rusher, but should get some looks as a potential five-technique guy at the next level because of his intriguing frame.
Follow me on twitter: @WesBunting