January 04, 2013 -
Erik Oehler
BCS Title Game Prospect Breakdown
Now that the regular season is behind us, it is time to look ahead to the bowl games. Over a five week period I will analyze the top prospects to watch in five bowl games that have a number of NFL prospects (The New Era Pinstripe Bowl, Rose Bowl, Fiesta Bowl, Cotton Bowl and the BCS Championship Game). Last week I looked at the Cotton Bowl and below is this week's breakdown of the BCS Championship Game:
The BCS Championship Game
Notre Dame -vs- Alabama
Notre Dame Prospects – MLB Manti Te'o (Senior), TE Tyler Eifert (Senior) & SAF Zeke Motta (Senior)
Alabama Prospects – OT D.J. Fluker (Junior), OG Chance Warmack (Senior), C/OG Barrett Jones (Senior), DT Jesse Williams (Senior) and CB Dee Milliner (Junior).
While you read this breakdown you will likely wonder why three Notre Dame Players, OT Zack Martin, DT's Louis Nix III and Stephon Truitt, who are likely to be high draft picks are not included and that is because they have all said they will be returning to Notre Dame for the 2013 season. Additionally, Alabama has so many prospects that I could not write about all of them. When Alabama is on offense the number of future NFL starters on the field will be impressive.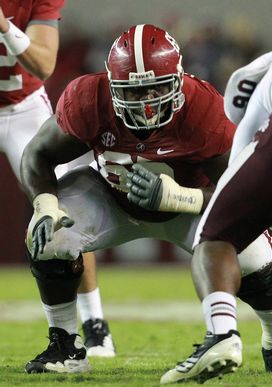 US PRESSWIREAlabama guard Chance Warmack set in stance right before snap of ball.
Barrett Jones and Chance Warmack will have the opportunity to prove themselves playing against two excellent interior defensive linemen that fill different roles. Louis Nix III is a massive man whose job it is to anchor and shut down the inside run and he will provide a real challenge to both Jones and Warmack. Jones is not a huge center and lacks premier athleticism, so when he has to block Nix one on one it will be a great chance to see if he is able to use his technique and smarts to block Nix, which will be a great indicator as to how he will be able to handle the big nose tackles that are all over the NFL now. However, when Jones has to block Tuitt his challenge will be different because Tuitt's strength and game is based on quickness, explosiveness and athleticism. Jones will need to prove that he can get set in stance and get hands on Tuitt quickly to negate Tuitt's athletic advantage. A strong game by jones could put him in position to be a first round pick and convince teams that he can handle playing guard and center in the NFL. As opposed to Jones, Warmack is a strong and powerful man with shocking athleticism, so his matchup against Nix and Truitt gives him the chance to prove he is not only up to the task, but more importantly to show he is good enough to warrant being a top ten pick, which is rare for a guard. While DJ Fluker will likely not block Nix or Truitt much, if at all, this game will provide him the opportunity to prove to NFL teams that he has the foot quickness and athleticism to handle playing tackle in the NFL. Some scouts we have spoken to have real concerns about his quickness and agility and feel he may need to slide inside to guard to start in the NFL, so this game is huge for him.
Even with all those players displaying their skills when Alabama has the ball, perhaps the player who will be drafted highest amongst those on the field then will be Notre Dame MLB Manti Te'o. NFL teams love Te'o's ability to read and react to the play consistently fast and his coverage skills. However, while Te'o is no doubt viewed as a first round pick, there are some NFL teams that have concerns about his playing speed. They are interested to see Te'o playing in coverage and trying to chase plays down in pursuit against an SEC team that has players with legit NFL speed. Manning the back end of Notre Dame's defense is safety Zeke Motta and although he has not received a ton of national attention, NFL scouts are very intrigued by him. Scouts are interested to see how Motta handles the speed of Alabama's offensive weapons. Can he get outside in time to help in deep, over-the-top coverage and can he be productive if asked to cover man to man. More than a few scouts have told me that they feel Motta is a better all-around safety than Harrison Smith who was drafted in the first round by the Vikings, so this game gives him a real chance to prove himself. When Notre Dame has the ball, the number of prospects on the field may not be so great, but there are still some high end players.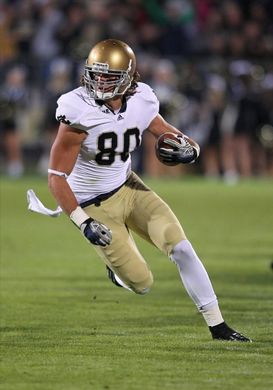 ICONNotre Dame TE Tyler Eifert runs with the ball after the catch.
Notre Dame tight end Tyler Eifert is a tall tight end with the quick burst of acceleration, good playing speed and route running ability to get open and make plays as a receiver in todays pass first NFL. He has soft, natural hands to make tough catches and is a competitive runner after the catch. Eifert needs a big showing as he is in a battle with Stanford tight end Zach Ertz to be the first tight end drafted.
Alabama cornerback Dee Milliner is not going to blow anyone away when he runs his 40 at the Combine, but his good athleticism, excellent coverage skills and willingness to play very physical in coverage have convinced NFL teams that he can be a highly productive starter and therefore a first round pick. Defensive tackle Jesse Williams is still raw and developing after beginning to play football later than most, but with his thick frame, rare natural strength and shocking athleticism, NFL teams are very intrigued. NFL teams seem to be split as to whether Williams is an elite prospect worthy of a top 20 pick or such a raw player that they do not know if he will ever become a starter so he should not be drafted until the third or fourth round, so this game provides him with a great stage to try and prove himself.

Email Russ at Russelllande@yahoo.com and Follow Russ on Twitter @RUSSLANDE